Archives
---
Volume 21 Issue 2 —July/August 2015
---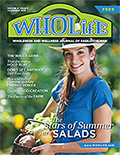 The Stars of Summer are Salads
by Stacey Tress
Summer is here. We are gifted with an abundance of fresh produce and peak flavours that surround us at this time of year. For me, there's something very satisfying about walking out into your garden to pick (or forage) a few fresh items. Summer is full of entertaining and unwinding with friends, family, and food. For us, the stars of summer are salads. I love to cook, but I look forward to putting the crock pot away and look to the garden for inspiration. What are some of your favourite salads? Salads can be a partner on the plate or the main course – use these tips and tricks to ensure you are ready to easily whip together something yummy and nutritious.
---
Don't Let Anybody Dim Your Light!
by Brenda Fedorchuk
We all have stories. We've all made mistakes. We all have a past and these things could define us, but they don't have to. True power comes from being authentic and unafraid to be who we are. We all have a choice in the thoughts we choose to think. We can make a choice to consciously live our lives or to keep drifting in a sea of unconscious thoughts. I can hear you say, "YES, BUT Brenda, you don't understand my situation…" But, dear one, I do understand, and I hold a higher vision for the life you can have. I believe in your abilities to overcome whatever challenge you may be facing today, no matter how great that challenge is. I believe in you!
---
Transformative Hoop Play
by Katelyn Selanders
I have been hula-hooping nearly every day for the past six years. My intentions with the hoop are constantly evolving, but I've never packed my hoop away or forgotten about it. Something about hooping – something deeper than exercise, fancy tricks, or pretty dance moves – has kept me engaged for all this time. In studying social work and expressive arts therapies while teaching and practicing Hoop Play, I've come to understand that what I do with the hoop is therapeutic. In fact, the hoop has transformed me physically, socially, spiritually, and emotionally. Over the years, I've witnessed these transformations unfold in others and I am now identifying common themes and activities that can make Hoop Play therapeutic. Here, I will share my personal experiences and observations.
---
The Rise and Fall of Prairie Grain Farmer Power
by Donald Sutherland
We have often heard the old story of the elephants dancing among the chickens. We now have the spectacle of the elephants (multinational grain companies) dancing among the mice (prairie grain farmers). The ratio of weight and power of an elephant compared to a farmer is not farfetched. It is simply no contest. Not long after settlers occupied the prairies, they began a movement to own their own country elevator network which culminated in the creation of what was to become a large producer cooperative, the Saskatchewan Wheat Pool, in 1924. Close to a 50 percent share of the grain-gathering system on the prairies soon huddled under a pool banner with the addition of Alberta and Manitoba Wheat Pools. A big boost in producer power emerged with the creation of the Canadian Wheat Board (CWB) on July 1st, 1935. As a single desk seller, the CWB, with its focus on the wellbeing of farmers, was able to press for higher grain prices and, at the same time, in co-operation with the Canadian Grain Commission, keep a close eye on quality.
---
The Water Genie
Remove Your Obstacles Through the Consciousness of Water
by Kelly Lee Tavson
What if you could be granted an unlimited supply of infinite possibilities to re-configure your whole being for optimal health, wealth, happiness, and abundance through the click of your computer mouse? Introducing Aquaware 4.0 – The Magic Water Genie. The creator of Aquaware 4.0, Peter Schenk, was inspired by Masaru Emoto's life work of twenty years studying the mystery of water and how intentions have an effect on it. Schenk created and expanded Dr. Emoto's work through a software program that is meant to inspire, change, empower, heal, and create a better world for humanity.
---
The Future of the Farm
Etomami Ecofarm and Community Shared Agriculture (CSA) Program
by Christine Wood
Managing an organic farm can be a joyful journey, a rewarding lifestyle, a fruitful and challenging business. The farm life offers privileges that many people only experience when on vacation: waking up to birds chirping, being able to see the Milky Way, not hearing traffic for days on end, enjoying a fresh, organic meal prepared with food picked just hours earlier. Then, there are the less appealing aspects of the farm lifestyle, such as having to brave the harsh winter weather to tend to your animals, heavy workloads and long hours, the seemingly constant repairs that need doing, dealing with drought, and more.
---
Conflict vs Co-creation
by Michael Stodola
Let's assume that source has the qualities listed below and, on that basis, examine the premise of the following article.
Source equals balance, unity, stasis, neutrality, harmony, peaceful co-existence, accommodation, consensus, adjusted agenda, liberty without license, evolutionary contentment, always give and take in balance, (never static). The world is one of wave form or consciousness without solid or ideological constants. Everything is always being affected by the whole. That is why co-creation is the only solution. Any answer or idea that attempts to diminish the other, only causes further conflict. The interplay is for experience in order to understand both sides in this dualistic experience. One cannot know one side without knowing its complement or opposite. There is no judge or judgment; simply a series of experiences that often trigger the opposite or reverse.
---
Editorial
by Melva Armstrong
Gazing around the farm, I feel like I am living inside a beautiful park. I often pinch myself so I know what I'm seeing and feeling is real. It's absolutely gorgeous and peaceful here. I enjoyed saying good-bye to winter and welcomed spring. I love seeing nature's brilliant variations of green, arriving one after the other, and to feel the warm breezes gently caressing my cheeks. Also, I'm glad to put away the boots and gloves. Sadly, this year we had an invasion, in the entire area, of tent caterpillars. Within a few days they had eaten the green leaves off all the trees for as far as I could see. As I walked down the road, there were thousands of those crawlers in front of me, with some hanging down from webs. They've all disappeared and the tree leaves are coming back. As I passed by each row of tall white poplars yesterday, I wondered if this loss was a shock to their systems. I could only imagine that it must have been. Yet, they are so resilient and able to bounce back. Mother nature is truly amazing. I love being out in her splendour, beauty, and powerful healing energy!
---
Plus:
News of Note
From Our Rreaders
---
Recent Issues
---