Archives
---
Volume 21 Issue 6 —March/April 2016
---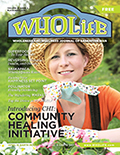 Welcome to CHI, the Saskatoon Community Healing Initiative
by Patti Lindgren Gera with Esther Stenberg
In the fall of 2011, I did something I had never done before when I joined the Occupy movement in Saskatoon. Like many others, I had grown too aware and too concerned about the state of humanity, community, and the world not to join in. Occupy welcomed me like it welcomed everyone. It opened a space for my voice and connected me to others here at home who were joining the global call for justice and our evolution into a consciously co-creative humanity.
---
Superfoods – To Your Health!
by Stacey Tress
What is a Superfood?
Superfoods are nutrient powerhouses that pack large doses of antioxidants, polyphenols, vitamins, and minerals. These foods have an incredible array of health benefits. Eating them may reduce the risk of chronic disease and prolong life, and people who eat more of them are healthier and thinner than those who don't. Read about some of my favourite superfoods, what health benefits they offer, and how to fit them into your diet.
---
Reversing Diabetes, Insulin Resistance, and Obesity – What's the Chance?
by Carol Thompson
On the world stage, health professionals are gaining new insights into weight gain and obesity. In Canada, however, we seem to be a bit slow on the draw when it comes to following suit. The current attitude among many, including most health professionals, is one that blames heavy people for their own situation. If they could just control themselves, they wouldn't be overweight and they have no motivation to change. "The blame, if we have to extend some, has been with our [medical] advice," says Dr S Hallberg, medical director and founder of the Indiana University Arnett Health Medical Weight Loss Program. She explains that, "Obesity is a disease, not something created by lack of character." To summarize, it is a hormonal disease that primarily involves the hormone insulin.
---
One Woman's Journey to Creating The Wandering Market
by Nadine LeBean
When something dies, it always means life for something else. That is the essence of food and the beginning of my journey to discover it. It is interesting to me that my greatest achievements have been born out of my worst failures... A few years ago, our dreams of running a small sustainable farm died and shortly after, our current endeavour, The Wandering Market, was born.
---
SASKAPACA Farm, Alpaca Ranching Expanded
by Polly Schindel
Back in the mid-nineties, "diversification" was the buzz word for farmers. We were a mixed grain and cattle farm on our third generation family farm, but the mix was becoming less profitable and we began looking for something that would add value to our operation. While others were opting for elk or bison, we wanted something that wouldn't require a lot of handling equipment and the associated dangers. While alpacas hadn't been on my radar, my husband noticed an ad in Auto Trader for this beautiful new-to-North America creature. Our research lead us to the purchase of two male and three bred female Chilean Alpacas that were in quarantine in Australia at the time. By the time they arrived on our farm to minus 30 Celsius temperatures, we had six with a seventh due any time.
---
A Time to Save the Pollinators – One Garden at a Time
Minnesota master gardener lays out the scientific approach to a pollinator friendly garden

—Courtesy of www.quartoknows.com
Rhonda Fleming Hayes has prepared a call to action of sorts in her newly published Pollinator Friendly Gardening: Gardening for Bees, Butterflies, and Other Pollinators (Voyageur Press, January 2015). The title, friendly enough, doesn't give way to the fire of her proposals and immediacy of her step-by-step inside. This is Hayes's version of a shake, a wake-up call, not a pontificate of gardening principals. This is Hayes as sidewalk evangelist – urging gardeners to take on her message, plant pollinator friendly blooms, and take the message to neighbour after neighbour after neighbour. "The hope of Pollinator Friendly Gardening is that one pollinator garden begets another and another until there are hundreds of them conceivably thousands," she says.
---
7 Ways to Raise Your Happiness Set Point ©2016
by Jolie Engelbrecht
As a life coach, I am in the business of helping my clients reach their goals. Sometimes the goals are small and sometimes they are big, but one thing I hear a lot is, "I'll be happy when…" I will be happy when I win the lottery. I will be happy when I retire. I will be happy when my kids are grown up. or when I get that new job, or house, or find a relationship. I always tell them that it is SUPER, but that it is WAY more important to increase your happiness right now.
---
Tap the Divine in Yourself
by Tere Bohacek
I always think I have nothing left to write about, but this piece demanded attention. It got me up at o-dark-thirty to transcribe it. I hope it speaks to your heart! I am hearing the phrase, "Black Lives Matter," a lot right now. And, I agree with that statement. I just think it should be bigger. It should be, "All Lives Matter," or even bigger, "All LIFE Matters" – people of all colours, creeds, and cultures, animals and plants, trees and rocks, and water and air – IT ALL MATTERS! Everything is connected, you know.
---
Editorial
by Melva Armstrong
What a wonderful mild winter we've had thus far. It is the mildest one I've ever experienced in Saskatchewan. Those long stretches of bitter cold temperatures can be hard to take. I'm sure we are all grateful for a much gentler season this year. Besides, spring is just around the corner. Soon, we'll be organizing and planting seeds, trimming trees and bushes, clearing yards, and sitting outside relaxing in the sun. How wonderful are these things, after being in hibernation for months. It's all part of the ebb and flow of life's rhythms. Spring is that time when we burst forth into the great outdoors and soak up its magnificent energies. There is more light filling our days and we begin seeing the emergence of those wild four-legged creatures who have awoken from their sleep and grace our earth again. The winged ones will return from their southern homes and fill our ears with their sweet songs. Yes, spring is a special time of year. I trust you will all enjoy it to the fullest.
---
Plus:
Navigating 2016: Authenticity, Alignment, and Abundance
Finding Ways to Develop Healthy Relationships
Focus on Things That Really Matter in Life
News of Note
---
Recent Issues
---