Archives
---
Volume 22 Issue 2 —July/August 2016
---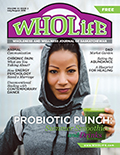 Probiotic Punch – Summer Smoothies and Drinks
by Stacey Tress
Hey, everyone! How's your summer going? With the heat of summer, and the desire to quench thirst, I was inspired to write an article on some of our family's favourite recipes to beat the heat. Probiotic punch? You may be wondering where I'm going with this article. As many of you know, I carry active culture kits (kombucha, kefir, sourdough starter) and am continually fermenting up a batch of something health conscious and yummy for myself and my family.
---
D&D Market Garden
by Donna Kizlyk
Hello, I am Donna Kizlyk and, along with my husband, Don, we operate D & D Market Garden, a small certified organic market garden located in the Wadena–Kelvington area. Our farm is 220 km east of Saskatoon. We designed and built our own house, in which we cook on a wood cook stove year round.
---
Animal Communication
They Can Hear, Feel, and Sense Our Thoughts
by Jadi Kindred
Animals and nature try to speak to us on a daily basis. Perhaps the bee that buzzes past you brings you back into the present moment or the deer you see in your backyard reminds you of the beauty all around you. Have you ever wondered what messages animals are trying to share with you?
---
Eating the Abundance
by Nadine LeBean (The Wandering Market)
I spend a lot of time wondering what humans are supposed to eat. What foods will put us in our prime, producing generation after generation of strong, healthy children? Why has it become so complicated? Where did we get lost? It seems that all other animals instinctively know what to eat. Surely, people at one time learned and knew how to eat in order for us to get this far?
---
A Blueprint for Healing
by Audrey Doepker
I was a girl who had visions of the white picket fence, the flawless husband, and two perfect kids. We would go to church on Sundays, golf on the weekends, and drink chardonnay on the deck with my best friends on Saturday evening. It would be an unblemished, spotless life. Right? I didn't take into account the near fatal disease I would develop. Or that I needed to leave my husband when my two perfect kids were only five and seven years old. Or that I would be a single mom living paycheque to paycheque for more years than I care to count. I didn't include the fact that career and life stressors eventually separated me from those great friends with whom I used to drink paralysers and laugh (turns out chardonnay was boring!).
---
Chronic Pain: What are You Talking About?
by Christopher Cooper
Pain is a dynamic, conflicting, and complex physiological and psychological experience, ranging from acute episodes to chronic disease. Every human in their lifetime will experience pain of some kind or another; a bone fracture from a bicycle accident, headache due to the effects of improper lighting, or a herniated disk in the lumbar spine from repeated heavy lifting. Pain is a part of everyday life, whereby acute is the most common experienced.
---
Unconventional Healing
A Contemporary Dance Show
by Karla Kloeble
A performance that takes a hard look at heart-breaking life experiences; that opens the hearts and minds of its viewers to truth, hardship, and healing; an opportunity allowing time and space for facing up to truths, making reflections, and accepting uncomfortable emotions and transformations. Contradictions is a unique contemporary dance show that sheds light on the nature of human contradiction. Witnessing the unfolding of the show is a very intense and dramatic experience that leaves an imprint on those who have experienced it first hand. We believe it is important for people to embrace issues that our society tends to "hush hush" and to turn away from, even though confronting them can be uncomfortable and difficult to deal with. Pain is real, and we acknowledge that; people are not alone in their own struggles, even though, commonly, we feel as though we are.
---
How Energy Psychology Saved a Marriage
by David Feinstein, PhD
When June was twenty-four, her high school sweetheart and then husband was killed in a traffic accident, the victim of a drunk driver. The loss was horrendous. She was depressed and almost inconsolable for the next two years. Eventually, however, she returned to school, started a new career, and was able to rebuild a meaningful life. At age thirty-one, she met Ralph and, after dealing with her sense of being disloyal to her first husband, she allowed herself to fall deeply in love with him. They married and had two sons. June's worry about their well-being became problematic. If Ralph was late coming home from work, she would be a bundle of frayed nerves by the time he arrived. It was very difficult for her to allow either of their sons to part from her sight, and their going to school was agony for her. She would ruminate about all the terrible things that might happen. Earlier in their relationship, Ralph had been very patient with June when her worry was primarily about him. He understood the loss she had suffered. But now, her worry was stifling the boys as they became more independent, and he insisted that they attend therapy.
---
Editorial
by Melva Armstrong
I found the spring to be really lovely this year and now I'm enjoying the gorgeous summer days. These two seasons always feel so welcome after the long cold winter. I am enjoying living in the country where it feels peaceful and relaxing. For the first time today, I was delighted to see two loons gently gliding across one of our ponds. They are such beautiful birds with their mystical calls. A few weeks ago, we had a groundhog visit us near our barn. That's the first time I've ever seen one. It just sat there, next to the barn, while we took some photos of it. When we went away and came back, it had disappeared. I think it might be living somewhere nearby. Nature excites and delights me every day.
---
Plus:
What is an Anger Addict?
What Does it Mean to be a Divine Feminine Woman?
Focusing: A Profoundly Moving Forward Natural Self-Reflective Process
Book Overview: The Humane Economy by Wayne Pacelle
News of Note
From Our Readers
---
Recent Issues
---