Archives
---
Volume 23 Issue 2 —July/August 2017
---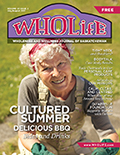 Cultured Summer – Delicious BBQ Sides and Drinks
by Stacey Tress
Hello my lovely friends. Summer is almost upon us and with that comes our sometimes short but amazing BBQ season. I thought writing an article with some of my favourite cultured dishes could be fun and inspiring. All of the recipes in this article will have some sort of fermented/cultured food flair. I wish you all a pleasant summer and look forward to connecting again later this summer/early fall. First Off, What are Cultured Foods? Cultured foods/fermented foods are simply foods that have had some sort of pre-treatment. Usually that means they have either been soaked, sprouted, or fermented. Cultured foods contribute to our gut health are more easily digested, absorbed into the body and more easily eliminated – thanks to their bacteria (good ones!), enzymes, B vitamins, and probiotics!
---
Tight Neck and Shoulders?
by Ginette Séguin-Swartz, Certified Antigym® Practitioner & Trainer
At the end of the day, are your shoulders tense, is your neck sore? Do you feel like you are carrying the weight of the world on your shoulders? Release the tension with these simple, yet powerful Antigym® movement sequences. Anti… what? Antigym, created in the mid-1970s by French physiotherapist Thérèse Bertherat, author of the international best-seller, The Body Has Its Reasons, is consciousness in action.
---
Toxic Chemicals in Our Personal Care Products
by Cherry Staszczak
My journey into the murky world of toxic ingredients in personal care products began on November 19, 2011. That was the day I read an article about how the Johnson & Johnson company was going to eliminate formaldehyde-releasing chemicals from their baby products. FORMALDEHYDE? IN BABY PRODUCTS?? I was incensed!
---
BodyTalk Case Study Results
by Joanne Yanke and Sharon Koenning
We conducted a case study evaluation of 18 children aged 2 to 4 through bi-weekly BodyTalk distance sessions over the duration of 12 weeks, January to March, 2017. The purpose of this case study was to show how effective distance BodyTalk sessions are. BodyTalk is a fairly unknown modality and distance work is even less understood and carries high levels of skepticism. Bodytalk identifies stress and interfering factors which can cause the communication breakdowns, resulting in symptoms, pain, and disease by asking yes/no questions of the un/subconscious body-mind. By uncovering the root causes of imbalances, we can restore communication, helping the body to heal itself.
---
Animals As Our Mirrors
by Jadi Kindred
I would like to introduce you to one of the greatest teachers in my life, Spring. He is a 3-year old Maltese/Pomeranian who came into my life September 2016. He looks gentle on the outside, yet can teach me lessons in the most profound, direct, and effective ways.
---
Calm, Clear, and Centred, When Everything Around You Is Crazy!
by Abe Brown
Confused… Cluttered… Exhausted… Worn Out… On Edge… These words described me, at a point in my life when nothing was working, efforts were failing, and time was accelerating. There was too much on my plate, not enough in my tank, and my daily calendar had absolutely no margin. A coach of mine suggested that I take some time for a personal retreat; to get away and rest, renew, and re-focus. My response was to suggest that I just did not have the time. As soon as I said it, I knew it was not so much that I didn't have the time, but I was not taking the time. So, I did.
---
Qu'Appelle Foundation Offers Financial Assistance to Women with Cancer
by Deb Spooner
Forever Friends of Hope Foundation Incorporated (FFOH) is a grass roots organization founded in the town of Qu'Appelle 15 years ago – yes we are celebrating our 15th anniversary this year and proud of this accomplishment. The founding members lost a close friend (Theresa Frederickson nee Priddell) to breast cancer in 2001. The member's first response was to "give back."
---
Editorial
by Melva Armstrong
We have finally made it to summer with its sunshine and glorious long days so we can enjoy lots of time outdoors basking in the beauty of Mother Nature—one of the great healers. Spring was very lovely, and I have to say that I feel very blessed to be living in Saskatchewan. I was born and raised in the province, so it is home to me. Although I lived away for a number of years, I returned in 1994 and was guided to create WHOLifE in 1995. And I've been enjoying publishing it ever since. I find it amazing how we can end up doing things we never imagined we would do. This work has been a gift to me, and my hope is that you are enjoying my gift of each issue to you.
---
Plus:
News of Note
---
Recent Issues
---