The Way of the Bow: Three Seconds and Twenty Years and Twenty-five More Years Later (Part 2)
by Guy Hince with Nancy Tam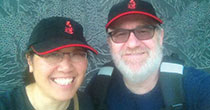 ---
Upon arriving in Saskatoon nearly 25 years ago, we continued to practice Kyudo, we taught a beginner's seminar and I gave many demonstrations, too. However, life took us in a different direction and our practice went on the "backburner" for many years, yet the Kyudo flame was still there, gently flickering, waiting to be revived again. Nancy dreamed of walking the Camino in Spain to celebrate her 50th birthday, and as this milestone approached, preparations were made, but then she felt a deep calling to return to practicing Kyudo instead. So we started to practice again, outdoors with the mosquitoes, blue skies, bright sunshine, and strong breezes, reacquainting ourselves with the various forms. We were both "rusty," but it came back to us like a dear friend that you've been out of touch with for a while.
I think we receive from Kyudo what we put into it. Patience, perseverance, and groundedness are some of the qualities that you can develop with the practice of Kyudo. Although the origins of it are Shinto and Zen Buddhism, this practice is not a religious one. However, it is a spiritual practice—a personal research of oneself. It brings you into the moment. Here are some of Nancy's thoughts about her experience of this practice: "For me, Kyudo is the embodiment of a contemplative heart opening meditation practice. The trajectory of the Ya (arrow) and how the ya meets the target is a mirror for one's mind and oneself. I'm rooted to the earth, opened up wide across my chest, and connected to the sky above. I feel very alive, at peace, and interconnected to nature, within and without, all at the same time."
So Nancy re-imagined the Camino in our hayfield as a walking path and we set our sights on attending a Kyudo seminar in Montréal. It was a wonderful reunion and celebration of Nancy's birthday! It felt like everything had come full circle in our lives and it was like a homecoming to our Kyudo roots; returning to Montréal had strengthened our connection to the Kyudo community, our personal practice, and most of all, to one another. Last year, Nancy and I were delighted to attend the 25th anniversary of Kyudo Québec celebrations in Montréal. We were encouraged to see how the Kyudojo has grown to have a current membership of about 35 people!
With the Kyudo flame re-lit in both of us, we were determined to find a way to practice it year-round and this meant finding an indoor space with high ceilings. Things fell nicely into place when Nancy heard about Brainsport's Community Room that provides space free of charge to community groups focused on promoting sport, health, and wellness activities. We had a great meeting with Brian and Lisette. We received positive feedback and were warmly welcomed into the space. Enko Kyudojo had found a new home! We would like to express our sincere appreciation to Brainsport and their friendly management and staff team for their kindness and ongoing support.
It is important to understand that you don't need to have prior archery experience to practice Kyudo and that this style of it is not practiced as a competitive sport. The Kyudo style practiced at Enko Kyudojo stems from the traditional school of Heki Ryu Bishu Chikurin-ha that is based on the concept of "meditation in action." For Shibata Sensei XX (or Sendai, meaning "the one before"), Kyudo is a way to help polish one's mind; the importance is placed on shooting, with dignity and not on hitting the target. The practice is primarily done indoors at a short distance (a yumi-length from the arrow stopper), and then long distance shooting is done outdoors on special occasions (28 metres from the mato—outdoor target).
The Saskatoon-based Kyudojo is a secular and open dojo where participants are asked to refrain from displaying any signs of political, religious, or sectarian affiliation, and all forms of discrimination are banned. The fundamental values of Enko Kyudojo are simplicity, dignity, helping one another, and respect: respect of customs, respect of people and their personal journey, respect of discipline and of teachings, and respect of equipment and of the space used for practice.
I am very grateful to Kyudo Québec (www.kyudoquebec.org/en/kyudo.html) for allowing me to excerpt and adapt information about Kyudo and its history and origins below.
All Japanese Masters, regardless of their style, share the same core values in Kyudo: Shin (serenity and truth), Zen (goodness and courtesy), and Bi (beauty and dignity). Sendai also promotes three heartfelt values: Chi (wisdom) listening without judgement, Jin (kindness) helping others, and Yu (bravery) persevering relentlessly in spite of resistance and opposition.
In Japan's feudal period, the bow was the Samurai's weapon of choice. It was the highest level of the samurai class that were given the privilege of learning Kyujutsu. Under the influence of Zen Buddhism, Kyujutsu (the art of archery) became Kyudo (the way of the bow). From a weapon of war, the bow then became a tool used in self-growth, and the dojo a place to meet oneself, the true target found within.
One is not polishing one's shooting style or technique, but the mind. The dignity of shooting is the important point. This is how Kyudo differs from the common approach to archery. In Kyudo there is no hope. Hope is not the point. The point is that through long and genuine practice your natural dignity as a human being comes out. This natural dignity is already in you, but it is covered up by a lot of obstacles. When they are cleared away, your natural dignity is allowed to shine forth.— Kanjuro Shibata XX (1921–2013)
Guy Hince is a Kyudo instructor, artist/artisan, knife and bowmaker, and he specializes in custom sewing and fabrication. He also handcrafts his Caljoba line of natural skincare products made with calendula flowers he grows. He loves wind and speed, being in nature, playing guitar, and is an animal lover, especially attuned to dogs, cats, goats, and llamas.
Nancy Tam is a Kyudo practitioner and has a holistic counselling practice focusing on an integrative totality approach to health and wellness through working with the body, mind, heart, and spirit. She has a deep respect and heart connection with homeopathy and enjoys working with energetic patterns/
archetypes, the unfolding tao, and dreams. She also facilitates workshops about non-violent communication (NVC) as developed by Marshall Rosenberg, dreams, personal myths, and healing the sacred feminine.
Kyudo Info/Demo Evening in Saskatoon: January 11, 2018 from 7:00 pm–9:00 pm.
A public presentation (free) will be held in Saskatoon at Brainsport's Community Room (www.brainsport.ca/community-room.html) on 2nd floor. Please contact Guy at enkokyudo@gmail.com to reserve your seat in advance as seating is limited. (Note: these presentations are open to those who are 18 years or older.)
They will be facilitating a four-day Beginner's Kyudo Intensive in Saskatoon: Part 1: January 20–21, 2018 followed by three months of weekly practice on Thursday evenings, and then Part 2: June 2–3, 2018. Please contact Guy at enkokyudo@gmail.com for more information and to register.