Archives
---
Volume 6 Issue 4 — November/December 2000
---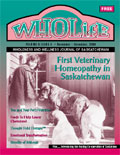 First Veterinary Homeopathy in Saskatchewan
by Dr. Marilyn Sthamann
Veterinary Homeopathy is now an option for your pet's health care in Saskatchewan. My name is Dr. Marilyn Sthamann and I have been practising small animal medicine in Regina for 15 years since graduating from Saskatoon's Western College of Veterinary Medicine. In the past few years I have witnessed the increasing public interest in complementary medicine.
---
The Benefits of Mitzvah


by Carla-marie Powers

The Mitzvah Technique is a body alignment technique which has three main components: Mitzvah exercises, daily maintenance tips on changing postural habits, and a gentle, non-intrusive tablework technique. With the aid of these methods, permanent positive structural changes can be brought to the body.
---
Nutrition, Cooking & Health:
Foods To Help Lower Cholesterol!
by Paulette Millis

Fish, soy, garlic, carrots and other foods that help reduce cholesterol, plus a diverse list of foods rich in fibre that are vital in maintaining our body's health.
---



Editorial


by Melva Armstrong

As I write this editorial, our beautiful, warm autumn weather continues. Today was extremely windy with hundreds of leaves blowing off the trees, swirling in the air and on the ground. I watched as gusts of wind sent bunches of them tumbling and dancing down the street and the sidewalk.
---
Plus:
You and Your Pet's Nutrition
Thought Field Therapy(tm)
Emotional Transformation
Healing by Homeopathy
Ask Cathy: Who Ever Said Parenting Was Funny?
Introducing the Healing Co-operative of Saskatoon