Archives
---
Volume 6 Issue 5 — January/February 2001
---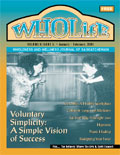 Voluntary Simplicity: Creating A Simple, More Enriching Vision of Success
by Bruce Elkin
While browsing the best-sellers in my local bookstore recently, I was shocked to find tomes on money and success displayed alongside guides for simplifying your life and enriching your spirit. How-to-be-happy titles sat next to treatises on saving-the-earth.
---
Nutrition, Cooking & Health: Eat Your Way to Weight Loss
by Paulette Millis
Are you so afraid of gaining weight that you routinely avoid food you really love? Do you avoid eating all day so that you can binge at dinner? When you're standing before a buffet do you routinely tell yourself that you can't have what you really want?
---
Coltsfoot: Large Leaf Medicine
by Kahlee Keane, Root Woman
The ceilings are high and the shutters on the windows open. The space is large and warm. The Refinery Arts & Spirit Centre opened its doors in September 2000 in a lovely heritage theatre located next to St. James Church in Saskatoon.
---
Editorial
by Melva Armstrong
Another busy year has passed and hopefully we are all wiser, happier, healthier and more prosperous. I feel that I am and I trust you are, too. Throughout it we had lots of encouragement from many readers who indicated they are grateful to have the journal in Saskatchewan, which means it is fulfilling its purpose.
---
Plus:
Ask Cathy: A Healthy Workplace
The Refinery: Where the Arts & Spirit Connect
Hypnosis
Pranic Healing
Realigning Your Focus
Book Review: Worth