Archives
---
Volume 7 Issue 1 — May/June 2001
---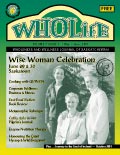 Wise Woman Celebration - Beauty, Power and Wisdom
by Melva Armstrong and Anne Elliott
The Wise Woman Celebration, which will be an annual event, is an opportunity for Saskatchewan women to celebrate our unique natural selves.
---
Honouring the Plants - Giant Hyssop & Wild Bergamot
by Kahlee Keane, Root Woman
The mint family, diverse and plentiful, is found in every corner of Canada and in every habitat. Mints include many cultivated herbs: spearmint, peppermint, basil, rosemary, sage, thyme, oregano, lavender, hyssop, horehound, as well as my favourite—the wild medicines. Two of the most interesting mints grow profusely here in Saskatchewan—giant hyssop and wild bergamot.
---
Nutrition, Cooking & Health - Cooking With Quinoa
by Paulette Millis
Quinoa (pronounced "keen-wah"), chenopodium quinoa, is really not a cereal grain but a member of the goosefoot family–other members are beets, chard, spinach and some 200 species of herbs. It is an ancient grain used in the past by the Incas for its magical powers. They called it the "Mother Grain" and it was a staple in their diet and still is for their descendants.
---
Metamorphic Technique - A Natural Transformative Experience
by Barb Purdie
Change, as we all know, is an inevitable part of life. To change is to grow. To grow is to answer the soul's call to become all that we are intended to be. The Metamorphic Technique facilitates this process of growth and change in the most natural way possible.
---
Editorial
by Melva Armstrong
Along with spring comes this sixth anniversary issue which heralds in year seven. It has been another exciting year for me and the journal and I am grateful for the terrific support I have received over the years. Blessings to everyone who has been a part of my life and work. May we all continue to work together for the good of all and for our planet.
---
Plus:
Corporate Wellness: Business and Fitness
Book Review: Fast Food Nation
Cathy Asks - In Her Pilgrim's Journal
Enzyme Nutrition Therapy
Journey to the Soul of Ireland