Archives
---
Volume 7 Issue 2 — July/August 2001
---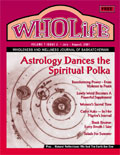 Astrology Dances the Spiritual Polka
by Samantha Kane-Kennedy
Astrology opens up a plethora of awareness about the self and the journey of spirit through many lifetimes. Each life provides a multiple-choice experience during a different period of human evolution on earth. Some of us alive today could have been around with the dinosaur and later the cave man; or the Romans with their gladiators, perhaps during the Inquisition, or even the Renaissance. While the varying conditions during the different eras are startling, individual choice with regard to many aspects of living will remain in common.
---
Women's Sacred Time - A New Vision for an Ancient Way
by Judy Wilkinson
Women today are individually searching and exploring their inner depths. Each woman holds the answers within to lifešs questions. Some may even hold clues for others. In the "search" for answers some women find it helpful to gather together to share, explore and grow as individuals by combining their knowledge and talents.
---
Natural Reflections - We and The Earth are One
by Maureen Latta
The day was hot as I sunned myself on a rock at the spectacular rapids near Fort Smith, Northwest Territories. Noticing the warmth of the rock beneath my skin, as if it were a living thing, I began to think about the similar elements that make up our two bodies, mine and the earth's-magnesium, zinc, iron, calcium. It seemed that everything making up the raw material of my body also was present in the earth.
---
Editorial
by Melva Armstrong
Summertime and the livin' is easy! Well, it used to be easy a number of years ago but that doesn't seem to be the case now for anyone. Life is moving at an extremely fast pace these days and there's no sign of a let-up in sight.
---
Plus:
Transforming Power - From Violence to Peace
Lowly Weed Becomes A Powerful Supplement
Cathy Asks - In Her Pilgrim's Journal
Book Review: Every Breath I Take
Salads for Summer