Archives
---
Volume 7 Issue 4 — January/February 2002
---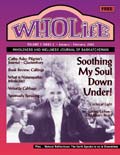 Soothing My Soul Down Under
by Melva Armstrong
On November 16, 2001 I returned from an incredibly wonderful holiday Down Under! It is always a gift to have some time away from one's work in order to rebalance the scales and to focus on things totally opposite to what one does normally. It helps to replenish the spirit and sooth the soul.
---
Circles of Light - Casting a Healing Glow
by Todd Lorentz
It is rare these days to find anyone who has not seen photos of the stunning array of crop circles that have been appearing around the world for the past 30 years or so. In many ways, the huge crop circles seem to be related to the crosses of light which have been discovered around the world since 1988. These have generally appeared in regular frosted-glass windows and they cast a healing glow on those people and communities that they grace. Since 1997, however, there is "a new kid on the block." Indeed, circular patterns of concentrated light have been seen to glow on buildings across the northwestern United States and beyond.
---
Naturopathic Medicine - It's Stronger Than Ever!
by Alana Barmby, N.D.
What is Naturopathic Medicine or Naturopathy?
Naturopathic medicine is the art and practice of disease diagnosis, prevention and treatment using natural-based therapies. The goal of naturopathy is to support and stimulate the body to heal. Naturopathic medicine is a comprehensive approach to health care and its roots can be traced back to the beginning of time and to many ancient cultures. It is one of the oldest forms of medicine known to human kind. In fact, it was only in the last 100 years or so that we turned away from natural substances and natural processes and began to lose our focus on preserving health and wellness. Well, that focus is back and it is stronger than ever!
---
Extremely Versatile Cabbage
by Paulette Millis
Cabbage is one of the most ancient of the more common vegetables. It has been in circulation for more than 4000 years. Centuries of cultivation have produced other forms of this brassica family: kale, kohlrabi, cauliflower, broccoli and Brussels sprouts. Cabbage is a good source of vitamin C, vitamin A and some vitamin B, minerals calcium and phosphorus. The green outer leaves have as much as 40% more calcium than the inner leaves. Cabbage is low in calories — 3 1/2 ounces raw = 24 calories and 3 1/2 ounces cooked and drained = 20 calories!
---
Editorial
by Melva Armstrong
I started writing about my Down Under trip as an editorial and, as I suspected, it grew larger than I had intended so, instead, I made it into an article called, Soothing My Soul Down Under (p. 16). In it I capture a very tiny portion of my experiences–those that came to mind when I sat down to write. What particularly stood out for me was the realization that thirty years ago I mustn't have noticed the thick tropical vegetation or the large number of exotic birds in these two countries because this time they seemed brand new to me. Wherever I went it felt like I was in an enchanted forest and as I travelled each day I soaked up the sights, sounds and smells so I could bring that energy and beauty back with me. Everything in their nature was truly a delight to look upon, particularly because it is so vastly different from the nature we have in Canada.
---
Plus:
Natural Reflections: The Earth Speaks to us in Dreamtime
Cathy Asks: Pilgrim's Journal - Glastonbury
Book Review: Callings
Spiritually Speaking
Loving Lichen - Old Man's Beard
Windsong School of Healing