Archives
---
Volume 16 Issue 5 — January/February 2011
---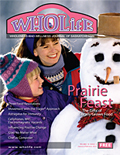 Prairie Feast: The Gifts of Locally Grown Food
by Amy Jo Ehman
It has been said that every journey begins with one step, but my culinary journey began with one bite – a bite of chives to be exact. They were the first tiny chives of spring, sprinkled on a hot German potato salad (my dad's potatoes) served with sausages from the farmers' market and my mom's dill pickles. With that first bite of green from my garden, my husband John and I kicked off a year of eating from the local bounty. We had pledged that, for 365 days, just about everything we served at our own dinner table in Saskatoon would be grown or raised within the four corners of Saskatchewan. From asparagus in spring to zucchini in fall – we would stock our larder with local fare.
---
The Challenge of Three Food Resolutions
by Sandra Brandt
As I write this for the article submission deadline, we are still experiencing the beauty of unexpectedly mild autumn weather. It seems like much too soon to make any New Year's resolutions. But then one might say, quickly resolved, quickly forgotten. So why not start thinking about it well in advance? Indeed, why not start practicing in advance? Anytime is a good time to start. We live in an era of fad diets, where great resolve and great changes are embarked on at almost a moment's notice, or at least at the mere publication of yet another new diet book, complete with compelling testimonials, often including famous personalities. The resolve and the changes are also often abandoned just as quickly, or else they just tend to quietly fade away, or even come and go, keeping hopefuls believing that sooner or later it will all miraculously come together and the promised results will be realized.
---
Astragalus for Immunity
by Joe Smulevitz, CH, MH
Are you accustomed to taking echinacea at the first sign of a cold or flu to stimulate the immune system? Did you know that in Traditional Chinese Medicine (TCM), astragalus root (Astragalus membranaceus) is used like echinacea to help prevent colds and flu, but it's also very different? Astragalus helps the body to resist cold, and renew both energy and vitality once an illness is finished. It can be taken as a long-term tonic to boost the immune system, unlike echinacea that should only be used short term. Scientific evidence also suggests that astragalus may strengthen the immune system of cancer patients.
---
Feeling Lighter Through Movement… with the Trager® Approach
by Audrey Mairi
Softness, freedom, spaciousness, lightness, ease. These are some of the feelings you can expect from Trager, an approach that works with the body using touch and gentle movement to invite the body/mind to experience feelings of lightness, softness, and bliss. The late Dr. Milton Trager, originator of the Trager Approach, often said that such feelings arise as a result of the manner in which he worked, not necessarily the moves he employed.
---
Cellphones, Wi-Fi, and Other Electromagnetic Hazards
by Jim Waugh
If you are concerned about the safety of cellphones, Wi-Fi in schools, and the ubiquitous cellphone antennas, you have good reason to be. The electromagnetic radiation (EMR) that enables these wireless devices has become a significant environmental pollutant that is adversely affecting the immune and nervous systems of our bodies and their genes. As a result, we are experiencing a large number of symptoms and illnesses that scientific research has linked to exposure to EMR. In the opinion of Dr. Dietrich Klinghardt, MD, Klinghardt Academy of Neurobiology in Colorado, "There is really no medical condition that is exempt from being caused or being aggravated by electromagnetic fields."
---
Influencing Positive Change
by Abe Brown
Recently, I was coaching business people, and I was asked a question. Actually, it is one of the top 3 or 4 questions I am asked when coaching. Whether asked by a parent, partner, friend, manager, or co-worker, the question goes like this: "I am struggling to help influence positive change in the people closest to me. How can I work towards positive change in those I care about?" Most of us live in close and intimate relationships with those we care about. As a result, we often attempt to help them influence positive change in their lives. Our desire is helping them grow and flourish. Sometimes we even try too hard. However, in a healthy person there is a strong desire to influence positive change in others. So, how can we influence positive change in those close to us?
---
Glad No Matter What
Interview with SARK
How can we be glad when so many bad things are happening?
How can we not? "Bad" things always have, and will always continue to happen. It is how we choose to respond that makes the difference. We all have an opportunity to respond to whatever is happening with as much gladness as possible, which will shift the very things that are happening. If you look at every bad or difficult situation, you will ALWAYS find the goodness and gladness. Focusing on that is what creates the real movement and solutions that we are all wanting.
---
Chef as Composer
by Donald Sutherland
I recently had the wonderful opportunity to meet Jennifer Willems, owner and chef of the New Ground Cafe located in Birch Hills, Saskatchewan. Jennifer was dancing with joy and excitement as she cooked, baked, and served to a full house of 36 hungry patrons at noon on Monday, Nov 1st. The menu was hand-written on a black chalkboard. The tastes, textures, aromas, and 1940s ambiance in the room were truly all "out of this world". No wonder the New Ground Cafe has been featured as one of the top 100 places to eat in Canada.
---
Editorial
by Melva Armstrong
As we start a new year, it is always an excellent time for making resolutions and finding ways to create those changes you have been thinking about, some recent and others long-lasting. Whatever the case may be, I am sure as the clock strikes midnight on January 1, 2011, you will be thinking of how you can make your life better during the new year. This is what I will be doing. It always feels good to be starting fresh and using it as a springboard for moving onto things I have been wanting to do, but haven't made time for yet. So, I trust you will use this special time as a new beginning, and that you will find ways to keep your promises to yourself, and find the enjoyment and peace and happiness that comes from doing things you love.
---
Plus:
Visceral Manipulation
Yoga Workshop with Mary Lou Weprim at The Yoga Mat Studio
Growing Sprouts at Home
Eco Farm, Community Shared Agriculture (CSA)
The Time of Love
Breast Friends: Over $1M Raised for Cancer-related Support
Oneness Gathering 2011
News of Note
From Our Readers
---
Recent Issues
---