GMO OMG
A Controversial Foodie Doc to Hit Theatres September 13, 2013
—Press Release, August 1, 2013, New York, NY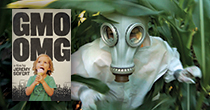 ---
Submarine Deluxe announced August 1, 2013, that it has acquired the US distribution rights to Jeremy Seifert's documentary GMO OMG, an entertaining yet hard-hitting investigation of how laboratory-assisted genetic modification of food affects the world around us. The film is Submarine's follow-up to the Academy Award nominated film Chasing Ice.
GMO OMG made its world premiere at the 2013 Berlin International Film Festival. Screen Daily called the film "powerfully provocative" and "a subject that needs to be focused on."
Today in the United States and Canada, by the simple acts of feeding ourselves, we are unwittingly participating in the largest experiment ever conducted on human beings. Each of us unknowingly consumes genetically engineered food on a daily basis. The risks and effects to our health and the environment are largely unknown. Yet more and more studies are being conducted around the world, which only provide even more reason for concern. We are the oblivious guinea pigs for wide-scale experimentation of modern biotechnology.
GMO OMG tells the story of a father's discovery of GMOs through the symbolic act of poor Haitian farmers burning seeds in defiance of Monsanto's gift of 475 tons of hybrid corn and vegetable seeds to Haiti shortly after the devastating earthquake of January, 2010. After a journey to Haiti to learn why hungry farmers would burn seeds, the real awakening of what has happened to our food, what we are feeding our families, and what is at stake for the global food supply unfolds in a trip across the United States and other countries in search of answers. Are we at a tipping point? Is it time to take back our food? The encroaching darkness of unknown health and environmental risks, seed takeover, chemical toxins, and food monopoly meets with the light of a growing resistance of organic farmers, concerned citizens, and a burgeoning movement to take back what we have lost.
Massive agrochemical companies like Monsanto (Agent Orange) and Dow (Napalm) are feeding us genetically-modified food, GMOs that have never been fully tested and aren't labelled. This small handful of corporations is tightening their grip on the world's food supply—buying, modifying, and patenting seeds to ensure total control over everything we eat. We still have time to heal the planet, feed the world, and live sustainably. But we have to start now!
GMO OMG also takes a critical look at the corporations who control what we eat. Last year, Monsanto and other food industry leaders spent $45 million to defeat a ballot in California that would require GMO labelling. And more recently, in an effort to combat labelling on food packaging, a conglomerate of biotech companies put up an informational website to disseminate their point of view on GMOs and try to make people feel safe about what they are eating.
Jeremy Seifert (Director, Writer, Editor) said: "This film has been a long and incredible journey, and I'm excited to be partnering with Submarine to share it with the world. My hope is that it will help awaken people to the new reality of the world that we all somehow missed... chemical companies are feeding us! And I hope this awakening will inspire people to take back our food from giant corporations and invest in small farms, good seed and soil, and our local communities. If nothing else motivates us to change for the better, maybe our children will. Mine sure did, and that's ultimately why I made this film."
"We are excited to be working with the GMO OMG team to help get this important film out to the world," stated Submarine Deluxe Co-President Dan Braun. "They have created a highly entertaining film about a frightening subject which is never easy. If there are people across the country not familiar with GMOs, that is about to change."
Producer Josh Kunau said: "If you are concerned about what you and your family eat, want more information on the subject, or just want to see what Monsanto and the biotech industry isn't telling you about their products, then this is the film you have been waiting for in order to get the truth about GMOs."
GMO OMG was produced by Josh Kunau and executive produced by Elizabeth Kucinich, Jill Latiano Howerton, and Josh Kunau. Cinematography by Rod Hassler and edited by Terry Yates.
GMO OMG is Jeremy Seifert's follow up to DIVE! Living Off America's Waste. Jeremy and his wife, Jen, live in North Carolina with their three children, Finn (7), Scout (4), and Pearl (2).
Submarine Deluxe will release the film theatrically across the US beginning September 13th in New York City, with a nationwide rollout to follow.
Submarine Entertainment (www.submarine.com), founded and run by twin brothers Josh and Dan Braun, is a hybrid sales and production company, consulting and strategizing on the sale and distribution of feature films and documentaries, and producing unique and high quality feature films, documentaries, and television properties.
For more information on GMO OMG, visit www.gmofilm.com.