The Power of The Artist's Way
by Carey Rigby-Wilcox and Pam Garner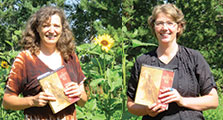 ---
Have you ever told yourself you'd complete The Artist's Way by Julia Cameron? It is a book that so many of us have heard of and some of us have attempted to read and some of us have succeeded. What opened up Pam Garner and Carey Rigby-Wilcox to a whole creative world was working through this book in a safe group setting. Now they are sharing what they've experienced by co-facilitating a 13-week course called The Artist's Way Sask.
The Artist's Way helps us become aware of our hidden creative potential. Many people say, "I'm not an artist," but there are many ways to be creative. Our unique talents may be blocked or just undiscovered yet. Julia Cameron encourages groups of people to get together and create a safe, supportive place for growth. Participants begin opening themselves to insight and inspiration with weekly encouragement. In essence, The Artist's Way leads people on a spiritual path, initiated and practiced through creativity. It is 13 weeks of in-depth soul searching.
Carey Rigby-Wilcox took this course for the first time 17 years ago. She suppressed her art talent while raising her children. She found herself blocked. After going through the process, at week four, she reclaimed her artistic love for painting and never stopped. She ended up having a gallery showing of her work at Spiritworks (former business in Saskatoon). To keep herself inspired, she does this book every year. She is now an author, illustrator, and teaches art workshops. She loves to encourage others because she realizes that everyone can discover their inner artist.
Pam Garner found this course in 1998. It was a time in her life where everything was changing – a great time to try something new! It seemed foreign to use the creative side of her brain. It was so unused that she didn't believe she had any artistic talent. What the course did for her was to unleash all the wishes and dreams that were waiting inside her. Now she is a potter, storyteller, and writer with a love to try any new creative experience.
Carey and Pam have been facilitating the course in Saskatoon for four years. They have worked through both The Artist's Way and Julia Cameron's new book, It's Never Too Late to Begin Again. Here is a quote from a group member, Judith: "Years ago I bought myself a book entitled The Artist's Way by Julia Cameron. It was at a time in my life when I was in need of finding some healing and some deeper spiritual meaning. I also wanted to unblock and unlock the creative potential I knew I had but was just not accessing. To this day, I still do Morning Pages and plan occasional Artist's Dates. But even better than doing this 13-week course alone, is doing and sharing it with a group of lovely women. And all under the leadership of two gentle creatives, Carey and Pam! It has been a great creative reboot and I highly recommend this course to anyone. You'll enjoy it!"
Have you heard of Morning Pages? There is no right or wrong way to do them, they are simply done in the morning. Upon waking, allow yourself to hand write streams of consciousness for your eyes only! Many people may start off dreading them, but then find out that Morning Pages become the best part of their morning. Through this process, many nougats of creativity can find their way onto the page. Another benefit that group members have found from doing the pages is a grounding that makes them ready for the day.
"The Artist Date is a once-weekly, festive, solo expedition to explore something that interests you. The Artist Date need not be overtly "artistic"—think mischief more than mastery. Artist Dates fire up the imagination. They spark whimsy. They encourage play. Since art is about the play of ideas, they feed our creative work by replenishing our inner well of images and inspiration. When choosing an Artist Date, it is good to ask yourself, "What sounds fun?"—and then allow yourself to try it."—Julia Cameron.
"When someone retires, the newfound freedom can be quite exciting, but also daunting. The life that someone had has changed, and the life to come is yet to be defined. In this book, It's Never Too Late to Begin Again, Cameron shows readers how cultivating their creative selves can help them navigate this new terrain. She tells the inspiring stories of retirees who discovered new artistic pursuits and passions that more than filled their days—they nurtured their souls. This fun, gentle, step-by-step process will help you explore your creative dreams, wishes, and desires—and help you quickly find that it's never too late to begin again."—Julia Cameron.
Julia Cameron has a wealth of literature dedicated to creative recovery. Life takes us on such a journey and we often forget about our own desires and needs as we nurture others in our lives. Each chapter includes specific tasks, Morning Pages, and Artist Dates to focus us inward. We discover more insights and rejuvenate our artist soul. Whether you read them yourself, join a book club, or attend a course, we hope you will reclaim the creative power and potential within you.
Sincerely, Pam and Carey
If you are interested in finding out more about upcoming The Artist's Way Sask Workshops, please visit www.theartistswaysask.weebly.com, call Pam Garner 306-292-6100 or Carey Rigby-Wilcox 306-241-1638, or email theartistswaysask@gmail.com.