Archives
---
Volume 10 Issue 6 — March/April 2005
---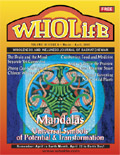 Mandalas
Universal Symbols of Potential and Transformation
by Margaret Bremner
I have been working as an artist for many years, and for the past decade I have focussed on mandalas. It is an image that suits me well, due to life-long interests in other cultures and spirituality, and to a more recent interest in symbolism. In my artwork the mandala is not limited to a Hindu or Buddhist perspective. International or universal imagery has always been of greater interest to me than local or regional subjects, and in my investigation of mandalas I've found them in almost every culture, time period, and belief system. I draw on sources from around the globe.
---
Cranberries: Food and Medicine
by Paulette Millis
The cranberry, sometimes called bounceberry, a small tart-tasting red berry, has been most popular in the past for the deep red sauce we traditionally make with our Thanksgiving turkey. It is said that Benjamin Franklin, visiting London to plead the case of the colonies, wrote and begged his daughter to send cranberries, one of the foods for which he was homesick. And in 1864, history says General Grant ordered tons of cranberries for his Army of the Potomac to celebrate Thanksgiving in proper fashion. Old clipper ships out of Gloucester, New Bedford, and the "Down East" ports, carried supplies of raw cranberries in casks to help sailors prevent scurvy. American Indians used cranberries as a source of dye and today, the Canadian First Nations people use the straight branches of the high bush cranberry to make the stems for traditional ceremonial pipes.
---
Wildcrafting
Harvesting Plants From a Native Wild Environment
by Kahlee Keane
The spicy odour of poplar buds, thick with warming resin, rides on the gentle breeze as we amble up the coulee looking for our first prairie crocus (Anemone patens) of the year. We are not disappointed. Here on the south facing slope where the sun's rays have penetrated winter's blanket we find three furry flower buds hugging the Earth – harbingers of Spring. Our little group came together at the start of last summer. Then, in each season, we would meet and share knowledge about the character and history of the land and the wild medicinal plants that we harvest just as our ancestors did. This age-old practice – gathering plant material for food, medicine, or crafts – is known as wildcrafting and is the most direct way of getting in touch with the healing power of nature.
---
Seeds of Zen in the Prairies
Introducing Maurine Stuart
by Martin Krátky
One week after moving to Saskatoon, in the fall of 2004, I randomly opened a book that I had owned for several years – Subtle Sound: The Zen Teachings of Maurine Stuart (Shambhala, 1996). As I read the following words of Maurine Stuart: "Is it all right for this piano player from Saskatchewan, Canada, to be up here giving a talk on the Rinzai Roku?" [a Zen text] I was startled to learn something more about this remarkable woman, gifted concert pianist, and influential and well-loved Zen teacher. Quickly flipping to the book's introduction I found out that she was born and raised in the town of Keeler, just north of Moose Jaw, Saskatchewan.
---
The Healing Power of Zhong Guo Hui Gong Therapy
Chinese Wisdom Qi Gong
by Laura Burkhart
A short walk outside the village of Hawi, on the north end of the Big Island of Hawai'i, the Kokolulu Farm and Wellness Centre welcomes visitors, work-study volunteers, and those who suffer from chronic illness, addictions, and other disorders. Nestled in seven acres of rolling green pastures and spectacular water gardens, the peaceful atmosphere of the Centre is enhanced by breathtaking ocean views, vistas of Mauna Kea volcano, and the exuberant presence of two golden retrievers. I first met the founders, Karin Cooke and Lew Whitney, when I arranged to attend a Buddhist creativity workshop in their Chinese temple in January 2004. Their open hearts and generous spirits soon led to an invitation for me to become their first work-study volunteer and help them set up that ongoing program. They introduced me to Zhong Guo Hui Gong therapy (Chinese Wisdom Qi Gong) which they had been studying intensely since 1997. Their Master, Zhang, Yu Lei, designed a personalized program to help heal my eyes and Lew and Karin facilitated my daily participation.
---
Editorial
by Melva Armstrong
For the last two months I have been busy packing, cleaning, and getting ready to move into a new suite starting March 1st. Searching for new accommodation during winter has been less than ideal. Although moving is a time of upheaval and stress, I keep reminding myself that it is also a time of change and growth, as well as adventure. It is about opening myself to new opportunities and knowing that I am being guided to the next step in my life journey and to let go and let my guides lead the way. Throughout this time I have been grateful for the wonderful support I have had from friends, colleagues, clients, and WHOLifE readers. I send warm thanks to each and every one of you for sending me your positive energy, love, and good wishes. Everything has worked and given me the support I have needed.
---
Plus:
The Brain and the Mind
News of Note