Slow Food: Take Time to Savour the Flavour
International Slow Food® Movement
by Alexandra Greeley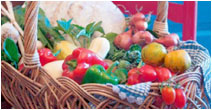 ---
On her pastoral Iowa farm, away from bustling city streets, Simone Delaty Alvarez pursues several passions: cooking; baking artisan bread; raising fruits, vegetables and herbs; and tending goats. In her simplified life, Simone derives pleasure from her stewardship of the land and from sharing bountiful crops with others: She hosts intimate, home-cooked, family-style dinners, enjoyed leisurely at her farmhouse table. It's no surprise, then, that she has come to embody the spirit of the international Slow Food movement right in America's heartland.
As the Slow Food story goes, in 1986, founder Carlo Petrini, an activist in Bra, Italy, greatly resented the proposed construction of a McDonald's restaurant in his favourite piazza in Rome. To Petrini, such a fast food invasion of a historic city—famed for its glorious cuisine and elegant architecture—required some sort of response. Thus, Petrini launched the original branch of the Slow Food movement in the city of Barolo in the province of Cuneo, Italy. In 1989 in Paris, Slow Food went global with numerous grassroots groups, or convivia, sprouting up on five continents. Today, Slow Food members number about 80,000 worldwide. And the movement is growing.
Slow Food's main tenet—to protect "the right to taste"—appears simple, but in reality it addresses many complex issues. Protecting taste means protecting artisan foods and food products, promoting sustainable agriculture, preserving food traditions, educating people about quality foods and enjoying the "slow" life—good friends, good food, good wine. And enjoying life's simple pleasures at an unhurried pace. "One of the important things about Slow Food is its educational mandate," New York-based Patrick Martins, director of Slow Food USA, says. "But it is important not to forget the pleasure side of the movement."
That's why, as a founding member of the Slow Food movement in Iowa, Simone with her community dinners exemplifies the Slow Food spirit. "I started these dinners five years ago, and I hold them from March to December on Friday and Saturday nights," she says, noting that she seats her guests—anywhere from 8 to 20 people per meal—at one table. This compact seating arrangement inspires conviviality, free-flowing conversation, and a true sense of fellowship. This seating also allows Simone a chance to speak about the food she serves. "I talk at every dinner about where the food comes from and what it is," she says. "I don't interfere with my guests' conversations, but I do introduce each dish." In season, she gives a tour of her gardens when guests arrive. This gives her guests a real connection to the food they eat and to the land where it is grown and harvested.
A native of the Limousin region in France, Simone is content in her charming American farmhouse, but she still cooks like a Frenchwoman, and many of her convivial meals reflect her heritage. Each meal is either authentically French or Moroccan, or focussed on brick-oven pizza dinners with traditional pizzas from Italy or France, or with those pizzas created by Simone. Like many French home cooks, Simone eschews elaborate cooking in favour of simple from-scratch meals based on good ingredients—seasonal, fresh-picked produce and just-baked breads.
"In my area of Iowa near the Amana Colonies, we talk about the home cooking of the Amish and Mennonites," she says. "But I cook what I learned at home in France." For her occasional dinners for Slow Food convivium members, she has served French meals structured in the traditional way: small appetizer courses; a main course; a salad course; an assortment of cheeses served with crusty French bread; and dessert. "A French dinner can go on and on. And here, people linger for about three hours. It's very relaxed with lots of conversation and socializing."
Indeed Simone's farmland site has become something of a destination. "I have visitors who come to see what I am doing," she says. "This is outreach for children and adults who want to see my herb garden, my kitchen gardens, and the weekly bread baking in the brick oven."
Although her land is limited to about 10 acres, hers is a working organic farm, and she is its primary gardener. She started with a small kitchen garden and an herb garden. Over the years, she has added five other gardens for crop variety, including six kinds of tomatoes, four kinds of eggplants, and specialty crops such as the French green bean, celeriac, and cardoons—a popular vegetable in Europe that is a member of the thistle family and tastes something like artichokes. Her main goal is to self-produce all the vegetables, fruits, herbs, and edible flowers for her season of dinners.
Simone attracts attention for another reason: Her brick-oven-baked artisan breads. "I make breads from scratch using organic flour," she says. But what really makes her bread—a pain a levain, or French country bread—unique is that Simone uses natural leavening. "It is a very slow process," she says, describing the mixing, kneading, and rising of her loaves. Beginning with a starter—a mix of flour and water—held over from the preceding week's batch of bread dough, she mixes up new dough, sets it aside overnight at a cool temperature, then adds more flour and water in the morning. After that, the dough rises for one hour, then is cut, weighed, and placed into baskets lined with linen for an additional rising of three hours. It is then baked directly on the brick sole of her 400°F oven.
Dedicated to cooking simply and celebrating the basic traditions of the table, Simone represents the ideals of Slow Food. This also explains why she calls her program—the farming, bread baking, and her convivial dinners—"Plain and Simple". It's that simple.
---
The above article is reprinted with permission from the Vegetarian Times (September, 2003), www.vegetariantimes.com, 1-877-717-8923.
---
Editor's Note: For information on the Slow Food Movement in Canada, and globally, visit www.slowfood.com. I counted 22 convivia located across Canada from Halifax, NS, to Vancouver Island, BC, with at least 1,000 members and growing (no convivia listed in Saskatchewan, as yet). In 2005 there are now 83,000 members of the Slow Food Movement world-wide. There is also a Slow Food Foundation for Biodiversity (www.slowfoodfoundation.com) in Canada, whose mission is to organize and fund projects that defend our world's heritage of agricultural biodiversity and gastronomic traditions. One of the first objectives of this foundation has been to bring Red Fife wheat back into commercial circulation for use in artisan bread production. One of the growers of Red Fife wheat is Marc Loiselle of Loiselle Organic Family Farm near Vonda, SK, and as well, a Saskatoon bakery is now selling artisan bread made from this wheat. For information you can contact Marc at (306) 258-2192 or email: loiselle@sasktel.net.