Archives
---
Volume 17 Issue 3 —September/October 2011
---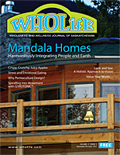 Mandala Homes: Harmoniously Integrating People and Earth
by Rachel Ross
Mandala Homes is a fascinating British Columbia-based company that pre-crafts round structures and ships them in kits all over the world where they are assembled on-site. This group of dedicated personnel and skilled and conscious craftsmen strive to increase awareness, understanding, and compassion for the natural world by building homes that are beautiful, healthy, and sustainable. Mandala Homes is committed to a co-creative process that resonates in a fundamental way with their customer's needs and values. The company was conceived ten years ago in the mind and heart of the owner, Lars Chose.
---
Crispy, Crunchy, Juicy Apples
by Sandra Brandt
Crunchy, crisp, sweet, juicy, tart – newly harvested autumn apples emit a complex burst of flavour with every delicious bite! The Latin word fruor meaning "to delight in" is the source of our modern term fruit. Apples play a significant role in the myths, rituals, and religions of many times and places, and are often used to symbolize fruit in general. They became associated with the Judeo-Christian Garden of Eden story when Renaissance painters adopted the use of apples in Greek mythology in their portrayals of Adam and Eve.
---
Stress and Emotional Eating
by Treena Wynes
We as Westerners are eating the most stressed-out diet on the planet. The foods we choose to soothe our fears, comfort our anxieties, and relax our tensions actually exacerbate the stress we are feeling. After an emotionally-taxing day we tend to reach for sugar or refined carbs to improve our moods. With our hormones continually adapting to all the events we encounter or the tasks demanded of us, the hormonal imbalance at the end of the day will lead us to the package of cookies in our cupboard as soon as we walk in the door. "The psychological experience is as much involved as the biological experience" – (Why Women Need Chocolate, Debra Waterhouse, MPH, RD, 1995).
---
Spiralling Into Movement with GYROTONIC®!
by Tanis Lee
When I mention the GYROTONIC EXPANSION SYSTEM® (GES), I am often faced with looks of confusion, yet intrigue. "Gyro" meaning ring or circle, and "tonic" meaning to invigorate, this type of exercise was designed to increase range of motion, co-ordination, and strength by performing circular and rotational movements. Having been widely used within the dance community for generations, the original name was Yoga for Dancers.
---
Why Permaculture Design?
by Michelle Avis
Peak oil, loss of diversity, species extinction, conspiracy, oil spills, food insecurity... the problems that we face seem to increase both in size and complexity every day. However, we can simplify all of these global issues and emphasize three primary concerns. In order of increasing priority, the three biggest issues are: Pollution, Deforestation, and Soil destruction and erosion. Biology is remarkable in its ability to break down and lock up pollutants. Mushrooms have been shown to be effective in breaking down hydrocarbons and even nuclear waste. However, without soil and without forests, we are unable to support the biology required to deal with pollution.
---
Look and See
A Holistic Approach to Vision
by Elizabeth Abraham
In 1989, when I was 44 years old, I discovered to my amazement that it is possible for vision to get better. I began, with excitement and great hope, on the fascinating journey of healing the myopia, astigmatism, and lack of ability to see in 3D with which I had been suffering since childhood. In 1990, I took a professional training in order to learn how to help others with their own vision issues.
---
Value Your Worth…
by Hannelore
Many times I questioned my path. 'Who am I to be teaching? Who am I to offer seminars? Who am I to be a writer?" I didn't value myself enough to recognize that I might have gifts to offer the world. I was in the film industry but I was being called to embark upon a spiritual journey. The challenge was that I had difficulty charging for my services. Many people desperately needed emotional support but they could not afford it. Over the years, I gifted many of my classes and offered therapy sessions at no charge. I had a core belief, that if it's spiritual it should be free.
---
Editorial
by Melva Armstrong
We have been blessed with a glorious summer this year. It is so precious to be outdoors soaking up the sunshine, being intimate with nature, and feeling her subtle healing and grounding energies. Each day I like to walk in the park and at the end I always hug one of the trees. My day never feels complete unless I spend some time touching the earth and feeling the gifts she so freely gives us. It enhances and uplifts me so I can have the balance in my days to do everything that needs to be done in a gentle and relaxed way.
Read the Editorial.
---
Plus:
Master Your Domain: Living Through Feng Shui Eyes
New Kind of Coffee Increases Your Health
Meditation: The Practice of Observing the Mind
Embracing the Aloha Spirit
Integrative Medicine Program in BC Reaches a Historic Milestone
Natural Reflections: The Strength of Women, Ahkameyimowak
News of Note
---
Recent Issues
---