Archives
---
Volume 18 Issue 6 —March/April 2013
---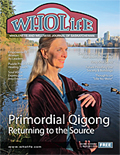 Primordial Qigong
Returning to the Source
by Minka de Vos
Have you ever pondered, where have I come from and where am I going? Spiritual Qigong forms create an opportunity to relax and open to our natural state of being. Qigong is energy practice of graceful yet powerful movements. Like the Medicine Wheel and sacred rituals of other spiritual traditions, Primordial Qigong connects us with the energy of all the directions: Heaven, Earth, four cardinal directions, and our centre.
---
Dehydrating — Preserving Your Bounty, Naturally!
by Stacey Tress
History
Dehydrating is one of the oldest methods of food preservation known to civilization. Primitive people dehydrated or dried grasses, herbs, roots, berries, and meats by setting them out in the sun. They learned that dehydrated or dried apple supplies allowed them to exist during the long, bitter winters when food was scarce or non-existent. The light-weight and high-nutritional value of dried food also enabled early people to travel greater distances to hunt and explore.
---
Empowered Women as Leaders and Coaches
by Abe Brown
A report by the Credit Suisse Research Institute drew data from 2,360 companies worldwide with market value of at least $10 Billion USD, and examined their boards of directors. Their research uncovered that companies with women on their boards outperformed companies with all-male boards over a six-year period between 2005 and 2011. The numbers are impressive. For companies with women on their boards, share prices outperformed companies with all-male boards by 26% over the past six years. Net income among companies with women on their boards has grown an average of 14% a year, versus 10% income growth for all-male boards.
---
Feng Shui Savvy: Reduce, Re-use, Re-design
by Bridget Saraka
Become inspired! Bring new life to gently used treasures sourced at garage sales, second-hand stores, and on-line resources. Unique pieces of antique and retro furniture can be transformed into stunning pieces of artwork to brighten any room. Today these design styles are coined Boho, Vintage, and Shabby Chic. Even a contemporary and modern designed space can benefit from the unexpected visual interest and impact of a one-of-a-kind personalized treasure.
---
Future Proofing Our Society, Starting with Our Buildings
by Shane Wolffe
Are you frustrated with how the world has been going lately? Have you noticed that climate change is happening all around us, yet it is rarely, if ever mentioned in the mainstream media? Have you felt helpless thinking that there is little to nothing that you can do to be part of the solution? You are not alone. Thankfully, there are things that we can do that not only protect ourselves but add value to our greatest assets. The solution has to start with improving that which we already have control over. It has to start with future proofing our buildings, starting with our homes.
---
Puzzle Project has Healing Touch: Canadian Author Word Searched Her Way Through Rheumatoid Arthritis
by Cindy O'Neil
People interested in alternative forms of healing and therapy can discover how Canadian author Cindy O'Neil used art, colour, and word search puzzles to buoy her health during a long-term, life-altering health change, and at the same time, potentially help themselves.
---
Soul Voice: Expression into Freedom
by Karina Schelde
I had my first initiation with sounding two decades ago, while giving a bodywork session to a client in my Healing Centre in Denmark. I had been working with the client on an intense pain in the abdomen area, an even after two previous sessions I was still not able to relieve any of the pain. Suddenly sounds started to pour out of me in a sensation as if I was going to burst into a song that had, for a long time, been waiting to be expressed through me.
---
Thoughts on "Idle No More"
by Donald Sutherland
I am thrilled that Chief Teresa Spence put her life on the line to try to save what little is left of both Aboriginal and Canada's pristine waters and untouched forests. Our current political leaders smile upon Big Oil as our saviour, willing to put massive investments into tar sands "development" and risky pipelines with the aid of recently gutted environmental laws. The Omnibus Budget Bill (C-45) was rammed through with no meaningful discussion. I was reminded of the proverbial elephant dancing among the chickens.
---
Editorial
by Melva Armstrong
What an amazing winter! We have had much more snow than the year before and the cloud cover has hung over the province for so long, we rarely have seen the sun. I am ready for spring, may it arrive early, as predicted by the groundhog. I look forward to sitting on the deck and soaking up some glorious sunshine, without wearing a coat. Having been a city gal my whole life, each day living in the country is a new experience full of many challenges as well as delights. Sometimes I feel like a pioneer clearing the snow for a place to stack the wood, splitting some pieces each day, and hauling it into the house, then keeping the fire going so the house is warm. It is like having a full-time job. When I take the time to listen to the quiet and stillness all around me, I feel a deep connection to the land and nature and all the life forces of which I am apart. It is quite magical and brings a sense of peace inside me, which I cherish.
---
Plus:
Devil's Club – A Special Plant from the Pacific Northwest
Infrared Heat: The Best Way to Sweat Out Our Toxins
Intuitive Energy Healing & Consulting
Classical Hatha Yoga Pose
Windows to the Soul
Putting the Power of Nurturing Touch into the Hands of the Parent
An Unmistakable Invitation to a New Life
News of Note
---
Recent Issues
---