Introducing Saskatchewan's Global Healthcare Connection
by Paul Sherrard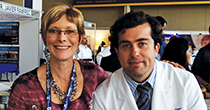 ---
I want to tell you about a new health connection, one that was developed from the heart, right here in Saskatchewan. Global Healthcare Connections Inc. is Canada's new and Saskatchewan's only comprehensive medical travel company. They provide a unique service for people just like you, so you can gain access to world-class medical, dental, and diagnostic facilities all over the world.
Medical travel, or medical tourism as it is also called, is the rapidly growing practice of travelling across borders to obtain healthcare. It is not about queue jumping and it's not about access for some elite, uber-wealthy segment of society. It is for everyday people who are tired of being in pain, tired of life on a wait list, those looking for options to have their lives and their health restored. For many, it is at this point that they begin to research the possibilities of finding health care in other countries.
For most individuals though, just the thought of seeking care abroad can be scary. How does one find and access licensed, respectable medical professionals in specialty health centres located around the world? What should you ask, know, or expect? These are some common questions that can be answered by Adele and her associates at Global Healthcare Connections. They have connections with top facilities in locations all over the world. No matter where you go, their international network knows the destination country inside and out, and will tend to your every need before, during and after a treatment or procedure.
Adele Kulyk, CEO and managing director of this new company, has seen first-hand, as many people have, the too-high price of health care, the too little amount, and the receipt of it much too late. As she grieved the loss of a colleague whose stage-four cancer diagnosis robbed his wife and three children of a loving father, Adele made a radical decision. She couldn't change her friend's fate, but she could leverage her two decades of tourism, business, research, and communications expertise to change the fate of many others. This was the inspiration to start her medical travel business.
Like most people who consider going outside Canada for medical treatment, the first question is where would one start?
A quick search on Google for "medical tourism" can be really intimidating. There are an overwhelming number of options available. Many facilities don't have well-translated English websites. Often, communication can be fractured, and sometimes you don't know exactly what you are asking for or what you will be actually getting.
Trying to book a flight for returning home after surgery can be an exercise in frustration, and people do not realize specialized medical travel insurance is needed when going abroad. Travelling safely for dental treatment or a medical procedure and coordinating continued care at home, is not a task for the do-it-yourself crowd. It's important to find a certified medical travel professional who can assist and guide you to the right facility and location for your needs. This is where Adele's services come in. She has spent the last half decade working tirelessly on behalf of her clients to find personalized medical care solutions around the world. From treating life-threatening diseases like cancer to providing quality-of-life treatments in dental, bariatric, and cosmetic surgery, she has partnered with leading medical facilities in multiple locations. She personally travels to each facility and meets with physicians and caregivers to ensure the level of treatment is far above any expectations Canadians may have.
One of her longest-lasting and strongest partnerships is with Almater Hospital in Mexico. It was the first hospital she toured back in 2010 and it's also where she sought treatment in October of 2013. It is where many of her clients experience personalized, professional care. Located in Mexicali, Mexico, she describes this hospital as, "A crown jewel in the desert; the owners and staff are just like extended family." Many of the international patients that come to Almater take advantage of excellent medical care at savings of 50% to 80% over US prices at a world-class hospital located just two hours from San Diego, California.
The reasons to consider medical tourism are different for everyone. The most common one is for timely access because there is virtually no wait-time for most procedures. Others want access to procedures not currently available or covered in their province or in Canada. Because the treatments are taking place in an exotic or tropical destination, some people turn a medical trip into a once-in-a-lifetime holiday adventure. Many clients take full advantage of the low costs to access multiple services while abroad, including comprehensive medical exams such as MRIs, full cardio work ups, dental exams, audiology exams, and screening and early detection of cancer through tumour-marker testing.
No matter where you go, Global Healthcare Connection's international network of care facilitators can travel with you or be your liaison when you arrive. Native-speaking assistants who know the destination country inside and out will be your constant companions, tending to your every need before, during, and after your procedure.
Adele says her company was created specifically to provide people with the information and services they need to connect with accessible healthcare in a timely manner. They will save you time, money, and relief from the stress of searching and planning for treatments, working with you as your personal advocate, providing support through the decision process through planning your entire travel itinerary. Their commitment is to deliver your services in a caring and confidential manner, ensuring that you have a safe and comfortable experience from your first call to your return home.
Adele Kulyk and Global Health Care Connections Inc. are located in Saskatoon at Unit C, 628-10th St. East. For more information, call (306) 974-2470, email: adele@globalhealthcareconnections.com, and/or visit www.globalhealthcareconnections.com. Also, see the colour display ad on the inside front cover of the 20.1 May/June issue of the WHOLifE Journal.