Gong Awakening
by 2nd Life Wisdom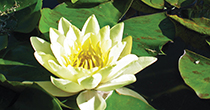 ---
"The gong works on all levels to heal and transform. From the purely physical to the emotional and spiritual, the sound of the gong can promote a positive change in the listener."—Mehtab Benton, Gong Yoga
Picture this. You are lying on your yoga mat, comforted by cushions and blankets as you settle in for sixty immersive minutes of sound and vibration. Within seconds after the gong is struck and its deep, rich notes begin to block out the noise of the city, a sensation comes over your body. From above, there seems to be gentle pressure. The sound is penetrating and the vibration makes absolute stillness come easily. You feel as though your body is pinned to the floor, but not forcefully.
Moments pass and pressure below your body begins to stir. The gentle lift from beneath against the seeming pressure from above creates a sense of weightlessness. Some insist they float out of body. Others recount time in the womb. Each person's experience is unique. And no two sessions are alike. But what is consistent is the understanding among participants that the energy is strong and stimulating.
Hari Dev Kaur Khalsa, a kundalini yoga practitioner in Regina, first encountered the power of the Gong in 2006, during her teacher training in New Mexico. In addition to studying the teachings of Yogi Bhajan, who introduced kundalini yoga to North America in the 1960s, students watched videos of him playing the gong.
"He was tall and had a towering presence," Khalsa explains. "Everything about him was big. And that is how he played—very physically and dynamic. He was fearless in his approach to the gong and the energy behind every stroke was powerful."
Khalsa credits Mehtab Benton as another influence on her practice. While in New Mexico, she was fortunate to attend his workshops in gong technique. Benton's book, Gong Yoga: Healing and Enlightenment Through Sound, is a must-read for anyone interested in learning about the instrument or understanding the therapeutic capabilities of gong vibration and sound. For those curious about kundalini yoga, he offers beneficial insights, often referencing the wisdom of Yogi Bhajan:
As taught by Yogi Bhajan, kundalini yoga is based upon the sound current, the power of word and mantra, and the vibration of the infinite: 'If you meditate on the primal sound,' he has said, 'you will see the unseen, you will hear the unheard, and you will feel the unfeelable.'
Benton asserts that "the primal sound is best represented by the sound of the gong itself" and that its qualities trigger change in body, mind, and spirit.
Khalsa agrees. "The vibration of the gong alters you, for the better," she says. "My advice to all of students is to surrender to the sound of the gong and you will come out a different person."
Though her approach to playing the gong is more reserved than Yogi Bhajan's, she clearly has command of the instrument and is unafraid to push the boundaries of its depth and resonance. She also has a reputation for offering classes in kundalini yoga that are "lovingly challenging."
Each class begins with tuning in—chanting a mantra to connect to the wisdom and guidance of one's higher self. Next, students are led through a series of kriyas or exercises that balance movement and breathing.
"The kriyas are ancient," Khalsa explains. "They have been passed down from the early teachings of kundalini yoga and remain unchanged. The positions can be challenging, just as life, itself, is challenging. We all have to endure some experiences that are difficult and over which we may not have full control. But what we can control is our attitude. We can all try to do our best in that moment. I ask my students to do the same."
Kundalini yoga blends movement, mantra, and breathing. "Knowing how to breathe properly is key to well-being and managing stress," Khalsa says. "Students are taught breathing techniques that help them through the kriyas. But the techniques can easily become a daily routine, with benefits ranging from clearer focus, to having more energy, to sleeping more restfully."
Following the kriyas is a period of deep relaxation, throughout which the gong is played. "Learning to quiet the mind and fully relax is not easy. It takes work. I believe that the gong helps the process. It's true, the gong emits powerful sound. But that sound is very different from the chatter and noise that people endure every day. The calming effect produced by the gong's rich tones and vibration is a beautiful contrast to the energy generated during the kriyas and provides a seamless transition to the meditation that ends each class."
Once a month, Khalsa hosts an hour-long Gong Bath. "I can't take credit for the title," she says. "It is a term used by other practitioners, but there is not a more perfect way to describe the experience and the feeling of tranquility that comes with being fully immersed in the sound of the gong for an extended period."
Just like the weekly classes, every Gong Bath is different. "At times, more than thirty people will show up on a Sunday afternoon, which makes for an interesting configuration of bodies. The gong reacts differently when the room is full. It is a sensitive instrument. Climate affects it, too—changes in humidity or fluctuating temperature. Getting to know the instrument over these past seven years has been fascinating. It has been an exciting and gratifying journey, sharing the kundalini yoga experience with others and watching the progress and transformation of students.
Much like our bodies, the temperament of the gong serves as a reminder of Mother Nature's power over us. When she is at odds, the conflict can surface in unexpected ways—often through various conditions or ailments. But how often do we recognize this connection? How do we typically treat stress or illness? And what is the cost of overlooking the obvious? Can we afford to continue to misread the signs and stay this course when there are many alternate, effective, and simpler pathways to well-being?
Hari Dev Kaur Khalsa teaches weekly kundalini yoga classes in Regina. She hosts a monthly Gong Bath and is regularly invited to deliver sessions in Moose Jaw and other communities in south Saskatchewan. Contact her at haridevkaurkhalsa@yahoo.ca and see the display ad on page 18 of the 20.1 May/June issue of the WHOLifE Journal.
2nd Life Wisdom is a writer living in Saskatchewan.