Archives
---
Volume 11 Issue 5—January/February 2006
---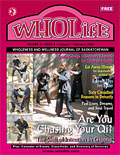 Are You Chasing Your Qi?
The Skill of Intention in Qigong
by Dr. Yancy Orchard, DC
It is mildly ironic that, at the height of our culture's technological advancement, the populace is turning to the teachings of ancient mystics in order to re-connect with themselves, each other, and the surrounding environment. Part of people's attraction to taijiquan (tie-jee-chwan), yoga, and qigong (chee-gong) may be the depth to which the mind and senses are integrated with body movements. This three-way connection is extremely important to one's sense of completeness. Properly practiced qigong seamlessly integrates body, heart, and mind into a single unit enabling one to live a balanced and joyful life.
---
Eat Away Ilness
The Importance of an Ideal Diet
by Paulette Millis
The following information and recipes are excerpts from my new book, Eat Away Illness. It is erroneous to assume that the modern diet is meeting our nutritional needs. Building a healthy immune system and maintaining a healthy body and mind requires educating oneself about the lack of nutrients in many of our refined and processed foods, what foods are nutrient dense, how and where to buy good quality food, and how to prepare it. In addition, we need to recognize that if our digestive system is not functioning properly then the best food and supplements are not being assimilated and digested. Working with a natural practitioner to remedy this, along with changes in lifestyle, may be necessary.
---
Relaxed Eyes See Better
Vision and the Mindbody Conncetion
by Elizabeth Abraham
Most people believe that vision cannot improve or, if it can, that learning to see more clearly without glasses is a matter of strengthening weak eye muscles and doing a strict regime of "eye exercises". This is not so. First of all, if vision can deteriorate, it can also improve. And since vision is largely a result of the mind's interpretation of the images received by the eyes, a mechanical repetition of eye exercises is of little benefit. We need to re-establish the connection between our eyes and mind through relaxation and movement, and learn to develop healthy vision habits so that our whole visual system can function without tension once again.
---
Sixty Canadian Reasons to Detoxify
by Tricia Naylor
A new report by the activist group, Environmental Defence, shows that no matter how healthy we are, no matter how much we eat organic food, or live in remote pristine wilderness, we as Canadians are horrifyingly, carcinogenically toxic. "If you can walk, talk, and breathe, you're contaminated," said Dr. Rick Smith, Executive Director, Environmental Defence. "Canadians are exposed everyday and in incredibly insidious ways to harmful toxic chemicals. We are guinea pigs in a massive, uncontrolled, chemical experiment, the disastrous outcome of which is measured in disease and death." It might sound like typical scare-mongering rhetoric from an environmental activist, but Dr. Smith is backing it up with hard science. The report is called, Toxic Nation: A Report on Pollution in Canadians. The group studied eleven Canadians living across the country, including renowned wildlife artist and naturalist Robert Bateman.
---
Past Lives, Dreams, and Soul Travel
Three Keys to a Richer Love-filled Life
by Adrian McBride
Have you lived before? Do your dreams hold the key to a better, happier, more successful life? Would you like to explore ways to resolve everyday problems from a higher viewpoint? Eckankar, Religion of the Light and Sound of God, offers ways to enrich your life through a study of past lives, dreams, and soul travel. People of all faiths can find insights and help through simple spiritual exercises. For me, the study of past lives is not so much driven by a desire to know what lives I have had in the past, but to understand how my present life is influenced by my past. As a youth, I was convinced that there was more to my existence than this one lifetime. More than two decades passed before I had a series of experiences, both in dreams and waking awareness, that proved the truth of my conviction.
---
Editorial
by Melva Armstrong
Many blessings to one and all as we enter another new year of unlimited potential. I feel that the start of a new year is another perfect opportunity to motivate myself to begin doing those things I've been meaning to start for months, and even years, but keep putting off or avoiding. I always have good intentions but I can sabotage myself by having too many things that I want to start and then I feel overwhelmed and may end up doing none of them. At least it feels good to have the positive thoughts about new beginnings even if nothing eventuates. Mind you, I often do start new projects when each January 1st rolls around and I do complete them and feel good about myself.
---
Plus:
Beatle George Harrison's Formula for Spiritual Health
News of Note
Calendar of Events & Ongoing Events
Classifieds