Archives
---
Volume 15 Issue 2 — July/August 2009
---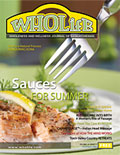 Sauces for Summer
by Paulette Millis
Wouldn't you love to open your fridge and find a tantalizing array of sauces, dips, and condiments that are healthy, full of nutrient dense foods, and ready to use? Well, you can! I know it is so easy to pop into your neighbourhood grocery and pick up steak and fish sauces, veggie dips, stir-fry sauces, salad dressings, barbeque condiments, etcetera, etcetera. These processed foods often contain additives, preservatives, colourings, and other questionable ingredients. You CAN whip up numerous wonderful taste treats without the undesirable ingredients, or the high cost, in minutes.
---
Care From The Core in Regina
Nurturing the Return to Self, Heart, and Spirit
by Elita Paterson
One cold February night in 2002, a group of people came together to discuss the feasibility of starting an organization that would make complementary and alternative healing available to people from all walks of life. For months we met and pondered many possibilities, developing a vision, a mission, and objectives, and articulating our values. We knew beyond a doubt that there was a need throughout society for a place to nurture the return to self, heart, and spirit. Care From The Core (CFTC) Regina was thus born, and on July 10, 2002, it was incorporated as a non-profit organization, and our work began.
---
Solar Energy Systems in Martensville Show Home Courtesy of Unique Business Collaboration
by Jeannine Paul
Imagine coming home to your cozy nest that heated itself all day, plus a tank full of piping hot water courtesy of the sun. Well… imagine no more. You are invited to come over and find out what all this looks and feels like in a new bright spot on the landscape courtesy of a recent collaboration between Homes by Ens and Nexus Solar Corporation, both of Saskatoon. Among the cast at this year's Parade of Showhomes in Martensville, SK, is the "Augusta," featuring a slate of solar energy systems. These include a pair of roof-mounted solar water heating panels, a pair of wall-mounted solar ventilation air pre-heating panels, and a room heater run by its own photovoltaic (solar electric) fan.
---
Bradley® Birth — the new natural
by Chantel Serak
The kind of pregnancy, labour, and birth our children experience has a profound and lifelong effect on their mental, emotional, and physical health. It also profoundly affects the mother and even other family members. Most women spend nine months of pregnancy making every choice based on the well-being of the baby, but then during labour and birth, many consent to routine procedures uninformed and with the attitude that they will do whatever their birth team tells them. Often this experience is good and the outcome is a happy and healthy mom and baby. But just as often, the experience is one that is challenging or disappointing, despite the outcome of a healthy mom and baby. Many couples might choose to have a natural birth if only they were aware of the choices they have in pregnancy and birth.
---
Grief is a Natural Process
Honouring Our Beloved Kona
by Cathy Nickel
Grief is a process that is unique to everyone. Culturally, our world deals with grief in many different ways. Some people will gather together and wail. Members of my Irish heritage in the past would hold a Wake or party for the deceased, often with the body present. Upon looking through a German family album I noted various photos of loved ones in their caskets. In Japan, altars in the family homes are common with daily offerings made to the deceased and photos of the dead nearby. Members of the same family will deal with grief differently.
---
Desperately Seeking Self
by Laurie Bonello
What pushes us forward, searching for purpose in our lives? Do we know intuitively there is more to life than what we now experience? Those of us who read this magazine are often seekers, on a quest for truth. We consciously make an effort to seek out ways to increase the health, joy, love, and peace in our lives. I, too, have been searching for many years. Past life regression gave me a glimpse of former lives. Psychics offered impressions of the future. Holistic healers, self-hypnosis, Rain Drop Therapy, Qi Gong, Yoga, Reiki, and intuitive development classes all propelled me forward. Searching. Seeking. Seeking myself; almost desperately.
---
Torch Valley Country Retreats
An Eco-friendly, Year-round Get-away Destination
Where souls are inspired, hearts are opened, health is renewed, and peace is possible.
by Carol Marriott
The soul-inspired, heart-based, eco-tourism business created by Jean and George Lidster, called Torch Valley Country Retreats, embodies the truth of this quote above. As Oprah would say "This I know for sure." If you do things in your life with love and passion, you can change the world and contribute to the well-being of the whole. This is truly what the Lidsters are offering on their 2,000 acres of natural land at the edge of the boreal forest on the Torch River, just north of Nipawin.
---
Editorial
by Melva Armstrong
In May, I had the extreme pleasure of driving to Regina and meeting with members of Care From The Core. This is a group of holistic practitioners, and others, who came together to create an integrated wellness centre in the "inner city", the Core area, where they live. This is a place available to people from all walks of life to learn to nurture the return to self, heart, and spirit. It is a place for teaching, a place for learning, and a place for healing. The centre offers information, tools, and resources that enhance self-understanding and help bring balance into one's life. They provide programs and classes that address these issues. They also provide and fund programs aimed at youth and adults in the inner city, offering them tools and skills that enable them to discriminate between choices that help and those that don't – programs that allow exploration of alternative outcomes to that currently dictated by where they live. They also take their message into the wider community with outreach programming and through their website, trusting it will be received wherever it is needed, or wherever they are invited to deliver it. They invite others who see the wisdom of this path to join them. I feel blessed that one of the members, Elita Paterson, has provided an article called Care From The Core in Regina (p. 14), that explains more about this group of heartfelt and dedicated individuals. I thank them all for their kindness, generosity, and warm welcome. May their healing work continue for years to come. It is very important work in these rapidly changing and turbulent times. I look forward to working with them in the coming days, months, and years.
---
Plus:
Profile: Holistic Animal Care Comes to Southeast Saskatchewan
Blessingway Into Birth–A Woman's Rite of Passage
Champissage™–Indian Head Massage
Citzen Patrol and Community Watch in Saskatoon: Volunteers Helping Create Safe Communities
The Secrets of How the Mind Works
A Close Brush With Death
News of Note
---
Recent Issues
---