Archives
---
Volume 20 Issue 6 —March/April 2015
---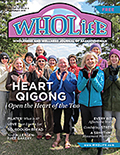 Heart Qigong
Open the Heart of the Tao, the Way of Natural Healing
by Minke de Vos
Are you ready for a change of heart? Open your heart to new possibilities for yourself through the contemplation of fundamental questions – questions which penetrate the core of life. What is on your heart? Do you have conflicting "voices" that disturb your "Heart Mind"? How does an individual come to peace with her/his Self? During the Heart Chi Kung Retreat, you will learn how to deal gracefully with the challenges of life. Discover what your heart longs for as well as what nourishes your heart.
---
Sourdough Bread
by Stacey Tres
Nothing beats the smell of fresh bread baking in the oven (well, maybe bacon…). Homemade bread and sourdough bread have a lot of similarities: they both smell amazing being baked in the oven, they both freeze well, and both can be simple to make, or complicated depending on the recipe you choose. But that's where the similarities end and sourdough dives into another dimension! What is a "traditional" sourdough? The sourdough process results from the fermentation reaction of two micro-organisms: wild yeast and beneficial bacteria. The yeasts are primarily responsible for leavening and bread texture and bacteria for the sourdough flavour.
---
Love Your Liver a Lot
by Michelle Kramer
Many people live their lives with chronic discomfort and assume it is a normal part of aging. In many circumstances, the distress can be traced back to liver function. Fatigue, muscle aches, dry eyes, acne, stomach ulcers, back pain, heartburn, indigestion, acid reflux, gas, bloating, nausea, constipation, and diarrhea are all symptoms that can indicate poor liver health. This organ is deeply involved in the complex array of chemical reactions that take place as we break down and absorb nutrients. Every part of the body relies on the basic nutrients made available through the digestive system as well as the effective removal of waste products. Without a healthy liver, foods cannot be digested, absorbed, and transported throughout the body properly, and resulting consequences will manifest as the symptoms above.
---
Saskatoon Home for New Allergen-free Inside Out Bakery
by Caitlin Iles
There's a new player in the healthy living sector in Saskatoon by the name of Inside Out Bakery and Catering. They're on a mission to make healthy eating and living accessible, easy, and delicious for everyone in the city and area. This bakery is the first gluten and dairy free, allergen friendly facility in the city and focuses on using whole foods to make delicious alternatives for anyone living with food allergies, intolerances, or who just wants to eat healthy, whole foods. They do everything from soups and sandwiches to specialty cakes and desserts that can be tailored to virtually any dietary preference or restriction.
---
Pilates! What Is It?
by Kathy Bond
It's what many athletes, celebrities, and maybe even YOU and your neighbour rave about! Pilates is great for the whole body, the whole mind, and even a great career. First introduced to the public in 1925, it is a system of physical exercises created by Joseph Pilates, that emphasizes mental and physical conditioning to assist in strengthening the body. Joseph Pilates believed in focus, breath, movement that required thought and control, bringing flexibility and alignment to the spine and improving coordination and balance.
---
Combating Stress
by Nina Lane
After dragging yourself out of bed, you busily hurry throughout your day, moving from one task to another – squeezing in that morning run on the treadmill, then gulping down your breakfast on the way to work, powering through your workday on caffeine and carbs, all the while thinking about what's for supper and what the kids are doing tonight. Then, after rushing here and there, you get home to collapse on the couch exhausted. So after a bit of vegetating, you get ready for bed, leaving that pile of dishes and climbing into that comfy haven AND your mind starts racing! You can't sleep! You're not tired! What is going on?
---
Gateways to Freedom – A 5Rhythms® Movement Workshop
by Evangelos Diavolitsis

Doing the 5Rhythms is about waking up to your most essential nature. Stretching your intuition and imagination as surely as your body. It's a formless form, one that expands your range of physical and emotional expression and introduces you to forgotten parts of your psyche. It awakens intuitive intelligence and artistic sensibilities. Working out should be inspiring, not just riding some bicycle while reading

People

magazine. Working out should be like having a conversation with your body and spirit; it should be personal, intimate, and holy, not boring and painfully repetitive.
---
Book Review
Every Bite Affects The World
by Catherine Verrall and Friends, Friesen Press 2014
Reviewed by Sandra Brandt

Catherine Verrall's recently published book,

Every Bite Affects The World

, is a sheer delight! Brimming with its joyful attitude toward our relationship with food, it takes the reader on a journey of many paths. The subject of food is all about connecting the inner world of our bodies with the wider world outside us, which leads us in many directions of exploration. The outer world paths explored in this book include principles such as locally-sourced food, food sovereignty i.e. making food a public good rather than a profit-driven commodity, and recognizing indigenous food wisdom, and shows how our individual everyday choices can be based on these principles. The book is as much an environmental handbook for daily living as it is a cookbook, and it certainly excels on both levels.
---
New Year's Resolutions – Beating the Odds, Being Successful
by Kent Bailey, ND

Here we are again. A few months into 2015... how did you do? Do you have your life in order as you promised yourself on New Year's Day? What was the target going to be this year? Smoking? Sugar? Alcohol? The gym? Spending more time with loved ones? Being more positive? The list goes on and on. For those of you that are still on the wagon, congratulations. For those of you who have fallen off and running to catch up, don't worry, let's talk about it.
---
Editorial
by Melva Armstrong
This is an exciting issue for me to publish, as it completes twenty full years. I created WHOLifE in 1995, and I find it hard to believe it has been this long. As I look back on all the issues, I feel delighted to see how the journal has grown and evolved. The first issue was sixteen pages, one colour plus black and white, and 5,000 copies. I have found it extremely enjoyable growing it over the years. Initially, it was only distributed in Saskatoon, but soon afterwards, I had it in Regina and numerous other locations throughout the province. It didn't seem long for word to spread about its existence, which encouraged me to continue. As with any new project, there were ups and downs, which I discovered were quite normal when starting a business. The main thing was that I found myself very excited doing things I loved, being able to contribute to the health of others and the environment, and to be working for myself.
---
Plus:
Attachment and Non-attachment
The Singing Soul: Music That Empowers Body, Mind, and Spirit!
You Are Who You Seek – Accept Yourself
Congregationalist Wiccan Association of Saskatchewan (CWAS)
News of Note
---
Recent Issues
---