Queen St Health Collective – Serving Whole Person Health
Courtesy of Queen St Health Collective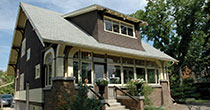 ---
Can you imagine a more lovely setting for a healing space than the beautiful, historic 1912 McFarland House, at 716 Queen St in Saskatoon?
Over the years, this gem of a building has appeared in many different newspaper articles featuring its 2004 and 2011 revival and rejuvenation; the beginning of the Prairie Hospice Society; and now its rebirth as a healing collective.
Property owner, Deborah Black, said, "This whole building has a very special healing energy about it, and the yoga teachers describe the studio space as a sacred space. The day I got possession of the property, the words, 'This building is about healing and wellness' dropped into my head. As it turned out, it has evolved into that very thing."
The building serves communities of people who seek to learn and grow in mind and body. It attracts practitioners, clients, teachers, and students who seek to live life fully, with wholeness and ease of well-being. Leaders with a high level of professionalism, formal accreditation, and vision within their respective fields are drawn to use the facilities for their teaching, practice, and gatherings. We are here to serve whole person health.
Rooms on the main and second floors can be used permanently by specific counsellors, naturopaths, or for hands-on practices such as massage, acupuncture, and energy healing, while the lower level provides space for meditation yoga, or art classes. As a collective of independent practitioners, it may also be possible to share the healing spaces to keep it affordable for more casual use.
History
In honour of the 100th anniversary of the building in 2012, the building was named McFarland House, to honour Arnold G. McFarland, auditor for the CPR, who built this as his family residence and office. McFarland's father had come out from New Brunswick to help build this lovely craftsman-style building, which is very unique in Saskatoon. From its quarter-sawn oak paneling to magnificent oak and maple floors with distinctive patterns, to the river-rock fireplace, to the welcoming veranda, this charming building graciously receives all.
The McFarlands raised seven children in this home, then ultimately retired to Victoria. Of historical interest, their oldest son, Reginald, was a Professor of Music, and McFarland Place in Arbor Creek was named in his honour. He and his first wife Lucille contributed greatly to the University of Saskatchewan and to musicals, as well as to the Saskatoon symphony. Reginald later married Alice Turner, after whom a Saskatoon library was named.
The second owner was John E Barton, a retired farmer, whose American wife, Eleanor, returned to the US after John's death.
Hub City Agencies Ltd. then operated their real estate company from this location until the retirement of company owner in 2004.
Deborah Black bought the building that year and immediately both restored and renovated the building for her communications company, dblack.communications, later receiving a Heritage Award from the City of Saskatoon for this work.
Further renovations of the basement in 2011 were guided by a structural engineer who ensured that the new walls would replace the old concrete foundation, and that the upper floors were supported and properly reinforced. Radiant heating was added before a new concrete floor was poured. After that, a variation of the Santa Rosa Labyrinth was carved into the concrete, using a traditional Arts & Crafts rose motif in the centre. This lovely floor has an acid stain treatment that brings out the colour, life, and natural beauty of the material.
The lower level is a centre for meditation, yoga, and art classes.
Prior to Deborah's retirement from communications, she herself became a Brennan Healing Science Practitioner in 2017, after studying for four years at the Barbara Brennan School of Healing in Florida (www.barbarabrennan.com).
Dr. Brennan was a former NASA physicist who became immersed in quantum physics. She developed the ability to use high sense perception to see into the human body, to identify physical problems, and ultimately to heal the energetic issues causing the problem. Brennan wrote the first definitive book about energy healing, Hands of Light, in 1987, and went on to establish her international training school, initially in the US and now in many different American states and other countries.
Today
Recently, rooms were created on the second floor to house permanent spaces for healers of all types. The beautiful heritage features have always been maintained through the renovation upgrades, and both the soul and the heritage of the building continue to shine brightly.
Throughout the building, antique and modern stained glass windows have been used as both window coverings and larger panels as room dividers, further complementing the building's unmistakeable energy.
This healing facility speaks to the souls of those who enter and serves the needs of people who seek to be well. Being centrally located in the City Park neighbourhood, it is easily accessible.
This collective is a complementary way to serve the community's wellness needs. The world can always use more loving, mindful, healing energy as an adjunct to more traditional Western practices.
To inquire about space for your healing practice, or to check out our practitioners, email the Queen St Health Collective at info@queenst.health, or info@queenst.ca, or visit the website queenst.health. We look forward to serving both whole person health, and our community's health. Also see the display ad on page 14 of the 28.4 November/December issue of the WHOLifE Journal.