Archives
---
Volume 9 Issue 4 — November/December 2003
---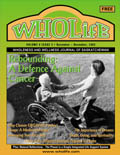 Rebounding: A Defence Against Cancer
by Linda Brooks
Exercise, a major part of the human body's defence strategy, can increase the number of white blood cells up to fourteen times their normal amount. That's an able army to fight any battle, and it could be produced regularly! For example, gently bouncing on a rebounder for two minutes every hour is an ideal protocol for defence against cancer. Within just two minutes the entire lymphatic system is flushed, creating a demand for more lymphocytes, including killer T-cells. The white blood-cell count is approximately tripled during this two-minute rebounding session. Many cancer-killing potions (such as hydrogen peroxide) are produced more efficiently while a patient is rebounding.
Read the article
---
Why Choose ORGANIC Poultry?
by Paulette Millis
Whow! What would we do without our favourite chicken dinner, or our roast turkey for Christmas? Upon reading the research on the quality, or more aptly, the lack of quality in our poultry supply, I can see where one might choose to become vegetarian! People born before World War II often say, "Chicken doesn't taste like chicken anymore." But listen, read on for how to source quality birds!
Read the article
---
Chaga (Inonotus obliquus)
A Medicinal Fungus
by Kahlee Keane
I read Alexander Solzhenitsyn's novel Cancer Ward in the early 70s: it's a painful book in many ways, but an excellent read. My first knowledge of the powerful medicine called "chaga" was found within its pages, however, it would be more than a decade before I would find it for myself. During the mid-80s I was living on an island off the coast of New Brunswick doing medicinal plant research when I had what some would call a "medicine dream." Central to the dream was the clear image of chaga hugging the trunk of a white birch. It is my belief that this dream came as a reminder of buried knowledge, a rekindling and renewing of interest in the possibilities of this wild medicine.
Read the article
---
Death, Dying, and Spirituality
by Douglas De Long
In today's world there is a crying need for spirituality. With all the worries, fears, and stresses associated with our modern society there must be a way to find peace and order in our everyday existence. This is equally true for those with a terminal illness. There seems to be an explosion of suffering and illness worldwide. Cancer has reached epidemic proportions. Despite all the marvellous advances of medical science many of us feel lost and helpless in the wake of all this.
Read the article
---
Natural Reflections
The Planet is a Single Integrated Life Support System
by Stephen Bradley
Curled up on the couch with my wife, Jen, we saw our TV screen fill with snarling flames. Kelowna, BC's third-largest city was on fire, one of the over 800 forest fires burning in our province. The week before we had seen every home in Louis Creek destroyed along with their only employer, the sawmill. Ironically, the Secwepemc First Nation families who lost everything, had kept the land safe from devastating fires when they controlled the landscape for thousands of years before colonisation. Their complex system of husbandry used controlled fires at chosen locations each year, creating rich new forage for game animals, keeping edible starchy roots from being choked out, and preventing the colossal blazes which are now standard occurrences.
Read the article
---
Editorial
by Melva Armstrong
After reading Paulette Millis's article, Why Choose ORGANIC Poultry?, I shuddered at remembering the many times I've eaten non-organic poultry, not to mention my upset at the inhumane treatment of the birds. The facts she presents about commercially-raised chickens are downright scary and deplorable: they are fed antibiotics, artificial growth hormones, and GE foods such as soy; reports show that salmonella contamination is on the increase due to the way chickens are raised, the crowding, and the stress; "fecal soup" is created when thousands of dirty chickens are bathed together in a chill tank which spreads contamination from bird to bird; in many instances the chickens are kept in wire cages where each bird has 64 square inches, and de-beaking practices are used for maximum production; and what about the pollution of groundwater where large poultry operations exist? Are you convinced yet to switch to organic? When you read the article it will make you think twice. As usual, Paulette provides tips about buying, cooking, and storing organic poultry along with her usual nutritional and medicinal information and some fabulous recipes.
Read the editorial
---
Plus:

Managing Your Pet's Diet for Optimum Health
The Importance of Dreams - An Ancient Tool Revived
Cathy Asks – Pilgrim's Journal: Pilgrims at Home
News of Note
From Our Readers