Unconventional Healing: A Contemporary Dance Show
by Karla Kloeble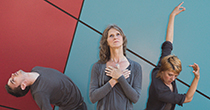 ---
Contradictions explores the depths of some of the least talked about, yet most common, hardships that humans face.
A performance that takes a hard look at heart-breaking life experiences; that opens the hearts and minds of its viewers to truth, hardship, and healing; an opportunity allowing time and space for facing up to truths, making reflections, and accepting uncomfortable emotions and transformations. Contradictions is a unique contemporary dance show that sheds light on the nature of human contradiction. Witnessing the unfolding of the show is a very intense and dramatic experience that leaves an imprint on those who have experienced it first hand. We believe it is important for people to embrace issues that our society tends to "hush hush" and to turn away from, even though confronting them can be uncomfortable and difficult to deal with. Pain is real, and we acknowledge that; people are not alone in their own struggles, even though, commonly, we feel as though we are.
The Contradictions Collective is a group of courageous, versatile dance and performance artists: Miki Mappin, Mitchell Larsen, and Karla Kloeble. On the stage, the performers do their best not to hide from the contradictions being portrayed, to decorate them, or to fake their way through relating to them. We are holding the contradictions we have faced, along with the pain and turmoil they have caused and created within us.
Contradictions explores the depths of some of the least talked about, yet most common, hardships that humans face. Filled with emotion and truth, this production looks the subject of human contradiction straight in the eye, resulting in a visceral account of what individuals face when caught in the midst of life-altering contradictions. The content unveiled in the performance stems from the three artists' life journeys: Miki's identification as a transgender woman, Mitchell's homosexuality inside a religious household, and Karla's reality of being sexually assaulted. Being able to present the facts from a place of personal understanding conveys a powerful feeling of catharsis in both the performers and audience members. Tapping into these profound levels permits a person to experience the release of pent up emotions they may not have even realised were there.
The show holds integrity and curiosity at its core. It looks into the process of growth, healing, and transformation through first coming to terms with your own feelings of inadequacy, guilt, and shame. The fight to keep your own identity, and not succumb to the labels and victimized roles that are thrust upon those who are looking for healing, is a tremendous task. We all walk a hard road at one time or another and this show opens up conversations that are needed in the 21st century. Through reflection and conscious living we can create new patterns and conduct our lives in healthy ways moving forward.
Contradictions is an opportunity to witness and experience healing, join in with the post-performance conversation, become the advocate for the voice that goes unheard, and speak your truth. This show is presented with the support of Dance Saskatchewan Incorporated, the Saskatchewan Arts Board, and Free Flow Dance Theatre Company.
Testimonials
"I have never experienced anything like it." ~ Grant Pigeon
"Can they do this? Is this art?" ~ Anonymous
"A dynamic performance that has surely inspired me to be a better person and a better artist of the heart. You're creating connection and circles among people for sure!" ~ Brian Giuseppe
"I am able to talk about my life now, and not feel so bad. You have given me permission to express myself." ~ Kate Ryan
Three nights of performances
Friday Aug. 26, 2016
Saturday Aug. 27, 2016
Sunday Aug. 28, 2016
Door: 7:30 PM Show: 8:00 PM
Location: Dance Saskatchewan, Inc. 205 Pacific Ave., Saskatoon
Picatic: Contradictions $20 + service fee
Day of show, tickets available at the door for $25
***Trigger warning material***
***nudity 19+***
Karla Kloeble is the driving force of Contradictions Collective and has been training in dance continuously throughout her life. Karla is an artist, organizer, and presenter of events and performances throughout Saskatchewan. She is a mother of three beautiful daughters and is happy to call Saskatoon her home.