Current Issue
---
Volume 22 Issue 4 —November/December 2016
---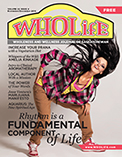 Rhythm is a Fundamental Component in All Our Lives
by JADE
In fact, before any single one of us set foot on this planet we were initiated as human beings through an intensive rhythm training program. Think about it for a moment. We begin to take shape in our mother's womb guided by the constant rhythm of her heartbeat until we form a tiny rhythm maker of our very own. Together with our mother, life pulses through us. Then, in the moments immediately following our birth, with our own heartbeats now keeping time, our second great gift of rhythm comes – that of the breath. Inhaling. Exhaling. And so it is. With breath and heartbeat, our great rhythm journey began. It is how we all began our time here, without exception. And it is also how our time here will end.
---
Increase Your Prana with a Vegetarian Diet
by Stacey Tress
This article was inspired by a recent course my husband and I took. In this article, I will talk about the course (Art of Living Happiness course) and the vegetarian potluck the attendees and I shared in, which then lead me to rediscover my love of vegetarian food.
What is the Art of Living? The Art of Living Foundation (AOLF) is a non-profit, educational and humanitarian organization founded in 1981 by the world-renowned philanthropist and spiritual leader Sri Sri Ravi Shankar. The AOLF is present in 155 countries, reaching an estimated 370 million people worldwide with a vision of individual and social stewardship in society.
---
The Power of Your Words
by Abe Brown
I was jolted the other day when I was out for an afternoon walk with my wife and children. As we were walking through the neighbourhood on a bright and beautiful day flooded with sunlight, we passed by a local playground for small children. Strolling along the sidewalk beside the park, it was peaceful to hear the happy sounds of children's laughter and fun, and so it was a shock when it was interrupted by the shrill pitch of a man yelling, "You're such a dough-head. You're always such a dough-head. Come on, let's go. You're such a dough-head. You're always such a dough-head. Come on, let's go."
---
Local Author with a Mission: Improve Diagnostics in Saskatchewan
by Calynda Triffo
When something in the body isn't feeling normal, it may take time to decide to go to the doctor to get the condition checked. If everything you try is not helping the symptoms subside, it becomes a priority to find out what is wrong.
---
A Talk with Amelia Kinkade, Author of Whispers from the Wild
Courtesy of New World Library
Were you born psychic? How did you get started working as an Animal Communicator?
I was not born psychic any more than any normal person. I learned it in a workshop over 25 years ago, taught by the brilliant Beatrice Lydecker. The ability seemed to be waiting to pour from me like a waterfall, but I had been in a transcendental meditation class for over a year before this workshop so I found it very easy to quiet my mind, silence my emotions, and learn how to "listen." The seminar was the seed of what I now teach all over the world, so my thousands of students in 29 countries can attest to the fact that Animal Communication is a learned skill, based on talent, yes, but also discipline, dedication, concentration, and the ability to surrender to pure love.
---
Marijuana is a Medication
Excerpted with permission from Chapter Eight of Jesse Ventura's Marijuana Manifesto
Oh, and I almost forgot to reiterate one final point about marijuana being a medication instead of a drug. What does THC do? It curbs alcohol and tobacco addictions! That's right. Doctors and psychologists consider weed a recovery treatment for nicotine and alcohol addiction. The National Institute on Drug Abuse states that half the individuals who begin an addiction treatment program relapse within six months because of their chemical dependency to the drug. Think about the withdrawal symptoms of alcohol: anxiety or nervousness, depression, fatigue, irritability, jumpiness or shakiness, mood swings, nightmares, clammy skin, headache, insomnia, loss of appetite, nausea and vomiting, rapid heart rate, sweating, delirium, hallucinations, and seizures. Then think about the withdrawal symptoms of nicotine: tingling in the hands and feet, sweating, nausea and cramping, headache, cold symptoms, anxiety, insomnia, cravings, confusion, irritability, depression, temper tantrums, constipation, boredom, dizziness, and weight gain. Then think about what marijuana does and how it could curb these symptoms entirely. Remember the study in the Harm Reduction Journal from chapter 7? Addicts who regularly smoked weed decreased their desire to use tobacco, alcohol, and hard drugs without experiencing all those awful withdrawal symptoms.
---
Aquarius: The New Spiritual Age
by Todd Lorentz
Most people today instinctively recognise that a deeply profound and fundamental change is embracing our planet. At the same time, many find it difficult to fully understand the larger relevance of those changes to our civilisation. The old and time worn methods of the past no longer sustain our societies and the collapse of nearly every system and field of endeavour appears imminent. This has resulted, esoterically speaking, of an invocative cry from humanity for help and support from "higher sources." How can we understand the relevance of these times and how can we make our way through the current darkness into a land of peace and brotherhood for all?
---
An Introduction to Clinical Aromatherapy
by Kimberly White
What is clinical aromatherapy and what can it do for you? Clinical aromatherapy, also becoming more recognized as essential oils therapy, is the use of essential oils for specific clinical outcomes. For example, wound care, headaches, migraines, aches and pains, neurological damage, emotional well-being, and much more. It is a complementary medicine so it works very well with conventional medicine, alternative therapies, or entirely on its own. Essential oils have the ability to naturally balance, regulate, heal, and maintain physical and mental health.
---
Editorial
by Melva Armstrong
It has been another busy and active two months. The big unexpected snow dump threw me for a loop, as it likely did many of you. The snow has gone but the clouds have dominated the sky for weeks and I do miss the sunshine. The garden wasn't ready for the snow either so what was left like the Swiss chard was lost. There were a number of squash that survived, so that was a blessing. I was just settling in for a very sweet, sunny, and warm October but that wasn't meant to be.
---
Plus:
Four Key Steps to Improve Communications and Understanding
We'Moon 2017 – StarDust
Thoughts on the Clarity of Co-creation
What a Psychic Medium Can Do For You!
News of Note
---
Recent Issues
---