Embracing Un-stationary Fitness
by Clay Sparks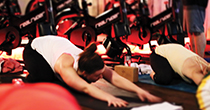 ---
If "fitness" is something that sounds scary or intimidating, you are not alone! The fact is, most people do not work out, at all. This is not good, however the psychology of why has a lot to do with what people "perceive" is achievable for themselves, as well as how they feel when they walk through those front doors!
SPIN has taken Saskatoon by storm this past year! The evolution of this primarily "big box" experience has grown into quite the budding independent fitness industry alternative. One of the most unique additions this year is Breathe Cycle & YOGA Studio. It offers a beautiful blend of both SPIN and YOGA.
When you walk through the front doors of the studio, you know this place is special. It has a very earthy and welcoming environment and you instantly feel at peace. The lighting is warm and comfortable, the décor is natural and gives you a feeling of being outdoors rather than inside a stuffy gym.
Indoor cycling, or SPIN, is taken to a whole new level at Breathe with the "Un-stationary" bikes they use. They are called RealRyders… and yes… they feel very real! The bikes are built on a unique frame that allow the rider to actually steer and lean into turns so that you engage your core, your obliques, and your abs. This is far beyond just pedalling… you need to fully engage your whole body to RYDE it!
Classes are offered as RYDE-only, YOGA-only, or a beautiful blend of a RYDE and YOGA combo. The intensity of the experience, however, is something that you are in full control of. There is a resistance dial on your bike that allows you to increase the intensity and create a workout that feels more like a mountain climb than a flatlanders ride. The classes are all led by a motivating teacher, and the energy in the room really gets amped up when the lights go down, the music gets pumping, and you begin to move to the beat!
Breathe exists, quite simply to be an environment that fosters opportunities for people to move, sweat, and breathe. These three things are the foundation upon which the brand experience was formed. Sedentary living causes challenged mobility and even less flexibility. YOGA and Cycling… separately or together… are an amazingly efficient pairing that can help anyone gain or regain the strength and mobility they desire.
As health and wellness continue to be a part of your life, a trip to Breathe to experience the "purposeful" work that takes place in their "Garden" is a must!
Follow Breathe on Facebook, InstaGram, or visit www.breathecycle.com. Breathe Cycle & YOGA Studio, 140-1804 McOrmond Drive, Saskatoon, SK S7S 0A6, phone 306-974-2220.