Prairie Spruce Commons Cohousing
by Laurie Gillies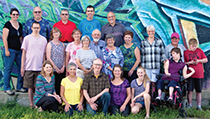 ---
It is exciting to watch the construction of Regina's first cohousing initiative, Prairie Spruce Commons, at 1625 Badham Boulevard. Cohousing is a lifestyle that provides the perfect combination of privacy and community. It is a creative way for people to have beautiful private units and shared common space. Prairie Spruce is a neighbourhood in a unique green building and healthy environment. It is one of three cohousing communities in Saskatchewan, there being two others in Saskatoon.
Members of Prairie Spruce are building a 21-unit apartment-style condominium intentionally designed to use resources wisely and to encourage co-operation as well as friendly interaction among residents and neighbours, individuals and families. This inclusive, safe and authentic community is one that respects, shares, and cares. There are currently 14 units spoken for and new members are being welcomed.
"At our very first design workshop with Prairie Spruce Commons we knew there was a resonance for us," writes one member household of their attraction to the project.
"At that first design workshop we were putting check marks in many of our boxes: underground parking, garden, accessible space designed for our particular needs, design for natural light in every unit, close to Wascana Park, the University of Regina, and downtown. Then there were the things we hoped for but didn't imagine possible: green building design, a community of people committed to a lighter footprint. Add to that the bonuses we hadn't even thought about: multi-generational community, a common kitchen and gathering space that could accommodate our large extended family and community of friends, a shared workshop (Brenda loves other people's power tools), a guest room that could be reserved by any of the members of PSC. We were doing the 'happy bee dance' vibrating with the resonance between our lives, our dreams, and PSC."
Cohousing communities are typically designed, managed, and maintained by residents using consensus-based decision-making. Consensus is different from most other kinds of decision-making because it encourages group members to work together and collaboratively develop solutions to common questions.
Each Prairie Spruce household is involved in the ongoing life of the community. They are invited to attend general meetings and contribute to committee work. Other involvement can take on many forms, allowing for individual talents and preferences to shine.
The cohousing lifestyle strives to create a village of all ages. The type of village that really does raise children and where people spontaneously socialize and eat together! Because residents design the community themselves to meet their own values and needs, they naturally develop a deeper sense of place and belonging with their homes, as well as a deeper connection to each other well before the physical community is even built. That is the natural benefit of the community design.
As a multigenerational group, current membership of 26 consists of students, retirees, and professionals (along with 3 cats, 2 dogs, and 1 goldfish).
"My interests are environmental issues, being outside and going for walks," Murray says in his community biography. "I especially enjoy being out in the country in the fall, cross-country skiing in the winter and maintaining some level of fitness through working out. Conan's (the beagle) interests are food, food, walks, and being with people!! Conan and I are both looking forward to moving into Prairie Spruce Commons."
Perhaps most importantly, the group looks forward to benefitting from each other's knowledge and experiences. Bringing people close together can make it easier to share resources and be a place where individual skills are shared and valued.
"One aspect about cohousing that really excites me is the sharing of skills and abilities among community members," says Dave, a founding member.
Their collective interests vary greatly from sewing to wine making, hunting to carpentry, computers to cooking, music to sailing, and golfing to pet ownership.
They also value the ability to live independently within their own homes while fostering and contributing to the community they are building. Something they have been successfully accomplishing for several years already from separate homes throughout the city, as they nurture their dream into reality.
Prairie Spruce has created a checklist of questions for people to think about when discerning whether a cohousing lifestyle might be right for them. Try these out to see if they align with your values!
• You desire a more meaningful connection with your neighbours.
• You enjoy sharing and working with others.
• You want to live lightly on the earth.
• You want to live abundantly through sharing stuff and skills.
• You want to age in place.
• You want to raise your kids in a vibrant community.
• You want to live among people from all walks of life.
• You celebrate the diversity of people and cultures in your city or town.
If cohousing resonates with you, Prairie Spruce invites you get involved. Email PrairieSpruceCommons@gmail.com. Check out the website prairiespruce.com. If you're in Regina, drive by the build on Badham Boulevard, just south of College Avenue and Broad Street.
Contributed by the Prairie Spruce gang with Laurie Gillies taking the lead. Laurie is an equity member of the project, a freelance journalist, and co-owner of Nature's Best Market, an organic grocery store in Regina's Marketplace area, just a short walk from the new cohousing building. Also see the display ads on page 17 of the 23.4 November/December issue of the WHOLifE Journal.