Archives
---
Volume 11 Issue 2— July/August 2005
---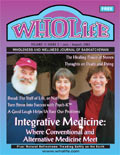 Integrative Medicine: Where Conventional Meets Alternative for Truly Wholistic Medicine
by Louise Gagné, MD
There is a new approach to healthcare emerging across North America - it is called Integrative Medicine. Its concepts are at once new and ancient. Practitioners of Integrative Medicine aim to offer patients the best of both worlds, using treatments from conventional and alternative medicine. This is truly wholistic medicine that focuses on physical, emotional, and spiritual wellness. Integrative Medicine has developed in response to a growing interest in complementary and alternative therapies and an increasing awareness of the limitations of conventional medicine. Growing numbers of people are using nutritional therapies, homeopathy, acupuncture, and botanical medicines. People use these therapies for many reasons - hoping the therapies will have fewer side effects and be more effective or less costly than conventional approaches. Perhaps most importantly, many people also state that they seek out alternative treatments because these therapies are more aligned with their personal philosophy of health and healing.
---
Bread—The Staff of Life, or Not?
by Paulette Millis
Mmmm! The smell of home-made bread! Doesn't that just make your mouth water? What kind of bread did you grow up with? If it was store-bought bread, was it white or sixty-percent whole wheat? Did Mom make bread from scratch regularly? Did you have one of those Mom's who used only organic whole wheat flour or stone ground flour? You might be surprised to learn that in 1900 we ate 15 pounds of white flour a year per person and by 1999 it became 30 percent of our total diet? Significant also is the fact that the gluten content has undergone a drastic change, according to nutritional sources. Wheat gluten content is now six times what it was in 1940! This means that eating one slice of bread now, is like eating six slices in 1940, in terms of gluten! With the many bowel diseases now prevalent in our society one has to wonder how the connection between this gluten content and bowel diseases has escaped attention!
---
A Good Laugh Helps us Face Our Problems with Renewed Energy and Courage © 2004
by Cathy Fenwick
A healthy sense of humour has long been recognized as an indicator of mental health and maturity. Our ability to feel joy helps us to see the beauty beyond the hardships. Our pain or suffering may not be gone, but the world beyond the suffering may feel different. At some point the balance shifts, from holding on to what has been lost - to finding ways of letting go. We may be able to gain a sense of meaning in the loss and the suffering. Giving it some purpose or meaning can lead to acceptance and inner peace. Joy, beauty, and laughter build bridges of trust and help us maintain a sense of hopefulness, however changing its focus might be. Most of us experience humour as an integral part of our lives. I believe that natural moments of shared humour and laughter can occur during even the last stage of life, just as it does in the other stages. A healthy sense of humour increases self-awareness and gives us a sense of control in what could be overwhelming situations.
---
Turn Stress Into Success by Rewriting Your Subconscious Beliefs
The Benefits of Psych-KT
by Luann Horobin
Do you wonder why it is that no matter how motivated and inspired you feel, the stalling grip of "I can't", "I'm not good enough", or "It won't work", or "It will be too hard" silently steals into your thinking? Why do "I can", "This will work", "This will be easy", or "I am worthy of. . ." feel so distant in terms of the mysterious face of prevailing old habits, whether it be prosperity, relationships, self-esteem, or any other factor important to your success? So, why the emphasis on subconscious beliefs and how can they can be changed? Beliefs are derived from emotional experiences which lead to familiar patterns that feel safe at the time, but may later become limiting. The subconscious mind stores beliefs and the habitual nature of the subconscious mind makes our daily snap decisions continuously. Niggling thoughts, snap decisions, and false masks become habits that determine our destiny.
---
Thoughts on Death and Dying
An Evening with Spiritual Teacher, Sylvia E. Browne
by Orest E. Ulan
I read a book by Sylvia E. Browne (she has written twenty) a couple of years ago when preparing a talk to be given at my church. The idea for the talk came from a chance remark by a woman who, in coffee hour, shared her feeling of being unprepared when some of her elderly patients expressed an agonizing fear of dying. I knew I didn't fear death (though I would prefer it be painless and not before I had completed a book I planned), but because of that woman's remark it occurred to me that that was indeed perhaps a widespread fear; and what could I say or do to comfort some folks like that by sharing my thoughts and their genesis? Was the moment of death itself painful? Did the departing soul regret not being able to say good-bye to someone beloved? Was the soul nearing the last breath sorrowing for not being able to complete a fulfilling ambition? The tone I ultimately took in my address, based on the writings of Elizabeth Kubler-Ross and Sylvia Browne, was that death - in a word - is simply not the end. And it doesn't hurt.
---
Editorial
by Melva Armstrong
I am slowly getting settled into my new living space and thoroughly enjoying the immense natural light and sunlight that comes in from the east and south exposures, especially after living in a north-facing apartment for over six years with no direct sunlight, where my view from the main window was the back concrete wall of a small three-story strip mall. I find sunlight so very important for keeping up my spirit and providing my body with natural nourishment in order to feel healthy and peaceful, so moving to this new location feels wonderful. Because I am now blessed with living next to the South Saskatchewan river I have been taking a daily morning walk where I first slowly and carefully make my way down a very steep hill that leads to a gravel pathway at the bottom. Then I begin my brisk walk along the path, always savouring that first sight of the occasionally still yet swift-flowing river and inhaling the intoxicating smells of the wild roses that I pass along the way.
---
Plus:
The Healing Power of Stones
Natural Reflections: Treading Softly on the Earth
From our Readers
News of Note