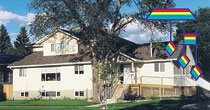 Tamara's House ~ the Hope and the Healing
by Virginia L. Dakiniewich
---
A major cornerstone of the healing opportunities offered at Tamara's House is complementary care therapies.
Unique in Canada and maybe in the world, Tamara's House is a community-based non-profit agency, in Saskatoon, dedicated to supporting healing for adult women who were sexually abused in childhood. All of the programs and services offered are based on the principles of self-directed healing in a healthy and supportive community. A major cornerstone of the healing opportunities offered at Tamara's House is complementary care therapies. These alternative therapies, such as Reiki and Aroma Massage, provide priceless support for women healing from the effects of childhood sexual abuse (CSA).
Founded in 1991, Tamara's House is the result of a grassroots movement in Saskatoon to support women who were coping with the effects of childhood sexual abuse. The agency was created in response to overwhelming demands from survivors who wanted non-invasive healing alternatives. Previously, women suffering from the effects of childhood sexual abuse were often treated with medications or hospitalized. The agency is unique and ground-breaking in its emphasis on holistic, self-directed healing through personal growth. The identification of the limitations of conventional approaches, along with the potential of complementary approaches, led to the vision of this organization.
In 2000, with support from Health Transition Fund - Health Canada, a community study was undertaken at Tamara's House to test the effectiveness of three alternate healing therapies: Aroma Massage, Reiki, and Psychodramatic BodyWork. The complementary therapies chosen for this project came from previous research with the clients. They stated that the current medical services had not met their needs and to consider complementary therapies such as Reiki, Massage, and Emotional Release Techniques. This research project demonstrated success in the delivery of quality complementary care services. The study results indicated that the use of these modalities was effective in addressing many of the consequences of child sexual abuse. Complementary care thus became a crucial component of the vision of a safe house for survivors and services to support healing.
In 2002, with the support of the Frank and Ellen Remai Foundation, a ten-year dream was realized with the opening of the new location for Tamara's House on Victoria Avenue. With funding from Our Lady of the Prairie, the new house was provided with two beautiful fully-equipped complementary care rooms. The first official complementary care program began in April '02, and over the years we have provided services such as Aroma Massage, Reiki, Reflexology, and other alternate therapies. Through the dedication and skills of extraordinary volunteers, these services are available free of charge to the service users. We are appreciative of our volunteers and new volunteers are always welcomed. Without their contributions many of these services would not be possible.
Volunteers also have the opportunity to share their skills and "give back" to the community. "Volunteering at Tamara's House has been an amazing opportunity to help women realize the importance of nurturing their bodies, minds, souls, and spirits after trauma and abuse," explains Kristin, a Reiki practitioner. Adds Pam, a Massage Therapist, "I learned just how important it is to offer a safe space for touch to occur on a consistent basis. It is truly a healing process. Each session helps build a healthy sense of trust, self-esteem, and connection to a woman's body, mind, and spirit."
Survivors benefit immensely from the complementary care services, which they are able to access in a safe and supportive environment. They express their thoughts about the program with such positive feedback as "Immense gratitude", "It is necessary", and "I love it".
One initiative that has grown out of the Tamara's House experience is the Sensitive Practice Workshops. The result of a research project funded by the Status of Women - Canada, these valuable workshops are offered through Tamara's House to prepare complementary and conventional practitioners to work with CSA survivors in a manner that is sensitive to their special needs. Sensitive Practice guidelines represent a respectful way to work with survivors and non-survivors alike. It is vital that the practitioner understand how childhood sexual abuse affects the survivor's sense of trust and therefore attend to the survivor's sense of safety. A "universal precautions" approach indicates an awareness of the prevalence of abuse, and sensitivity to any signals that may suggest an abuse history-all patients are treated as if they could be survivors of CSA. For further information about the Sensitive Practice approach contact Tamara's House.
Since incorporation, the house has evolved from a healing centre on Fairlight Drive to a full-service agency. Our programs and services include an 8-bed residence; a drop-in centre; Harmony Song-a cross-cultural program dedicated to supporting healing from the legacy of the residential school system; complementary care; and research and volunteer programs. Programs and services that support healing are available for both drop-in service users and residents and include group work, creative times, Healing Circles, and complementary care. Holistic healing still remains a major focus of our work. It is essential for the healing process at Tamara's House and will continue as one of the pillars of support offered by our agency.
Virginia L. Dakiniewich is the Volunteer Coordinator at Tamara's House. She has been in this position for three years and previously served for 2-1/2 years as a volunteer. Other aspects of her coordinator position involve grant writing, newsletter publication, and website maintenance. For more information call (306) 683-8667 (in Saskatoon) or 1-800-626-1222 (toll free) and/or visit www.tamarashouse.sk.ca.