Ancient Chinese Wisdom Still Relevant
by Donald Sutherland, PAg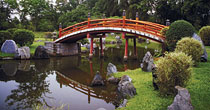 ---
Our species (homo sapien) has not learned to tread on the earth with reverence. On the contrary, for many decades, our destructive footprint has exceeded the earth's renewal capacity by about thirty percent. We could have learned much (and still could) from early sages (wise ones) in China. Approximately 2,500 years ago (551 BC) Confucius was born in Shantung, China. He advocated a very low disturbance lifestyle as the ultimate in wisdom. Humanism (compassion, sympathy, consideration for other persons, and animals) was the central core of his teaching. He saw all things, all life (including human life), as interconnected. Confucius believed in the perfectibility of human nature through study and self-effort. He saw personal growth as a lifelong task.
A central or core Confucian belief was that all of us-whether consciously or not-are automatically thrust into a number of different roles in life. The minute we are born we take on the role of son or daughter. At that same moment our parents become father or mother. Confucius stressed that it is not nearly good enough to casually carry out a role. By siring a child a man automatically becomes a father. He could disappear immediately after depositing his sperm. He could stick around and half-heartedly go through the motions of a father's role. But to be a true father he must carry out the role of father with excellence, putting every ounce of strength, diligence, and imagination into the job. The same degree of commitment and excellence is required in every one of our roles, whether uncle, aunt, grandmother, grandfather, butcher, teacher, or janitor.
Imagine the love, interconnections, and gentle footprints in a world filled with people dedicated to becoming divine, as well as to achieving unobtrusive perfection in all that they do. Imagine all of our friends and neighbours dedicated to their own self-development and that of others. We would be expanding our libraries instead of our prisons.
The dominant thrust of Confucian teaching is the equal emphasis on knowledge and action. Those who we might describe as "couch potatoes" were not held in high esteem even though they may have acquired much knowledge. Putting knowledge to work in the world was the other wing on the bird.
Confucius said: "The superior man thinks of virtue; the inferior man thinks of possessions." "The superior man is dignified but not proud; the inferior man is proud but not dignified." "A resolute scholar and a man of humanity will never seek to live at the expense of humanity." "The superior man seeks [room for improvement or occasion to blame] in himself; the inferior man seeks it in others."
Tzu-chang asked Confucius about humanity. Confucius said, "One who can practice five things wherever he may be is a man of humanity." Tzu-chang asked what the five are. Confucius said, " Earnestness, liberality, truthfulness, diligence, and generosity." (From A Source Book in Chinese Philosophy by Chan Wing-Tsit.)
Reprinted courtesy of Earthcare Connections, PO Box 2800, Humboldt, SK S0K 2A0. Phone (306) 682-2407, fax (306) 682-5416, email: earthcare@sasktel.net, www.earthcare.sk.ca. Donald Sutherland is a career counsellor, personal coach, and mediator with special training in restorative justice. He is also a professional agrologist (PAg) and active farmer, email: donaldsutherland@sasktel.net.