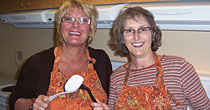 Honouring Earth Day with a Feast of Whole Foods
by Two Women from Burr
---
For the past seven years Marie Saretsky and Laurel Merkosky, known as the Two Women from Burr, have been putting on an Earth Day Whole Foods Supper at the Burr Community Hall. On Saturday, April 18th, 2009, they invite you to take part in this year's unique and friendly, earth-honouring event, which once again will be hosted by Causeway Natural Health of Humboldt, SK.
Both Laurel and Marie come from farm backgrounds and it shows in their cooking. The supper is a colourful feast that comes straight from the earth, complete with appetizers, soup, and Good Spirit organic bread, and a main course buffet consisting of salads, hot vegetables, vegetarian and meat entrées, followed by dessert and herbal tea.
There is a new menu every year which involves lots of recipe testing by these two earth-loving women who are completely dedicated to using and preparing whole foods in their catering work and daily lives. Past suppers have included such dishes as East Indian dahl, spinach buckwheat, Greek barley salad, dried fruit bulgur salad, cumin bison loaf, coconut curry farm turkey, lavender lemon cookies, lentil date bar, and of course, the wonderful soups. Last year one soup was a yellow velvet lentil with cumin and dried plums and the other a bison root vegetable (with local grass-fed bison). This year they will be featuring a gold nugget squash soup, whose squash will be provided by Jim Ternier of Prairie Garden Seeds. Real plates, cutlery, and cloth serviettes are provided, however you need to bring your own soup bowl!
Since it began, people have been coming to this wholesome, whole foods Earth Day supper to eat, talk, laugh, and celebrate the earth. "Being together as people is what makes this event," says Laurel.
Some of their regulars over the years include 13-year-old Harris Ford who says, "I just really enjoy it. It is important to celebrate the earth and protect her." Another regular, Tracy Reifferscheid, says, "I come for the food. I know it's prepared with joy and love because everything is whole, natural foods. It's an honouring of the earth."
There is a genuine friendly, outgoing atmosphere at the supper, where everyone talks to everyone else, and people who arrive as strangers leave as friends.
Hosts Andy and Cathy McAnally of Causeway Natural Health say this about the annual celebration: "Causeway Natural Health is both delighted and humbled to support Laurel and Marie with their Earth Day whole foods supper. Although the focus is on a wonderfully nutritious menu of wholesome organic food, the people who attend get more than just good food. We truly believe people benefit from the vibrational energies of love and gratitude, through the preparation of the food by both Marie and Laurel. It has become a truly inspiring way to celebrate Mother Earth, the food she produces, and this universe of abundance that is available to each and every one of us."
Come to Burr and dine with us. This rural community is a 10-minute drive south of Humboldt on Highway 20. Tickets are available at Causeway Natural Health, (306) 682-5959, www.causewaynaturalhealth.com, and advance tickets are a must. Come and enjoy an evening that will please the palate and the eye on Saturday, April 18th at 5:30 pm. And remember to bring your own soup bowl, but no styrofoam, please!
To contact the Two Women from Burr for the Earth Day Supper and/or for catering information call Marie Saretsky at (306) 682-3462 and Laurel Merkosky at (306) 682-3687, and for Causeway Natural Health call (306) 682-5959, email: causeway@sasktel.net. Also see the Calendar of Events ad on page 7 of the 14.6 March/April issue of the WHOLifE Journal.