Embrace the Future
Organic Connections Conference & Trade Show
November 21—23, 2010, Saskatoon
From www.organicconnections.ca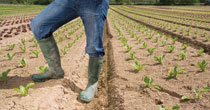 ---
Dynamic workshops and presentations will focus on the themes of quality, accessibility, environment, and community.
The Organic Connections Board of Directors is excited about this upcoming major prairie event with a focus on the future. According to President Debbie Miller, "The organic sector has reached a critical point in time as we all face unprecedented market uncertainty. In the current climate, ignorance is not bliss! Organic Connections will provide strategic information to help farmers survive through the current hard times." Miller continues, "Whether it's looking at the markets, analyzing our current methods, diversifying into new or value-added ventures, or learning about the new Canadian Organic Regulations (COR), producers need to know what they can do to stay afloat in tough times."
Organic versus natural—consumers are often confused by misleading food labels. Certified organic is a third-party verified system. Who verifies the natural claim and what exactly does it mean? With so much conflicting information, how can people possibly make the right choices? At this conference you will get the facts to answer these and other questions. Dynamic workshops and presentations will focus on the themes of quality, accessibility, environment, and community.
One of the dynamic keynote speakers will be Maria Rodale, author of Organic Manifesto: How Organic Farming Can Heal Our Planet, Feed the World, and Keep us Safe. As a journalist, activist, and mother, Rodale cuts through the confusion and misinformation to provide an indispensable and highly readable look at why chemical-free farming unquestionably holds the key to better health for us and for the planet. She is the granddaughter of organic pioneer J. I. Rodale who founded the Rodale Institute in 1947 to work toward farming systems that are good for people and the planet. She was named chairman of the company in 2007 and CEO in 2009, and lives in Bethlehem, Pennsylvania. You can meet and hear her on Sunday, Nov. 21 at 1:00 pm at the "Taste of Organic" event.
Another featured keynote speaker will be Graham Strong, an organic producer, advocate for biodiversity, and cultural activist from New South Wales, Australia. He will share his experiences from Arcadia, a 4,520 acre sheep and cropping operation that incorporates biological farming practices, tourism, and art, and has been in the family for 100 years. In the late 1980s, the rise in salinity killed a wide area of trees beside the family farm. To deal with this and other ecological problems in the area, he and other local farmers formed the Strontian Road Landcare Group. During these meetings, Graham learned much about natural systems and began to think differently about his farming practices. He and his family replanted wide areas to native vegetation and found ways to integrate production into the local patterns of nature. Just five years after starting his re-vegetation work, predatory insects living amid the growing expanses of native vegetation, were significantly reducing pest insect problems. The Strong's also host WWOOFers (Willing Workers on Organic Farms) as well as regular farm tours and a Farm Stay/Bed and Breakfast program using a 110-year-old church they moved to their property. He will also share his work incorporating Land Art on rural landscapes through the Meridian Project, a grand scheme that establishes images in the land that are viewable from space. Their Meridian Festival encourages community engagement that is a powerful force for change. Strong promises to send participants home from the conference feeling energized and optimistic. He will help us consider how we can counter the devastating effects of climate change, social fragmentation, environmental degradation, and loss of biodiversity, emphasizing the opportunities we have to imagine and create a better world.
The conference will also include many other highly specialized and knowledgeable speakers, as well as featuring the largest Organic Trade Show on the prairies, with organic sector booths and local food booths offering a taste of organic dishes, products, and services. Consumers will be able to enjoy the refreshing and delicious "Taste of Organic" event on Sunday, November 21. This event will include an Organic Chef Competition, where chefs will work with organic ingredients for 30 minutes to prepare and plate a dish for a panel of judges to taste and grade, after which titles and awards will be presented.
We can't talk about the future of organics without considering our children. In addition to the plenary and workshop sessions, there will be special activities to involve and motivate students on the road to healthy eating. One project in particular is called Organic Kids, which will involve 200 students from participating schools in Saskatoon, who will then spend some time at the conference on the tradeshow floor meeting the various organic producers and sector stakeholders.
The Organic Connections Conference and Trade Show will be held on Nov. 21-23 at TCU Place, 33-22nd St. East, Saskatoon. For registration and more information visit www.organicconnections.ca or contact the conference Coordinator, Lorraine Beaudette at (306) 956-3110, info@organicconnections.ca, or President, Debbie Miller at (306) 476-2693, sunrise.organics@sasktel.net.