Archives
---
Volume 16 Issue 4 — November/December 2010
---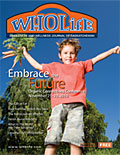 Embrace the Future
Organic Connections Conference & Trade Show
November 21—23, 2010, Saskatoon
From www.organicconnections.ca
The Organic Connections Board of Directors is excited about this upcoming major prairie event with a focus on the future. According to President Debbie Miller, "The organic sector has reached a critical point in time as we all face unprecedented market uncertainty. In the current climate, ignorance is not bliss! Organic Connections will provide strategic information to help farmers survive through the current hard times." Miller continues. "Whether it's looking at the markets, analyzing our current methods, diversifying into new or value-added ventures, or learning about the new Canadian Organic Regulations (COR), producers need to know what they can do to stay afloat in tough times."
---
The Gift of Fat
by Sandra Brandt
Our modern North American culture seems to be the first in history that, for some strange reason, has developed an assumption that eating fat is not a good thing. However, there is a growing and vocal minority in the scientific, as well as the culinary world that passionately believes in the value of high quality traditional dietary fats. It is probably safe to say that of the foods that were available to them, virtually all traditional cultures especially prized animal fat.
---
The Rediscovered Vitamin © 2010
by Joe Smulevitz, CH, MH
A vitamin forgotten for decades has been rediscovered, gaining the attention of scientists for its role in arterial and bone health. Vitamin K, long known as a blood-clotting agent, is proving to be much more than a coagulation vitamin. Researchers have uncovered several vitamin K-dependent proteins – matrix Gla-protein and osteocalcin – as being essential for the utilization of calcium in the body. Adequate vitamin K intake is necessary to activate these proteins that enable calcium to be carried to bone and away from the arteries where it can be dangerous. Matrix Gla-protein, present in bone tissue and vascular walls, guards against arterial calcification by blocking the formation of crystals by the calcium that circulates in the blood. Bone-building cells called osteoblasts produce the protein osteocalcin that helps the body hold and bind calcium in place in the bones. Without sufficient vitamin K available to activate this protein, large amounts of inactive osteocalcin will flow in the bloodstream.
---
Parish Nurse Ministry
Reconnecting the Physical and Spiritual Healing Circle!
by Carol Kostiuk
What is Parish Nursing (PN), you ask? Read on and explore the enriching benefits for your worship community and/or the possibility of this ministry for you as a Registered Nurse. Florence Nightingale was our foremost nursing pioneer in the mid-1800s. Religion was important to Florence and it was while she was walking in a garden that she felt called by God to work with the sick. The church's mission of healing is timeless and so it is no coincidence that salve (i.e. ointment) and salvation come from the same root word! Our very first hospitals were started by the nuns, in outreach from their congregations to help the sick and suffering in their communities. Thus, the concept of Parish Nursing was born.
---
What In The World Are They Spraying?
by Michael J. Murphy
What In The World Are They Spraying?: The Chemtrail/Geo-Engineering Cover-up Revealed is a new documentary film that is an investigation into all aspects of the phenomenon of chemtrails. Over the past decade and more, long white trails emanating from jet planes have been seen lingering in the skies all over the planet, often expanding and merging to form vast swathes of artificial cloud cover. These trails are clearly not water vapour contrails, which evaporate after several minutes. They remain overhead for long extended periods of time, often culminating in strange grid-like formations. Now, they have people asking some serious questions. What are these trails, who is spraying them into our atmosphere, and for what purpose? This new documentary, produced by G. Edward Griffin, Michael Murphy, and Paul Wittenberger, sets out to answer those questions and discovers some disturbing answers. The film explains the story.
---
Lessons From Windwalker
by Cathy Thomas
Andrea is from Germany. As a young person living in Germany, she had a horse and learned all the traditional horse ways. Now, this is not because she's from Germany. Traditional horse ways are learned all over the world. It's just that since coming to Canada, Andrea has had a new start in many ways – thanks in part to her horse, Windwalker.
---
You Are That Which You Seek!
by Hannalore
I find myself inspired to write these words, as the experiences of a recent workshop have left me feeling so blessed that I am of service. We were doing an exercise which involved a powerful breath technique while we were gazing into each others eyes. The process allowed for tremendous release of emotions and such a profound connection of pure love. See the light within your eyes, as you are the light. Look into each other's eyes. Look past the fear, anger, and grief, through the veils of illusion into the light within. Your eyes are the windows to your soul. And as you feel this in your heart, you will have returned home.
---
Editorial
by Melva Armstrong
I have been thinking a lot lately about how much and how quickly our world is changing. It seems we are continuously zooming into uncharted territory and being presented with one snazzy gadget after another and they are supposed to make our lives easier. My observation is that they make our lives busier, not necessarily easier. I am not against any of these things. I just wonder when is it all going to end and we'll be back to normal? Then the question is, "What is normal?" This term seems to be hard to pin down these days, as things change so quickly that nothing stays the same long enough to be considered normal.
---
Plus:
Yawn – Just Another Climate Emergency
Zero Point Field Energy
Back to Basics: Nature Didn't Get It Wrong
Through the Window of Fear Into Love… a journey into consciousness
Natural Reflections: Prisons As Waste
News of Note
From Our Readers
---
Recent Issues
---