Archives
---
Volume 16 Issue 1 — May/June 2010
---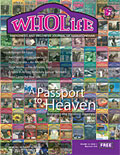 A Passport to Heaven
by Douglas De Long
The word cancer conjures up fear and worry in the minds of many of us. I can remember watching an announcement on a television news show way back in the late '60s or early '70s. The name of the show escapes me but it doesn't matter. On the newscast some medical doctors were proudly and confidently predicting a wonderful future. Cancer rates were going down and soon cancer would be conquered. Well, so much for that prediction. We have all been touched by cancer in some way. I am about to share something with all of you; something that I normally do not share with everyone.
---
A Season for Eggs
by Sandra Brandt
Those who shop in natural food stores or who source their eggs from natural producers will probably be familiar with the fact that eggs are a seasonal food. Just like fruits and vegetables and other growing things, eggs are naturally plentiful in the warmer season, while production slows down dramatically in the winter months. Why is this? Just like most forms of plant and animal life, chickens go into a sort of hibernation mode in the wintertime while the energy of the organism is directed more toward survival than outward production. Egg producers can, of course, circumvent this natural cycle by keeping laying hens in artificial light and feeding them hormonal drugs to fool their bodies into behaving as if it's always summer time. That is why supermarkets always have a well-stocked case of eggs year round. However, one can easily imagine how hens kept in these conditions get worn out very quickly; indeed, their lifespan is only a fraction of what it would normally be, which of course is also due to the inhumane conditions they are often kept in on factory farms.
---
Xanthan Gum vs Guar Gum
Consider the Differences
by Marion Desborough
Xanthan gum derives its name from the strain of bacteria used during the fermentation process xanthomonas campestris. This is the same bacteria responsible for causing black rot to form on broccoli, cauliflower, and other leafy vegetables. The United States Department of Agriculture ran a number of experiments involving bacteria and various sugars to develop a new thickening agent similar to corn starch or guar gum that would act as a "natural" stabilizer and be cheap to make. When xanthomonas campestris was combined with corn sugar, the result was a colourless slime they called xanthan gum.
---
Pomegranate: An Ancient Fruit Has Come of Age © 2010
by Joe Smulevitz
The news is out! One of the oldest known fruits, pomegranates have become one of the newest health-giving "super foods" in North America. However, this is old news for people living in Asia and Middle Eastern countries. They valued the medicinal properties of the pomegranate long before modern science knew about its health-promoting benefits. The history of the ruby-red pomegranate may go back to the dawn of civilization.
---
Yoga Works… For Athletes, Too!
by Ryan Leier
Often when we hear the word yoga we think of contortionists with their legs behind their head or we think of soccer moms in Lululemon pants attire. Maybe we are thinking of bearded hippies chanting OM! Yoga is an ancient science of realizing our true nature, becoming the best we can be, and connecting with God. I am a dedicated practitioner and student of yoga on and off the yoga mat. At its heart, yoga is a spiritual tradition. These days many athletes are using the ancient yoga techniques to become the best athletes they can be. I believe getting yoga to athletes will only help more to get the teachings of yoga out to the world.
---
Angels In Action:
Inspired Hearts
Kokolulu Farm and Cancer Retreats
A Place of Peace, Tranquility, and Healing
by Carol Marriott
Every morning, when we wake up, we have 24 brand new hours to live. What a precious gift! We have the capacity to live in a way that these 24 hours will bring Peace, Joy and Happiness to ourselves and others.— Thich Nhat Hanh
Beyond all the delightful treasures of Kokolulu Farms – the velvety Hawaiian air, the gorgeous view of the ocean framed by the lush rain forest filled with colourful flowers, juicy sweet papayas right off the tree, combined with the genuine and warm-hearted welcoming from Karin and Lew Whitney – it is the intention of their inspired co-creative hearts to provide a healing space that you will be able to feel to the depth of your being when you step foot onto this sacred land.
---
BOOT CAMP for Your Life
by Fay Thompson
Boot Camps are all the rage in the fitness world to get your body in shape. These programs focus intensely on taking action, challenge you to do and be better, and create results. The group atmosphere in a boot camp provides support, inspiration, and motivation. So I thought to myself, "What if there was a program that instead of focusing on your body, focused intensely on getting your mind and spirit in shape? What if there was a program that taught people how to reap joy and peace out of life instead of stress and worry? What if there was a program that not only challenged you to be better, but also was inspiring, fun, and empowering? What if there was a boot camp for your life?" And that's how I came to create the Life BOOT CAMP program.
---
Editorial
by Melva Armstrong
It is celebration time for WHOLifE Journal to mark 15 years of publishing. How sweet that is! I am happy and excited to have reached this milestone and it is thanks to everyone of you who has supported this business adventure over the years that has made it lasting and successful. My heartfelt gratitude goes out to you all! It is important to note that many of the advertisers have been in all, or nearly all, the issues, and many contributing writers have been involved for a very long time, and thankfully, the readers and subscribers have been faithfully reading the journal for the entire fifteen years. It is a joy to have such terrific support. It makes sense why I was divinely guided to create the journal, because the feedback I have received over the years tells me it has been extremely beneficial. It feels good to be helping people find ways to be healthy, happy, whole, and peaceful.
---
Plus:
An Ancient Form of Yoga for the Spirit Re-emerges!
Colour It Green!
5 Secrets to Spiritually Attract Your Soul Mate
Consulting a Psychic: Words of Advice from a Psychic
Natural Reflections: Living Our Passion by Finding Our Life Purpose
News of Note
---
Recent Issues
---