Archives
---
Volume 16 Issue 3 — September/October 2010
---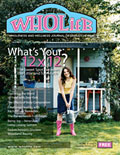 What's Your 12 x 12?
The Sweet Spot Between Too Little and Too Much
by William Powers
I returned to America after a decade of aid and conservation work in Africa and Latin America. Abroad, I'd seen, starkly, the grave impact the global economic system was having on our environment—Amazon rainforests clear-cut for fast-food cattle, African rivers poisoned by multinational mining—and began asking myself a daunting question: How could humanity transition to gentler, more responsible ways of living by replacing attachment to things with deeper relationships with people, nature, and self?
---
Exploring the World of Food with Your Kids
Who Tells Your Kids and You What to Eat?
by Sandra Brandt
I recently attended a public forum which consisted of a discussion among three university professors from various disciplines. The theme revolved around the issue of children and health, especially diet. The discussion delved into various aspects of the topic, such as education and physical activity. There was, however, one particular point that barely merited a mention; that was the dimension of advertising to children and parents. I believe that this is probably a major factor in what children are motivated to consume and also in what foods their parents and caregivers make available to them.
---
The Effects of Body Composition on Health
by Amy Hiebert
What is Body Composition? To determine body composition we divide your body into two separate types of mass: fat-free mass and body fat. Fat-free mass is comprised of all the body's non-fat tissues and includes bone, water, muscle, and organs. Body fat is literally the fat located within the body. Body composition is the body's relative amount of fat to fat-free mass. An unhealthy body composition refers to carrying too much fat in comparison to fat-free mass. Those with optimal body composition are typically healthier, move more easily and efficiently, and feel better than those with less than ideal body composition.
---
Emotional Healing with Bach Flower Remedies
by Laurel Bay
Bach flower remedies is a simple, natural healing system that anyone can use for improved emotional health and well being. Each Bach flower remedy has a unique vibrational signature that helps to release blocked emotional energy. For example, if you feel overwhelmed by your responsibilities, Dr. Bach's Elm remedy will help you regain a sense of confidence and control. Or, if sometimes you find it hard to say "no" to another, Centaury will support you to be courageous and assertive.
---
The Planet Needs Ecovillages
by Howard Boldt
Ecovillage essentially means a more sustainable, more hospitable rural or urban community. It can be an existing community or neighbourhood transforming itself, or a new one planned from the ground up. It may literally be a village in the countryside, or just people living together or near each other, perhaps on acreages, or on a jointly-owned property or land trust. Ecovillages can vary in size from a few people to a few hundred or more.
---
Saskatchewan's Glorious Woodland Bounty… the Original Organic!
by Carol Marriott
Imagine crawling around on the ground in the boreal forest of Saskatchewan picking up nickels! This is how Lois and Lorne Terry of White Fox Gold Harvesting describe their work! Lorne says it is just like a "walk in the woods". Lorne's grandfather homesteaded in the area north of White Fox, Saskatchewan, and his father was a conservation officer. After spending many years working in Northern Saskatchewan, Lorne and his wife Lois decided to retire in White Fox. I asked Lorne how he got interested in harvesting from nature. He said it started with chanterelles – fragrant edible mushrooms – and it was mostly just good economic sense.
---
Being Joy – Venerable Lama Losang Samten
by Lori Petruskevich
"What is the teacher like?" I asked. "He embodies joy," she answered. With these few words, I knew that a wonderful experience awaited me with a very special teacher. So I packed my bag to attend a meditation retreat at St. Peter's Abbey, Muenster, SK, with Venerable Losang Samten, a Tibetan Lama. Thus began a wonderful and profound journey of learning about how to achieve greater peace and joy through spiritual practice.
---
Editorial
by Melva Armstrong
Today there is a small-house movement that is the result of concerns by many about what the planet's inhabitants are doing to the environment, and what the environment is doing to us (wild fires, flooding, hurricanes, tornados), as well as a shifting economy. At the same time, some people are just desiring to live simply so that others can simply live. Because of these factors, architects and builders are now providing smaller housing alternatives, and in some cases like-minded people have even formed small house societies which you can check out on the internet. This is something that very much appeals to me because I believe in honouring the Earth and finding ways to have smaller footprints upon her. After all, we really only need enough food, clothing, and shelter to live well and happily, and everything else is extraneous.
---
Plus:
Breathe Naturally: A Holistic Approach to Asthma
Moving Women with Bellyfit
The SinuCleanse® Neti Pot
Quinoa 365: The Everyday Superfood
Awaken to Your Soul's Highest Potential: Crystal Light Healing™
Natural Reflections: Excess Consumption Alongside Starvation
News of Note
---
Recent Issues
---