Archives
---
Volume 23 Issue 6 —March/April 2018
---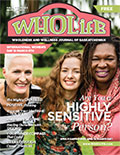 Are You a Highly Sensitive Person?
by Sarah Sand
I am Sarah Sand and I am a highly sensitive person, are you? Are you aware of subtleties in your environment? Do other people's moods affect you? Do you have a rich and complex inner life? Do you get rattled when you have a lot to do in a short amount of time? If so…you likely are a Highly Sensitive Person (HSP for short). These questions and many more can be found on a self-quiz created by Elaine Aron, pioneer and lead researcher on HSP. The remainder of the quiz can be found on my website at sarahsand.ca under the resources tab. For those who are sensitive, you probably do not need a quiz to tell you this, you already know. And if you yourself are not sensitive I bet you know someone who is.
---
The Mighty Chia Seed
by Paulette Millis
Chia seeds may sound familiar to you, as you may have seen or heard of Chia Pets, a novelty gift that grows green "hair" on terra-cotta figurines! Chia (Salvia hispanica) is from the Mint family. The word chia, derived from an Aztec word "chian", means oily, and the species was named "hispanica" (of Spain) because it was described from plants cultivated in Spain. The plant, an annual, grows to one metre tall, with purple and white flowers. The seeds are mottled and typically small ovals one millimeter in diameter. Central and Southern Mexico grew chia seeds as a major crop into the 16th century when it was banned after the Spanish Conquest because of its association with Aztec "Pagan" religion. Chia was the third most important crop behind corn and beans. This seed was used to pay tribute and taxes to the Aztec priesthood and nobility. More recently production has flourished in Latin America. The good news for us is that insects hate the chia plant, meaning we have no trouble finding organic seeds.
---
Journey to Playtime
by Marlene Luneng
Toys are in abundance in our society. I can recall stories of my father's childhood in the 1930s where he had no toys but his backyard. Even now my children have more toys than I did. I work on keeping things simple in the home. We began making toys that we had the skill and interest for about five years ago and now my husband and I have begun making wooden play structures geared for children from the creeping age until five years old. Although my nine year old can still be seen climbing on the structures. They are pieces that will last a lifetime.
---
Towards Your Ideal Birth: Ten Steps
by Karen Herriot and Angie Evans
Most women anticipate labour and birth with a mix of excitement, and fear—of all the unknown and loss of control. In the face of that kind of vulnerability, it is good to have a plan, a vision of the outcome you want and then begin taking steps to get there. Actively preparing with the following practical measures will lead to a birth experience that is satisfying and perhaps even empowering.
---
SaskOrganics
Cultivating a Healthier World for the Benefit of All Through Organic Food and Agriculture
by Marla Carlson
Organic food sales in Canada are booming and worth an estimated $5.4 billion per year! Two-thirds of food shoppers report buying organic food weekly and the market continues to grow. Food shoppers are increasingly becoming interested in knowing where their food comes from and certified organic food is one of the best ways to know for sure.
---
Healing Ourselves with Qigong
Cultivate Natural Healing Energy
by Minke de Vos
Are you ready to have a deeper relationship with your body and energy? Self-healing through Qigong requires listening into the innate wisdom of the body and energy. When I practice the Inner Smile Meditation I feel unconditional love expanding in my body. It feels like a warm golden liquid light pouring down, melting tensions and soothing discomfort. In silence my compassionate awareness holds space for my emotions to arise and be transformed. I receive messages from my vital organs about how they feel and how I can care for them.
---
Your Inner Compass That Could, An Empowering Children's Book
by Kristin Pierce
When I became a mother I was very interested in finding children's books with strong and empowering learning messages. I wanted to teach my children just how much wisdom, power, and potential resides within them. In my search, I found a few good books but it required some real digging. Through this discovery, I realized that I had a message I could share to empower other parents and their children.
---
Positive Thinking
by Colleen Bond
Positive thinking can improve your life and health. It can brighten your day as well as that of others with whom you come in contact. By thinking positive, you can overcome many problems, both health and lifestyle ones. Many times negative situations pop up and we have to learn to let them go and get back to our happy frame of mind.
---
Editorial
by Melva Armstrong
This issue you are holding in your hands completes 23 full years of publishing WHOLifE Journal. That seems to me a remarkable length of time to be doing the same work. I feel blessed to be able to do what I love and to provide a venue for people of like-mind to share their healing gifts, ideas, products, services, and much more with the people of this province and beyond. As you will see in the "From Our Readers" section, people write to me sharing their deep appreciation for the precious gems that so many have contributed to the journal in the form of articles and advertising. Each issue I am enlightened and delighted as I read through all the material that comes my way.
---
Plus:
Breakthrough Cancer Treatment
From Our Readers
News of Note
---
Recent Issues
---