Archives
---
Volume 24 Issue 2 —July/August 2018
---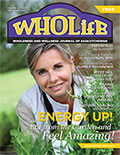 Energy Up! Eat From the Garden and Feel Amazing!
The Important Role of Enzymes
by Stacey Tress
Hello Summer! I love all the seasons we get in Saskatchewan but there's something special about summer. We are coming into our first real summer here at our new place in Rhein (since moving from Yorkton last June) and I'm so excited for our garden this year! Last fall we moved as many perennial edibles from our home in Yorkton to our new home (raspberries, asparagus, strawberries, cherries, and herbs like chives, oregano, thyme). Last year our father-in-law tilled up a big garden plot for us and that's when I began dreaming about what to plant. We purchased some cherry and Saskatoon berry seedlings last year and planted them along the back of our "traditional" annual garden. This spring we added a few more cherry (a Juliet Cherry that we planted to celebrate my oldest daughter's 7th birthday – her name is Julie), and haskcap berry. I love that we are growing gardens all over our property – some annual, some perennial, and really there are a mix of both! It's a proud mama moment to see my girls eating right from the garden. Instilling healthy eating choices to our girls is my pleasure and duty. Eating something raw everyday (even if it's served alongside something cooked) is an important lifestyle choice.
---
Superfruit Seabuckthorn: Tropical Tangy Fruit Sensation Hits the Prairies!
by Betty Forbes
Used for centuries in many parts of the world, the Western Hemisphere is just catching up with the news of this amazingly beautiful tree with all its remarkable health-bearing properties! Depending on where you come from, it goes by many names and spellings: seabuckthorn, sea buckthorn, sea berry, argousier, star-bu, swallowthorn, Siberian pineapple, sanddorn...not to be confused with buckthorn which is characterized as an invasive species with many different characteristics and is not related in any way to seabuckthorn.
---
Catherwood Organics, Humble Beginnings
by Betty Hamm
"Hey there, everyone!" Finally, some rain instead of snow, some sunshine instead of snow, and some heat instead of cold. Our little chicks arrived April 4th just two days before –31ºC hit and that was a challenge. But, we are so used to challenges in farming that we just continue on. However, way back when, continuing on was not as easy as it is now. Let me introduce our family business. My name is Betty Hamm and along with my husband Leslie and our children Tamara, Amanda, and Joel, (and now 12 grandchildren) we are Catherwood Organics located near Perdue, Saskatchewan.
---
Look, Listen & Vocalize the Polyvagal Way
by Moira Theede
The blending of a Reiki session while lying on a BioMat creates a deep and efficient healing environment. I have incorporated it into all my regular Reiki treatments. Users love the gentle warmth of the amethyst BioMat and the overall gentle relaxing effect.
---
Saskatoon's Steep Hill Food Co-op Celebrates 40 Years
by Melva Armstrong
Steep Hill Food Co-op began in 1978 when a dozen people who were Magpie Food Co-op members got together because they wanted to start a co-op on the east side of Saskatoon. The food co-op concept was the preference because the members wanted to purchase local and bulk food in a group as it would keep the cost for each member down. After many meetings and much discussion, on September 7, 1978, Keith Grey, Bill Hutchinson, Don Mullord, Verna Piedt, Val Veillard and Gerri Yakimoski met and signed the memorandum of the association and an application was sent to the registrar of co-ops. Prior to sending the application, the group had secured a location for their new store on the second floor at 821 Broadway Avenue with a rent of $300 per month.
---
Making "Organic Connections"
by Marla Carlson
In 2004, a small group of Saskatchewan organic farmers identified a need to for an event to bring together the organic community to provide information on the how to improve their farming practice, find out about the latest organic consumer trends, learn about what was on the horizon for this small but growing sector, and to have fun! They called it Organic Connections (OC). The goal was, and continues to be excellence – the best speakers, the best trade show, and the best certified organic food for conference goers. All of this, combined with the opportunity to catch up with old friends and make some new ones, keeps folks coming back for more. This year, Organic Connections is taking place in Saskatoon at Prairieland Park from November 1–3. This is the largest venue we have used for the event and it provides the opportunity to grow our trade show and program.
---
Natural Healing with Maureen
by Maureen Bandas
My happiest times in life are when I am able to… hold space for others by assisting them to remember who they truly are, by stepping into their own personal power and to awaken their spiritual side, raise their awareness, and feel a sense of well-being. It is such a gift to be a witness in bringing joy, ease, and grace into the lives of my clients and students as they open up to the possibilities available to them. These possibilities are all within reach and the Universe wants to give them to us, however, some of us may need nudges from the Angels and Spiritual guides to become more aware of these offerings.
---
Positive Therapy: How a Horse Turned My Life Around
by Colleen Bond
Many times when I hear of young people being bullied, I think back to the days when I was. Name calling was an issue at our school. It was so bad I didn't want to go and my grades suffered because of it. I'd get called names like ugly and dumb, etc. Kids didn't want to be near me because others would say, "She's got fleas." It was devastating. It's hard to think back, but I've come a long way. When it was at its worst, I got help in a unique way –my dad bought me a horse!
---
Editorial
by Melva Armstrong
It is summer and time to enjoy walking, travelling, relaxing, visiting family and friends, swimming, fishing, golfing, sports, BBQs, picnics, bike riding, camping, sunny days, and so many other nurturing activities that go with this amazing season. It is so short, we often have to jam everything in as quickly as possible before the snow flies again. I trust each of you will be able to get in as many fun things as possible that you absolutely love. Getting out in nature is a blessing and healing and I hope you partake in lots of outdoor adventures.
---
Plus:
New Saskatchewan Trainer for Certified Coaches Federation
News of Note
---
Recent Issues
---