Cree Sisters Presereve Their Healing Traditions and Language
by Moh O'Brien and Hawk Caribou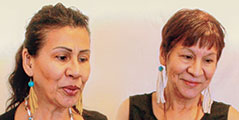 ---
Tansi – Hello
Moh O'Brien is a traditional herbalist, crafter, educator, and health care worker. She presently works at La Ronge hospital as a health care worker in long-term care. She was recognized by the Saskatchewan Health Excellence Awards in 2003, which is a very prestigious award. She is fluent in Cree and volunteers her services to many schools and cultural events. Her passion is sharing her knowledge in the art of boreal forest herbal harvesting of medicinal healing herbs and foods.
Hawk Caribou is a fluent Cree language speaker from Northern Saskatchewan. She is very knowledgeable in the field of healing herbs and foods taught to her by her parents. She has been featured in many articles including a grade 3 science book as a cultural educator. Hawk volunteers many hours as she shares her knowledge at schools and cultural events. She is very committed to teaching those who are taking charge of their health and wellness, using boreal herbs and foods as preventive medicines.
In light of the fact that it is "International Year of the Indigenous Languages," we have included the Cree names with the plants and foods in the photos. Also included are a few simple recipes on how to prepare the foods and herbals.
The foods and herbs we are going to cover are as follows:
Mint, amisko-wihkaskwa
Rosehips, okiniya
Muskeg leaves, maskekopakwa
Spruce gum, sihti-pikiw
Wild rice, maskosimina
Moose meat, moswa-wiyas
Fish, kinosew
Morel mushrooms
Yarrow
"These are our foods;" foods and herbs from the boreal forest.
Moh and Hawk are traditional Cree herbalists. We were born in a small isolated northern village back in the 1950s. We had to live off the "Land." Our parents were trappers, hunters, and gardeners as well as knowledgeable herbalists. That being said, we had to learn fast how to survive in the wild, cold boreal forest.
When we got ill, we had to forage herbs and food from the land—that is our nature pharmacy. We would gather herbs for such ailments as headaches, sore throats, indigestion, toothaches, wounds, cuts, and sores. As well as how to prevent heart disease and depression.
Maskigiy-wapoy means medical liquid/teas. It was/is common to see jars of hot and cold teas in a room where one was treating a sick person. Maskigiy-wapoy is also teas that prevent illness and are still very much used today.
That being said, we will touch on a few plants and foods that "prevent, nourish, and sustain."
Today many people are turning to alternative ways to prevent illness and to maintain a healthy lifestyle. It's a trendy and huge organic industry (that's another story). In my world, my sis and I have always been trendy and organic.
---
RECIPES
---
Yarrow/Mint Tea
1 tsp crushed yarrow
1 tsp crushed wild mint
Boil water, 1 cup for 1 cup of tea.
Pouring water over herbs, let steep for 10 minutes. Strain and add honey to sweeten. You may drink tea hot or cold.
This tea/maskiy-giy-wapoy medical tea, is healing for stomach-ache, colds, fevers, nausea, diarrhea, cramps, headaches, and hiccups! It is an overall great soothing tea to drink.
Moose Meat
Cut meat up in small pieces, place in hot lard in a frying pan. Sprinkle with salt, pepper, and flour. Eat with bannock, wild rice, and mushrooms. The meat is lean and high in protein.
Morel Mushrooms
Fry in lard in a cast iron frying pan, add onions, wild mint, salt, and pepper. You can also add whatever you like to eat. It's a legendary delicacy that is high in minerals and vitamins.
Wild Rice
Use 1 cup rice and 1 cup water, soak overnight. Rinse and cook for 45 minutes in a pot of water and strain. Cook in frying pan and add onions, celery, morel mushrooms, mint, salt, and pepper. Can add bacon bits. A tasty, healthy meal.
White Fish
Cook white fish in a cast iron frying pan with hot lard, salt, pepper, and flour till brown. White fish is a healthy food from Northern Saskatchewan. My Cree ancestors say, "The fish makes you swim faster and gives you energy."
This is just an introduction to a few of our foods and medicinal herbs and yes, we still use them!! We are still here, we still practice our Northern Cree ways, "Nehithow way." To contact us, call (306) 361-4295 and/or email hawkcaribou2@gmail.com.