She can go without makeup, but she won't go without eyebrows!
by Karen Edwards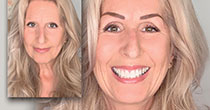 ---
It's the classic age-old story. Girl loves eyebrows. Girl loses eyebrows. Girl freaks out and comes up with revolutionary new tool to create beautiful, easy eyebrows.
Karen Edwards, who lives in Saskatoon, lost her eyebrows a few years ago. It was almost overnight that she went from "good brows" to "no brows." She hadn't thought about eyebrows in years and once they were gone, it was all she could think about.
"It's one of those things that you don't know what you've got 'til it's gone," says Edwards. "Whether from over-plucking, genetics, chemo, or alopecia—missing eyebrows are no fun."
Initially, she bought a brow pencil that she assumed must be magic (because it cost $30!). She tried to draw them on, but without natural brows as a guideline, she didn't know where to start, where to stop, or where to arch. She tried single stencils but found that the brows were never even or straight. After an exhaustive search for something that would give her quick, easy brows, she realized it didn't exist—so she had to invent it.
She taught herself to do 3D drawings, bought a 3D printer and everything else she needed to make her prototypes.
"It worked great from the start," Edwards says. "For anyone with no brows, sparse brows or light brows, Brow Simple is a game changer. It's beautiful brows in under a minute and people with great brows are loving it too! You can even give yourself a brow lift—without surgery."
Brow Simple gained praise from all who tried it and that encouraged Edwards to move forward with taking the unique, new product to market. She had little experience in manufacturing and business and didn't know where to start.
"I had everything I needed, a great product, packaging, testing, videos—the only thing I didn't have was the courage and know-how to get this product to market. Then I lost my job as an Art Director for 30 years and I asked the universe to give me a sign that I should go for it. Ten minutes later I stepped into an elevator and a woman inside looked at me and said, "I love your eyebrows! Where do you get them done?" I took that as a sign (or giant kick in the ass) I needed to get Brow Simple to the millions of people who will love it."
Edwards pitched Brow Simple on Dragons' Den* and was thrilled with the experience. She put her eyebrows on in front of the Dragons who praised the demonstration. When the Dragons tried the product, they were amazed at how easy it was and that it worked on the first try. The Dragons agreed that she had everything she needed and most advised her not to give up equity. Brow Simple received two offers and accepted the highest, which was more than was asked for.
"I was excited and impressed with your presentation, idea, and business plan for Brow Simple... at the shooting of Dragons' Den. Then I spoke with you and reviewed the details. I am even more convinced that you have a great project and business." —Manjit Minhas, Entrepreneur, Dragon, CEO
"Rather than have it manufactured overseas, I want to contribute to the success of businesses and people in our community. We are proud to say Brow Simple is MADE IN CANADA."
While Edwards admits that eyebrows aren't the most important issue in the world, she also points out that if a simple thing like eyebrows can make a person feel great, then it's absolutely worth it.
"Eyebrows are the new smile," she says. "With everyone wearing masks, it's even more important to have great brows."
She's shown it to some big names in the business and beauty world, and they definitely see the potential and support the claim that Brow Simple as an amazing little secret to achieve "All the Drama without all the Drama."
*The episode did not make it to air.
To contact Karen Edwards, call 306-281-9763, email kedwards@sasktel.net, www.browsimple.com, @brow_simple.