The BodyTalk System™
Using Innate Wisdom to Synchronize and Balance the Bodymind for Optimum Health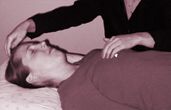 by Dr. John Veltheim
---
Australian chiropractor and acupuncturist, Dr. John Veltheim, developed the BodyTalk System™ (BT) in 1995. Since then it has been taught to more than a thousand practitioners worldwide. Currently there are 47 trained BT instructors teaching in 17 countries. Graduates include medical doctors and specialists, psychologists, psychotherapists, chiropractors, acupuncturists, registered massage therapists, bodyworkers, naturopaths, physical therapists, osteopaths, nurses, social workers, and lay people.
The basic premise underlying BT constitutes a new paradigm for synchronizing and balancing the bodymind that can be implemented in conjunction with any health care system. The body is a very complex ecosystem involving a delicate balance between physiological and biochemical functions, emotional and mental interactions, environmental influences, hereditary and genetic restrictions, and the need to synchronize all these factors into a cohesive whole.
BT recognizes that within each and every one of us there lies the innate knowing of who we are and what makes us tick. This innate wisdom carries the answer to our health care dilemma and is addressed in the following way: BT facilitates communication with the innate wisdom of the body by using neuromuscular biofeedback. This feedback provides the practitioner with a "yes" or "no" answer to any question that is asked of the body. The innate wisdom thus provides BodyTalkers with accurate guidelines regarding the bodymind requirements for optimum health.
By following a comprehensive protocol of questions, the BT practitioner can establish exactly what balancing the body needs in order to harmonize bodymind function. This involves finding out which organs, endocrine glands, or body parts need to be connected in order to heal communication between them at the physiological, biochemical, circulatory, nervous, emotional, and/or energy levels.
The patient and/or practitioner will touch the body parts that need repair and then the practitioner uses his/her fingers to gently tap the head of the patient in order to focus the brain toward repair. (BT "tapping" is based on an ancient Hatha yoga technique.) Experiments with biofeedback apparatus show that when this tapping occurs, while specific parts are being touched, there is a major increase in brain activity in relation to those parts. The practitioner then lightly taps the chest to store the changes in the heart energy complex, which ensures that the new balance is held in deep memory and is, therefore, lasting. Clinical results have shown that once the communications systems of the body have been re-established and the bodymind complex synchronized, the body is capable of healing itself at a deep and lasting level.
BT practitioners are seeing the incredible healing power of a "balanced" body in the daily results obtained in practice. The functions of every part of the body and mind are improved. This means that the immune system will start to eliminate chronic and acute viruses, bacteria, parasites, and toxins. Re-establishing of the mind/body balance reduces allergies, and emotional and psychological disorders. It also improves posture and coordination, digestion and elimination, brain functions, learning disorders, and states of distorted consciousness in the form of negative belief systems and attitudes.
The outstanding growth and success of BT is essentially fueled by the following factors: it can be seamlessly integrated into any other health care modality and is complementary to each modality; it is totally non-invasive and absolutely safe. There are no contraindications to its use; no diagnosis is given, no medications prescribed, and no invasive techniques imposed upon the patient; and patients thoroughly enjoy the sessions and the results are evident within all aspects of health—emotional, physical, mental, and spiritual.
Every person who is sincerely interested in the concepts of total health care and has respect for the power of the potential of the human bodymind would benefit from learning more about the BodyTalk System™. You can log onto the International BodyTalk Association website at www.bodytalksystem.com or speak to any BT practitioner in your area.
BodyTalk at Work in Saskatchewan
BT has effectively treated a wide variety of symptoms and conditions. Below are some examples of how it has been beneficial in clinical practice:
An athlete presented with chronic migraine headaches that were affecting his performance and concentration. Following four BT sessions, the client reported that he felt more energized, had fewer migraines, and the intensity of the migraines had lessened.
Several clients with cancer who were receiving chemotherapy reported a significant decrease in side effects after receiving BT sessions.
An elderly woman received BT before and after a cataract surgery that involved two needles to freeze the eye. She was concerned about the possibility of extensive bruising and discomfort. Within 24 hours after the surgery, the tissue around the eye was only slightly discoloured.
A young professional experienced extreme nervousness when delivering public presentations. After one BT session, he noticed a marked decrease in his anxiety levels.
Several clients presenting with chronic pain in the low back/hip or legs have reported that their pain has significantly decreased since receiving BT sessions. One client's chronic pain has completely disappeared.
A middle-aged woman diagnosed with stomach ulcers was experiencing significant discomfort even though she was taking medications to manage the pain. The client reported that the pain disappeared immediately following a single BT session. Subsequent medical tests indicate that she no longer has stomach ulcers and to date she is still pain-free.
A dog (border collie mix) with epilepsy received two sessions of BT. The dog's owner has reported that the frequency of the seizures has greatly decreased; the dog has only had two mild seizures over a ten-month period instead of having severe seizures almost once a month.
A four-year-old boy with asthma and milk allergies received a series of five BT sessions over a six-month period. The child's parents report that their son no longer needs his inhaler and is able to eat/drink dairy products with only occasional discomfort.
BodyTalk First Aid
A client involved in a car accident sustained injuries to his nose. He received BT within an hour following the accident. Instead of ending up with two black eyes, he experienced only mild tenderness with no bruising or swelling.
A young girl received a cluster of insect bites that resulted in red welts appearing almost instantly on her legs and arms. Following a 20-minute First Aid treatment using BT techniques, the swelling/redness decreased and the welts were barely visible.
The following is a list of common conditions that BodyTalk treatments have addressed, however it is also beneficial for many others not listed: arthritis, asthma, back pain, chronic fatigue, depression, emotional disorders, allergies, headaches, stress, scarring phobias, and sport injuries.
Dr. John Veltheim resides in Florida, USA, which is also home of the International BodyTalk Association head office. He is currently developing/teaching an advanced technique called, "PaRama BodyTalk." (Website: www.bodytalksystem.com) If you are interested in training to become a BodyTalk practitioner contact the Saskatoon co-ordinator (306) 477-0306.