Archives
---
Volume 9 Issue 6 — March/April 2004
---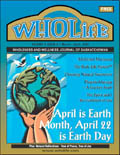 April is Earth Month, April 22 is Earth Day
Let's Celebrate Our Precious Earth Every Day!
Information Courtesy of Earth Day Canada
Earth Day, which is celebrated every April 22nd, is the largest, most celebrated environmental event worldwide. More than six million Canadians join 500 million people in over 180 countries in staging events and projects to address local environmental issues. In fact, nearly every school child in Canada takes part in an Earth Day activity. First launched as an environmental awareness event in the United States in 1970, Earth Day (April 22) is actually celebrated as the birth of the environmental movement. This kind of event is a powerful catalyst for change. The first Earth Day, spearheaded by Wisconsin Governor, Gaylord Nelson, and Harvard University student, Denis Hayes, involved 20 million participants in teach-ins that addressed decades of environmental pollution. That event inspired the US Congress to pass clean air and water acts, and to establish the Environmental Protection Agency to research and monitor environmental issues and enforce environmental laws.
---
Choosing Natural Sweeteners
by Paulette Millis
Did you know that most of the sugar we consume is in our processed foods? In order to reduce the hazards associated with consuming refined and processed sugars, I suggest, instead, using whole natural foods. I also suggest avoiding products with aspartame, as it is known to have many dangerous side effects, too numerous to mention here! Let's focus on healthy alternatives in this article and leave the dangers of sugar for the next one. As my first choice, I like natural sweeteners that are fruit- or grain-based. When using fruit-based sweeteners, like purees and whole fruit pieces, we are getting the advantages of fibre, vitamins, and minerals. Fruit juice concentrates do not offer the same benefits but they do offer good taste and are a much healthier choice than sugars. Grain based sweeteners, such as brown rice syrup and barley malt extract, are excellent healthy sweeteners as well. Natural sweets like honey, maple syrup, molasses, stevia, and date sugar are alternatives to the commonly used white and brown sugars, corn syrup, etc.
---
The BodyTalk System™
Using Innate Wisdom to Synchronize and Balance the Bodymind for Optimum Health
by Dr. John Veltheim
Australian chiropractor and acupuncturist, Dr. John Veltheim, developed the BodyTalk System™ (BT) in 1995. Since then it has been taught to more than a thousand practitioners worldwide. Currently there are 47 trained BT instructors teaching in 17 countries. Graduates include medical doctors and specialists, psychologists, psychotherapists, chiropractors, acupuncturists, registered massage therapists, bodyworkers, naturopaths, physical therapists, osteopaths, nurses, social workers, and lay people. The basic premise underlying BT constitutes a new paradigm for synchronizing and balancing the bodymind that can be implemented in conjunction with any health care system. The body is a very complex ecosystem involving a delicate balance between physiological and biochemical functions, emotional and mental interactions, environmental influences, hereditary and genetic restrictions, and the need to synchronize all these factors into a cohesive whole.
---
Medicinal Marijuana (Cannabis)
A Natural Relief for Pain and Suffering
by Kahlee Keane, Root Woman
What is the most prized and expensive flower in all the land? The answer, without a doubt, is the marijuana flower. It is not grown for its beauty or perfume. No, these hairy, skunky-smelling clumps, glistening with resin are treasured for their potent medicine capable of relieving pain and all manner of suffering. Cannabis is a member of the hemp family. It grows vigourously, with all the ardor of a weed, throwing its deeply serrated leaves up to the sun in an ecstatic frenzy of photosynthesis. Cannabis goes by many monikers - MJ, Mary Jane, noble weed, two star dog, headcase, Hanfhaus (Germany), muggles, weed, pot, reefer, grass, ganja, bhang, "the kind", dagga, naming just a few.
---
Phoenix Message
A Journey South Inspired by Crop Formations
by Beata Van Berkom
I crossed the North American continent in awe. It was a clear sunny day in November, 2003, beautiful for flying. The trip from Saskatoon, via the "Twin Cities" in Minnesota, to Phoenix, Arizona, was breathtaking. Invited by Dr. Chet Snow, I was on my way to represent Canada at the International "Signs of Destiny 2003" Conference in Tempe, Arizona. Slowly the mid-western "Land-o-lakes," Minnesota vista changed into familiar geometrical farmland. Vast agricultural landscapes, intermittently marked by circular fields, made me smile as I was up there hurtling through space, on my way to speak at a conference inspired by crop circles. These circular farm fields looked as odd against the typical patchwork quilt pattern as I felt representing Canada at this novel event.
---
Editorial
by Melva Armstrong
In this issue we are focussing on the importance of the environment, with respect to April being "Earth Month" and April 22 being "Earth Day" (see article above). A healthy environment is essential to the overall good health of all human beings and yet, it appears to me there are still many folks on our planet who aren't tuned into the importance of these facts. In the last ten years there have been many important scientific studies and reports telling us, basically, that almost every part of our environment – water, land, and air – is dangerously polluted and/or contaminated. In fact, I don't think there is any place on the planet that is untouched by pollution. To me this is a sad commentary on our humanity, but I also know we can all learn to change our ways and help stop the destruction by educating ourselves, and by taking individual and collective responsibility and action to improve how we tread on our planet. In other words, by being mindful in our daily lives.
---
Plus:
The Spirit and I: the evolution of soul
Natural Reflections - Tree of Peace, Tree of Joy
News of Note
From Our Readers