Digging Deeper with Word Association
by Jennifer Sparks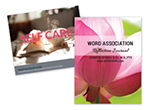 ---
Have you ever felt a tad off, but you couldn't quite put your finger on why? Or have you ever been triggered emotionally by something, but you didn't quite know what the trigger was? Situations like these can be incredibly frustrating.
When I work with clients, we begin with the examination of their belief systems and inner scripts, so we can explore the impact that these thought systems have on their actions and choices. Sometimes these thought systems are not quite as obvious as I do not feel worthy or I believe I am a loser. Sometimes, these little scripts running on autopilot in our mind's operating system are able to blend in and camouflage themselves with tremendous success, all the while causing havoc in our lives. It can take some resolve to dig deep enough to pry some of these thoughts loose. However, in order to make this process a little more fun and invite a sense of play into it, I designed a deck of cards and a companion Word Association Reflection Journal.
The deck consists of thirty unique cards that contain an image, a word, and specific colours. While there are many ways to use the deck, the entire idea is to use the cards as triggers to examine some of these feelings you have that you can't quite sort out when you approach them from a traditional perspective. In the journal, each of the thirty cards is printed in colour on a page that has space to record immediate thoughts, reactions, and associations. The journal really encourages the identification of patterns of thought. Once identified, the fun work begins!
Sometimes, I randomly select a few cards, email them to my clients and ask them to share their reaction and associations with me. After a few emails, I begin to pull out some underlying patterns of thought that we can then discuss and work though. For example, one of my most positive clients was responding negatively to almost every card and she began to identify that she was stuffing her feelings because she had a fear of being judged. While she was doing her best to appear positive, underneath she realized she was not being truthful with herself at all and it was coming at a very high personal cost.
Another client stumbled with the "Imagination" card and was emotionally triggered but couldn't figure out why. After some discussion, it became apparent that as this client began a new post-divorce life, it was difficult to imagine what life would look like moving forward without having the influence and acceptance of the former spouse. She had never imagined a life inline with her own wants and needs before. Within a month of this discovery, she had dug in deep and shifted many parts of her life that she had felt stuck on just a few weeks prior.
Our minds are beautiful, complex, and messy. Have a little fun learning a bit more about what is going on behind the scenes with either the Word Association Reflection Journal or The SWIFTKICK in the A$$ Word Association Card Deck. Both items are available at d'Lish by Tish Café in Saskatoon or online at Amazon.
Jennifer Sparks is the best selling author of WTF to OMG: The Frazzled Female's Guide to Creating a Life You Love. She is a health, wellness, and mindset coach. Learn more about her at www.swiftkicklife.com. Also, see her Directory of Services ad on page 23 of the 22.3 September/October issue of the WHOLifE Journal.