Archives
---
Volume 12 Issue 2—July/August 2006
---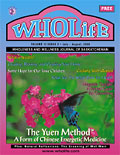 The Yuen Method™
A Form of Chinese Energetic Medicine
by Peggy Dueck

Dr. Kam Yuen developed this technique after a lifetime of study in martial arts - as a 35th generation Shaolin Master - and in structural engineering, chiropractic medicine, nutritional therapy, and homeopathy. The Yuen Method is a blend of Qi and Shen Gong Chinese energetic techniques, quantum physics, anatomy, structural analysis, and physiology. Most people wonder what the Yuen Method is and how it works. The Yuen Method is an energetic technique that offers relief for physical pains and ailments, as well as emotional struggles and conflicts.
---
Magnetic Therapy
A Factual Guide for Consumers
by Kris Nanan
Why Magnetic Therapy? Magnetic Therapy is a natural method used to relieve pain, restore energy, and enhance sleep. It has proven to be safe, effective, economical, and a simple-to-use form of alternative therapy. Magnetic therapy is thousands of years old yet holds great promise for the future. Magnets have been scientifically proven to enable the body to regain its self-healing electromagnetic balance naturally. Strong evidence suggests that magnetic therapy may help to: relieve pain, reduce inflammation, restore natural energy, increase blood circulation, prevent or reverse infection, promote metabolic processing of toxins, and support the healing process.
---
Royal Tea
The White Brew for Health
by Wendy Gist
Produced mainly in the Fujian province China , white tea is a very old, uniquely beneficial tea. Long ago white tea was considered a rarity, set aside solely for Chinese royals. Today it is gaining popularity world-wide due to its mild and sweet taste, fresh aroma, and potential medicinal properties. White tea comes from a shrub called the Camellia sinensis that grows in the subtropics and highland tropical regions of the world. It is the same species which black, green, and oolong teas originate. The differences in the various varieties arise thorough the processing of the tea leaves and cause variations in colour and flavour, as well as varied nutrition and compound components. In particular, white tea boasts several powerful health-promoting qualities.
---
What is Wealth?
by Wayne Lee
What is wealth and how can you acquire more of it? To me, the word WEALTH represents Welcoming Endless Abundance, Living To Have. I will discuss this statement more thoroughly to help you understand its meaning.
First, wealth is a state of mind, which means that it starts first in the mind. In your mind you must "Welcome" having more in your life by having a mindset of being aware and open to receiving more of what you want. Two main reasons why most people do not welcome wealth are: 1) they do not believe they are worthy (low self-esteem) of receiving, and 2) they believe the world owes them (victim mentality) and they do not accept responsibility for their own life. To overcome this, you must first recognize your true brilliance and take full responsibility for your life and your circumstances.
---
Clearing, Blessing, and Cloaking Your Home Creates Positive Energy
by AuKeeRa Hewitt
When we think of clearing our homes of bad energies or wayward spirits we often feel we are not capable of doing it ourselves. Sure, we can hire a shaman, ghost buster, psychic, or spiritualist to perform such ceremonies, yet we are also capable of this ability. To clear your home is simply to bathe it with positive energy. There are specific ways you can do this but the intention is what truly makes the cleansing of one's space possible. Items needed to clear your home are: (1) You, with a clear mind and balanced attitude, and (2) Sage, sweet grass, or a natural incense like Nagchampa or Ting shaws.
---
Editorial
by Melva Armstrong

The last two months we have had gorgeous weather and I have been thoroughly enjoying the spring. With all the rain we have had my walks in the park and along the riverbank are truly delightful as my eyes continuously drink in the lush green colours of Mother Nature. Every day when I walk in Her midst I feel Her supporting my feet and my body and I thank Her for being there for me as I go about my daily activities. This allows me to start each day feeling safe and positive and grateful to be alive. We are very blessed here in Saskatchewan and every day I thank the Creator for this.
---
Plus:
Cooking With Quinoa - An Ancient Grain
Some Hope for Our Toxic Children
Natural Reflections: The Greening of Wal-Mart
From Our Readers
News of Note
---
Recent Issues
---