Archives
---
Volume 12 Issue 4—November/December 2006
---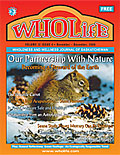 Our Partnership With Nature
Becoming a Steward of the Earth
by Cie Simurro~Thunderbird Starwoman (Part 1 of 2)

At 4 o'clock in the morning, when you are lying on your bed alone, with your eyes wide open facing the difficulties of your life, to whom or what do you turn? Whatever it is must certainly be real and solid to you. Perhaps you can feel it in your body. In the core—the centre of your being—you can feel some essence that you relate to as Life Force energy. You experience as real and tangible, the love you have felt and have given to others. Many have told me they feel the comfort of the natural world. Whether your relationship to nature is left over from childhood, or is your current pillar of strength, your connection with the natural world gives you comfort, connects you with your instinctual self, and inspires reverence for all life. If you are closed off from its beauty, majesty, and power, you probably are not reading this, because you would not be attracted to it. If you are on the fence, but attracted, I encourage you to reclaim that primal part of yourself that has lain asleep in a drawer for years.
---
The Versatile Carrot
by Paulette Millis
One of the world's leading vegetable crops, carrots originated in Europe and were introduced to America during early colonization. Carrots are derived from the wild carrot, called Queen Anne's Lace, and are a member of the parsley family (Unbelliferae) that includes parsley, parsnips, celery, caraway, cumin, and dill. The Greek word for carrot, "philon", comes from the Greek word for love, as the carrot was considered an aphrodisiac. Current research confirms that the carrot packs a nutritional wallop and it therefore may stimulate the sexual appetite!
---
Curious About Acupuncture?
Here are Some Answers
by Ranvir Pahwa, PhD, DrAc
Before acupuncture there was acupressure, massage, and rubbing of tender and painful body areas. When effective healing could not be obtained through the above methods, then needles and pointed objects were inserted for better effects. This led to the discovery of acupuncture. The Chinese term for needling is "Zhen", meaning to prick with pointed object. Acupuncture is a European term invented by a Dutch physician, Willem Ten Rhyen. Historically needles were made up of stones, bones, bamboo, pottery material, and metals. The earliest Chinese record on acupuncture is the Nei Ching (Classic of Internal Medicine, about 2,600 BC). In India the work of Ayurvedic surgeon Sushruta (7th Century, BC) has details about the body points, which in Sanskrit are called Marma Sthala, meaning "delicate spot". Massage and pressure on these spots produces healing. The work of Dr. Anton Jaysurya, a physician and acupuncturist, depicts the discovery in Sri Lanka of acupuncture and tools which are 2,000 years old.
---
Is Your Cookware Safe and Healthy?
by Judy Michaluk
Although it is difficult to find conclusive studies there are rumblings about the fact that Teflon might not be the best product for us to be using in our kitchens. At high temperatures it does not perform well and instances of plastic-type smells can be detected when it is overheated. Some adverse effects on household birds (pets) have been reported when they are in a kitchen where Teflon pans are used for cooking. There have also been reports of harmful effects on the environment from the use of Teflon. It is interesting to note that we are not certain whether harmful compounds from Teflon are getting into our food as that aspect has not been studied to date. Sometimes we have to read between the lines. In this case it may be better to be safe than sorry. Certainly many people who cook want the convenience of non-stick Teflon but how do they know if the cookware they are using is harmful or not? With this question in my mind I decided to so do some research and find out if there were any alternatives.
---
Relationship From an Astrological Perspective
by Samantha Kane-Kennedy
Relationship is the area most often asked about in astrology chart readings. The chart for the time of birth for each individual actually portrays all the levels of their relationship to life and this provides the format for the way you create your reality. How to get along with another person is the question of many lifetimes and is one area in which astrology excels. Consider the premise; in order to have a friend, you need to be one; in order to have a good relationship, you need to provide one. Always when investigating two or more people's charts in relationship, be it personal or business, I look at the individual's ability to be in a relationship first and foremost. Then the composite chart, made up of the combined birth charts of the people involved in the relationship, is more dimensional as well.
---
Editorial
by Melva Armstrong

As always, it has been a unique and interesting process putting together another issue. The opportunities from this work to meet other souls on the same path are heart-warming and uplifting. I feel very blessed. I recently had the privilege of being introduced to a woman who is truly wise and magically connected to the Earth and its energies. He name is Cie (like "see") Simurro, also known as Thunderbird Starwoman. She currently lives in Massachusettes but has lived in a variety of places including the wilderness and exotic areas of the world. Her life path has lead her to study with a number of teachers of Earth medicine, as well as a Light and Sound Master, all giving her the ability to tune-in to the energies of nature. She says it is often through our connection with nature that we can feel the life force energy that is part of all of us, and she suggests that if you let nature in, it is a doorway to a poignant and enhanced communication with all beings. On a small level I have experienced this myself so I know what she says is true. After reading Cie's stories and being impressed with the goodness, charm, love of life, and exceptional lessons contained in them I thought it would be wonderful to include some of her work in WHOLifE. In this issue we have part one of her article,

Our Partnership With Nature, Becoming a Steward of the Earth

. In it she writes about many different occasions and unique experiences in her life and how she has come to realize that absolutely everything in life is a gift, a lesson from which to learn. She says, "Life will always bring you the challenges which, once mastered, bring wholeness. By applying such soul qualities as cooperation, self-knowledge, faith, understanding, fellowship, and patience in each area of our lives, we create soul growth." When I spoke with Cie about her work and life she said the most important thing she wants to convey to others in her teachings, writings, and relationships, is the extreme importance of everyone becoming stewards of the Earth, of which we are an integral part. I am in total agreement with her. When reading her writing may you find a sense of comfort and connection with nature as I have done.
---
Plus:
Sauna Study Proves Mercury Can Be Removed
Green Rooftops: An Ecologically Responsible Trend
What is Angel Therapy?
Shamans, Old and New: The Wise Voices of Our Ancestors
From Our Readers
News of Note
---
Recent Issues
---