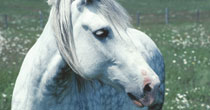 Reclaiming Your Primal Fire Through Equine Assisted Learning, Ceremonial Sweat Lodge, and Communing with Mother Earth
by Carol Marriott and Patrick Harbula
---
Imagine embarking on a transformational journey with a horse without ever climbing into the saddle. Imagine looking deeply into that horse's eyes and seeing your own authentic self reflected back. Imagine all of this occurring within a supportive community dedicated to assisting you to live and be your highest.
Equine Assisted Learning (EAL) is a compelling journey of clarity and understanding. Horses are powerful teachers as they immediately respond to the actions, body language, and energy of the participant. They can inspire our dreams and awaken our spirit. The focus of EAL is not riding or horsemanship specific. In fact, EAL takes place "out of the saddle" and on the ground.
In a recent segment on the Oprah Show, Oprah talked about her experience with this revolutionary process. She said that when she was preparing for an equine assisted exercise, she thought it would be a piece of cake, after all, she is an expert communicator and interviews the most famous people in the world and… by the way… "I'm Oprah." She said it didn't work. The horse wasn't impressed with her trumped-up confidence. In order to gain the horse's trust, we must come from a place of authenticity and humility.
Others on the show who were experienced riders also found that their manufactured "confidence" was not enough. EAL is the opposite of traditional horse handling, which is about taming the animal. EAL is all about opening to the heightened sensitivity of the equine nervous system as a biofeedback presence for personal/spiritual growth and healing.
As a Certified Equine Assisted Learning Specialist, I (Carol Marriott) am trained to recognize the "teachable moments" that the horses identify. Quite simply, the horse does the teaching as the facilitator "listens" to the horse's non-verbal communication. Participants are provided with a powerful opportunity to gain personal insight and awareness, resulting in life-altering changes.
I will never forget a boy who participated in EAL with his class and was described by his teacher as having poor verbal skills, painfully shy, and struggling to make eye contact. I introduced him to Simba, a very quiet and accepting chestnut Quarter Horse. While telling him about Simba, he interrupted to ask, "Can I take him on a walk." He simply walked Simba around, pausing once in a while to pet him. After the rest of the class had left the arena, his teacher and I walked over to this quiet little boy. Simba and the boy were head to head. I asked him how his first day was and without hesitation he said in a clear deliberate tone, "I've never been this happy, for this long, in all my life."
Whether you are under confident, overconfident, or somewhere in between, or a skilled horseman, or afraid of animals all together, you can receive exactly the kind of clear understanding that you most need to create greater peace, prosperity, and fulfillment in your life through this process. This cutting edge and rapidly spreading form of personal and spiritual growth is being included as part of a retreat on Labour Day Weekend called The Primal Fire Intensive, which is being led by Patrick Harbula, author of The Magic of the Soul, who was also in the area last February facilitating a Live Your Passion: Life Purpose Here and Now Workshop at the Centre for Positive Living in Saskatoon, as a stop on his Canadian tour.
Patrick has been facilitating the Primal Fire Retreats (and other powerful teachings) for over 20 years. He likes to call this the anti-workshop workshop, because there are no ideologies, philosophies, or "isms" presented. He says, "It is all about getting out of our heads, into our bodies, connecting with Mother Earth (and in this case, our equine teachers), and re-claiming our powerful, primal wisdom and love."
Included in the weekend are an Aboriginal ceremonial sweat lodge and other powerful exercises and ceremonies designed to reclaim the primal self. All are encouraged to leave behind their limiting beliefs, social roles, and come expecting to experience the freedom of being who you really are in the moment and bring back from the experience a renewed sense of self and direction.
What is created instantly is a supportive community where everyone is free to open their heart fully. This results in a most amazing transformation. Patrick says, "We are free to become our highest, when we allow ourselves to simply be." The experience becomes a catalyst for creating a committed intention to have one's life flow into a consistent ongoing experience of the freedom, love, and authenticity realized through the Primal Fire.
Carol Marriott is a Certified Equine Assisted Learning Specialist and Director of the Ravenheart Farms Equine Learning Centre where the Primal Fire Intensive will be held. It is situated on 20 acres in rural Saskatchewan about a 1-hour drive from Saskatoon and Westminster. Patrick J. Harbula is a Life Coach, author of The Magic of the Soul, and Director of the Living Purpose Institute in California. For more information on the Primal Fire Intensive or for a free life coaching session call toll free 866-204-2261 or visit www.livingpurposeinstitute.com and use the free life purpose clarification tool to receive a life purpose definition within 10 minutes. To learn more about Equine Assisted Learning at Ravenheart Farms please call Carol Marriott at (306) 682-4641 (near Humbolt, SK) or email: ravenheart@yourlink.ca.