Archives
---
Volume 13 Issue 2—July/August 2007
---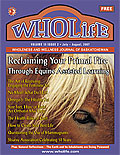 Reclaiming Your Primal Fire Through Equine Assisted Learning,
Ceremonial Sweat Lodge, and Communing with Mother Earth
by Carol Marriott and Patrick Harbula
Imagine embarking on a transformational journey with a horse without ever climbing into the saddle. Imagine looking deeply into that horse's eyes and seeing your own authentic self reflected back. Imagine all of this occurring within a supportive community dedicated to assisting you to live and be your highest. Equine Assisted Learning (EAL) is a compelling journey of clarity and understanding. Horses are powerful teachers as they immediately respond to the actions, body language, and energy of the participant. They can inspire our dreams and awaken our spirit. The focus of EAL is not riding or horsemanship specific. In fact, EAL takes place "out of the saddle" and on the ground.
---
No Meat! What Do I Eat?
by Paulette Millis
The purpose of this writing is to increase your awareness of eating a balanced meal when all animal products are absent, either through design, unavailability, or for health reasons. I will list balanced meal plans, along with some recipes to add to your repertoire. Many people who are meat eaters often consume one or more meals a day without animal products. These meals, then, are actually vegetarian meals and must be properly balanced with amino acids to insure a high quality protein. While relatively few people choose to be strictly vegan (no animal products of any kind) one must be knowledgeable on which food groups supply the necessary amino acids to replace the animal protein. I particularly want to increase awareness of the lack of essential amino acids in many of our common meal choices, whether at home or eating out.
---
Are Your Feet, Knees, Hips, or Back Sore?
An Orthotist May Be Helpful
by Arnold Finan, C.O. (c)
An orthotist is one who, by referral from a medical doctor, designs, assesses for, fabricates, and fits orthoses (arch supports and braces) for feet, ankles, knees, hips, and the spine. Orthotic training involves in-depth clinical and technical programs, followed by an intensive internship and a national certification exam required by the Canadian Board for Certification of Prosthetists and Orthotists. Orthotics are needed for a variety of reasons: to eliminate posture problems; to protect the body from the shock of running and walking; to relieve foot, knee, hip, and back pain; to distribute weight evenly over both feet; or to relieve conditions such as leg length discrepancies, heel spurs, plantar fasciitis, arthritis, or diabetes.
---
The Art of Receiving
Engaging the Yin, or Feminine Energy
by Trent Deerhorn
I receive with my mind. Five simple words that mean so much. We live in a culture that teaches us that the only proper function of the mind is that of determination. After all, we must use logic and reason to make every single decision in our lives, or we may appear to be foolish. The Medicine Wheel teaches us that we need to let go of cultural expectations of who and what we are in order to truly discover the soul of who we are. We must let go of our need to hold on tight to cold, hard reason alone and begin to embrace our intuitive, knowing self.
---
Omega-3: The Healthy Fat
©2006 by Joe Smulevitz, C.H., M.H.
We hear a lot about fats especially saturated and trans-fats (hydrogenated and partially hydrogenated fats and oils) that have been linked to a number of serious health problems. However, polyunsaturated fatty acids, or good fats, have been designated essential fatty acids (fats we cannot make ourselves) that may actually help protect against degenerative diseases. Omega-3 is a polyunsaturated fat that research shows has significant health benefits. The research began in the 1950s when scientists investigated the diets of the Inuit (Eskimos) in Greenland. Their food consumption was high in fat but they had a low incidence of heart disease. Their secret was a diet consisting mainly of fish that swim in cold ocean waters, and which are recognized as rich sources of omega-3s.
---
The Health Risks of Guilt
by Christel Nani, RN, Medical Intuitive
Guilt is bad for your health. I define guilt as a conflict between your inherited inner rules and your spirit. This conflict lowers your vibration, stresses your immune system, and is a precursor to illness. Feeling guilty causes physical symptoms ranging from a knot in your stomach to migraines, fatigue, colds, irritability, and depression. It can also exacerbate flare-ups of herpes, back pain, and immune disorders. Now scientists have proven that guilt compromises the immune system. In a study published in Psychosomatic Medicine, test subjects were asked to write about traumatic experiences for which they felt guilt. They were assessed before and afterwards for two substances associated with immune system activity—tumour necrosis factor receptor levels and 2-microglobulin—as well as cortisol, the stress hormone. After the test, participants showed elevated levels of all three.
---
Choose Again: A Radically New Approach to Healing
by Elaine Clark
Do you remember when you had time to think? If it has been awhile since you felt de-stressed enough to stare at the clouds, listen to the wind, or do absolutely nothing, please read on. We have found a healing environment and created a centre of retreat from the insanity of the world. In 2001, we took a group of youth who were addicted to crystal meth to a resort in Costa Rica. We immersed ourselves in the natural and simple life. Our idea was to remove all the familiar influences of our modern high tech world where the values are fed to us by TV models and advertisers. We wanted to replace an externally focused influence by a internally focused one.
---
Editorial
by Melva Armstrong

It has been another glorious two months since my last editorial. I am joy-filled to be outside every day soaking up the heat of the sunshine and feeling the warm wind blowing against my cheeks. I love smelling the aroma of the wild roses as I walk on the path along the river. So far this year I have seen cute little goslings and ducklings with their tiny webbed feet furiously moving under the water to keep up with their parents. I have seen a coyote and a rabbit, two wee garter snakes, and lots of crows and magpies, along with all the beautiful songbirds whose melodies always seem to twinkle in my ears. Mother Nature is certainly a magical place and one where I can go to commune with all that exists, and afterwards I hold that creative energy with me throughout the rest of the day. I find these experiences very nurturing.
---
Plus:
Questioning the Use of Mammograms
Shiatsu Association Celebration 10th Anniversary
How to Create Your Best Life: Understanding & Applying the Universal Law of Attraction
The Earth and Its Inhabitants are Being Poisoned
News of Note
From Our Readers
---
Recent Issues
---