Archives
---
Volume 25 Issue 1 — May/June 2019
---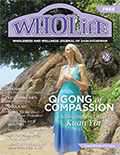 Qigong of Compassion
Cultivating the Grace of Kuan Yin
by Minke de Vos
Kuan Yin, Goddess of Compassion, lives in us when we feel mercy. Her name means, "She who hears the cries of the World." The world seems to be facing an emotional crisis. Rates of stress, anxiety, and depression are higher than ever. We urgently need to cultivate compassion. The Buddhas all agreed. "Who but a gentle mother could ever dream of bringing boundless love and comfort to all the people, easing the inevitable pains of human life?" Her energy is likened to Tara, mother of all Buddhas, and Mother Mary.
---
Rhubarb – It's Not Just for Crisps!
by Stacey Tress
Hello, my friends, and thank you for following along on another article of mine. It's been a few years now that I've had the pleasure to contribute to WHOLifE on a regular basis. I very much enjoy writing the "Mindful Eating" articles and sharing my knowledge and passions for good foods with you all. I'm writing this article in March – knowing it will come out in the May/June issue. Today I'm at home and moving snow away from the house as the temperatures are rising and snow is melting. I went into the freezer to do some meal prep for tonight and came across various fruits we had frozen from last year. My girls LOVE their frozen fruit. Raspberries, strawberries, Saskatoon berries, and blueberries are their favourites. We tend to start perusing and cleaning out the freezer this time of year; making room for the upcoming harvest! Must be the sun that gets us thinking that maybe, just maybe, this winter is coming to an end.
---
Doula 101
by Karen Herriot and Angie Evans
Remember when you were pregnant with your first baby and had so many questions and worries about the choices facing you? Do lots of women share their fears with you? Would you love to help others avoid the pitfalls and disappointments you experienced – to help them navigate the birth experience and feel more supported? You should consider becoming a doula!
---
Ketogenic Diet: Myths vs. Facts
by Taranum Sultana
A ketogenic diet is high in fats and low in carbohydrates. By lowering carbohydrates intake, the body switches the energy source from glucose to ketones, derived from the breakdown of dietary fats and the body's stored fat. This process of ketone production from fat is termed as nutritional ketosis that lowers blood sugar, improves insulin sensitivity, and reduces inflammation.
---
The Healing Art of Quilting
by Brenda Gibbs
A quilt is a symbol of comfort, support, and love. A quilt often evokes strong emotions for both the recipient and the maker. A quilt is both functional and art. First, I will share what quilting means to me and then I will share what I have been told by others.
---
What Do Eyebrows Have to Do With Grief?
by Megan Mlynczak, RHC
Since when was death, grief, mourning, and bereavement something that was shunned and locked up behind closed doors? Did you know that it takes about 56 to 73 days (depending upon age) for your eyebrows to grow back. I know… this seemingly totally random sentence doesn't belong with grief, right? Oh, but my friend, it does. Once upon a time, the family of a passed loved one would shave their eyebrows. They did this as a sign to the community that they were in a phase of bereavement and mourning for their loss. This very public symbol of loss allowed the community around them to reach out. They would engage with the mourner and show compassion by helping with the kids, meals, chores, and tasks. Even if the mourner was not known to that particular person, the lack of eyebrows showed that they should show the utmost respect, patience, and love.
---
Step Into Your Power
by Maureen Bandas
Have you ever wondered what it would be like to be you? Is there a part of you that knows you are here on Earth to do more? Are you getting signs or nudges to step into your power? I have devoted my entire life to guiding others to be the best they possibly can be through private intuitive healing sessions and classes. I am a psychic intuitive healer/teacher and I started this journey 13 years ago. My life shifted so much when I totally surrendered it to the "Creator of All that Is" in the fall of 2013.
---
Moms to Be: Don't Forget Your Probiotics!
by Dr. Marika Geis
Breastmilk is widely acknowledged as being the most complete form of nutrition for infants. Beyond the perfect combination of proteins, fats, carbohydrates, and nutrition that change continuously according to the needs of a growing baby, it is responsible for several significant outcomes regarding immune function.
---
Are You Happy with Your Body?
by Katherine McIntosh
Well, if you are amongst the men and women who are dissatisfied with their physical appearance, you are robbing you and your body of the energy to fuel your physical, mental, and emotional health.
---
Editorial
by Melva Armstrong
Greetings one and all! May you feel and embrace the warmth and rejuvenation in your body and soul of another glorious prairie spring. It feels so wonderful after living through the many cold and dark winter days, and good to have longer light and more sunshine. Along with the delights of spring, WHOLifE Journal is celebrating its 24th anniversary with this May/June 2019 issue. It seems like just the other day I was embarking on this new journey and yet, the years have flown by and I've had many wonderful experiences along the way. It always has been a labour of love.
---
Plus:
News of Note
---
Recent Issues
---