Late-breaking Natural Health News!
Copyright © 2008 by Joe Smulevitz, C.H., M.H.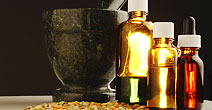 ---
From studies that link vitamin D to cancer and omega-3 fatty acids to bones, 2007 was filled with eye-opening ways that natural products promote health and help prevent disease.
The following is a brief review of documented research from the past year gathered from leading scientific journals. Although the information is based upon credible studies, they are not to be regarded or relied upon as medical advice.
Vitamin D has been known to reduce the danger of bone loss. This past year, compelling new research enabled this "sunshine vitamin" to achieve superstar status as the news-making nutrient of the year.
The American Journal of Preventive Medicine reported that higher blood levels of vitamin D could prevent up to two thirds of colorectal cancer cases and reduce breast cancer cases by 50 per cent. A report in the Archives of Internal Medicine suggested that higher intake of vitamin D and calcium moderately lowered the risk of breast cancer in pre-menopausal women. A study published in the American Journal of Clinical Nutrition, determined that post-menopausal women taking vitamin D and calcium supplements had a reduced risk of common cancers.
Cancer was not the only killer disease linked to deficient levels of vitamin D. Other life-threatening conditions including diabetes, cardiovascular disease, and multiple sclerosis were associated with low vitamin D blood levels. Based on current research, many health experts recommend adults take 1,000 International Units (IU) of vitamin D a day to provide protection against these killer diseases, especially in winter months.
The prestigious, peer-reviewed American Journal of Clinical Nutrition published a number of important findings relating to supplementation: (1) Folic acid may slash breast cancer risk. (2) Fish oil helps to reduce body fat. (3) Vitamin A may lower the chance of infant deaths from diarrhea, fever, and respiratory infections. (4) Low levels of B12 and omega-3 fatty acids are associated with cognitive decline. (5) Healthy individuals react to cinnamon with a reduced rise in blood sugar. (6) Fibre and magnesium may help ward off diabetes. (7) Omega-3 fatty acids could reduce fat mass in type-2 diabetics. (8) Drinking black or green tea can help slow bone loss in the elderly. (9) Omega-3 fatty acids linked to denser bones in young men. (10) Indian herb Salacia oblonga lowers blood sugar and insulin responses after a high carbohydrate meal in persons with type-2 diabetes. (11) Folic acid is valuable in lowering blood levels of arsenic. (12) Lycopene appears to be effective in lowering the risk of developing advanced prostate cancer in men. (13) High dietary intake of vitamin C and linoleic acid improves elasticity in aging skin. (14) L-Carnitine can fight fatigue and boost mental function in the elderly.
Here are some other attention-grabbing findings in natural medicine research:
(a) Lutein, vitamin D, zeaxanthin, vitamin B12, and omega-3 fatty acids help protect against macular degeneration, a degenerative eye disease, commonly causing vision decline after age 60. The findings were published in the Archives of Ophthalmology.
(b) The Mayo clinic reported that American ginseng shows promise in combating cancer-related fatigue and flaxseed can help reduce hot flashes in post-menopausal women who do not take estrogen.
(c) Topical application of green tea polyphenols could be effective in treating inflammatory skin conditions such as psoriasis and dandruff according to Experimental Dermatology. A study from The University of Michigan Health System suggests that green tea may offer therapeutic benefits to people with rheumatoid arthritis. Green tea might help individuals strengthen their metabolic defences against toxins capable of causing cancer, according to the American Association for Cancer Research.
(d) Already touted for its heart and mood benefits, a diet rich in fish oil may boost bone health, states a study in the Journal of Nutritional Biochemistry.
(e) Researchers at Arizona State University found that individuals with low levels of vitamin C in the blood are more likely to be obese or overweight.
(f) The Lancet Infectious Diseases Journal noted Echinacea as being effective in treating and preventing the common cold, and folic acid supplements can reduce the risk of stroke.
(g) The Journal of Nutrition reported the following: a moderate increase in the daily intake of docosahexaenoic acid (DHA), an omega-3 fatty acid, modestly reduces diastolic blood pressure; lycopene slowed the growth of benign prostatic hyperplasia (BPH); vitamin B6 helps protect men against colorectal cancer.
(h) Folic acid supplementation slowed age-related hearing loss according to the Annals of Internal Medicine.
(i) International Journal of Cancer published a study suggesting that black cohosh may be useful in helping to prevent breast cancer.
(j) The herb Arnica, when used externally as a gel, is as effective as Ibuprofen gel for arthritis of the hand, according to research from the University of Zurich in Switzerland.
(k) Researchers at Appalachian State University have shown that quercetin, an antioxidant found in red grapes and green tea, reduced illness and helped maintain mental performance when under extreme physical stress.
Joe Smulevitz is a Chartered Herbalist, a Master Herbalist, a nutritional researcher, and author of numerous health articles. He can be reached at herbalistjoe@sympatico.ca.