Primal Fire Intensive for Total Freedom to Be You
September 4 to 6
by Patrick Harbula and Carol Marriott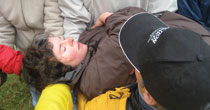 ---
In such an environment of freedom, what occurs is that people open up to their authentic selves.
Want to get away and get out of your head, into your body, connect to Mother Earth and your most natural, heart-opened, primal self?
I have been leading the Primal Fire Intensive for over 20 years in various locations. I have always found this to be the most difficult event to promote or even describe. Nearly everyone who attends says the same once they have experienced it. "How do I tell my friends what happened on this weekend and convey the essence of the experience?" Words can never do justice to it, but this is my attempt: "Hearts are opened in ways that are unimaginable!"
The basic premise is an environment where everyone is encouraged to be just who they are in the moment: No pretense, no role, no act, just who you really are. So if you are angry… be angry. If you are sad… be sad. If you are ecstatic, which you will be at some point during the journey… be ecstatic. In such an environment of freedom, what occurs is that people open up to their authentic selves. We spend so much of our time trying to hide who we really are, or putting forth who we think people want us to be, and so much time in our roles—mother, son, daughter, sales person, father, husband, wife, writer, healer, human being, etc. When we are free to be ourselves, we can open up to the fullness of who we really are: A magnificent, powerful, and loving reflection of spirit expressing in grace, beauty, and creative brilliance.
Part of what creates the freeing environment is the beautiful natural settings that are the hallmark of the Primal Fire experience, and in this case the charming Ravenheart Farms Equine-Assisted Learning Centre and the horse guides who participate in opening us to our highest authenticity and truth.
In addition to the ceremonial sweat lodge, equine-assisted learning (EAL) with the horses (not riding), drumming, chanting, etc., this year we will be offering some psychodynamic voice-dialogue work at the Labour Day Weekend Primal Fire (Sept. 4–6). One result from the voice dialogue work that never surprises me (because I have seen it occur thousands of times), but always amazes me, is that the very quality that we need for healing and wholeness is contained in the heart of what it is we resist in ourselves. If I am resisting something I may call self-sabotage or fear, I will find that this is a protective energy, that contains strength and persistence that when integrated and directed in a new way, becomes the force that gets me what I want in my life. If there is emotional pain or any physical conditions that are being resisted or repressed, I will find that the compassion and love needed for healing are contained at the heart of the pain I am pushing away. It's not about getting over anything, but integrating into wholeness.
Wholeness is ultimately what the Primal Fire is all about, integrating all of our energies into one organic whole and recognizing ourselves as one with the wholeness that exists in all life. I like to call the Primal Fire the anti-workshop workshop. It isn't about any ideology or putting new information into our heads, but getting out of our heads, into our bodies and hearts, re-connecting with our sacred Mother Earth, and rediscovering who we are at the deepest most primal level.
These are some of the words of thanks that were offered right after the Primal Fire in September, 2009:
"My experience of Primal Fire was fun, heart-warming, powerful, grounding, daft, profound, joyous, and liberating. I could happily pass the talking stick for days and love hearing from everyone. I love the honesty and peaceful reflection and the openness and ease as people express and share their feelings and thoughts." —Kate O'Reilly
"You have no idea what you have brought to my life. Words alone can not thank you enough... I so look forward to next year." —Bobbi Preseski
"Carving out this new path can be extremely exciting and at the same time can awaken sadness and grief within us. Now that I realize I can live with both simultaneously and still remain in Joy and Love, the path will be a lot more fun. I feel that I have been accelerated to top speed of discovery of myself and the universe. I felt so much power in each ceremony while in the sweat lodge, especially the giving away round...wow! —Kelly Painter
"I am not exaggerating when I say that the PF weekend was a life-changing experience for me." —Valerie Red Wolf
"Thank you for a wonderful primal fire weekend once again. I have been practicing the Release & Shift, which I found worked even better than various practices for either releasing or affirming that I had previously been exposed to. The Release & Shift is so much quicker and can be done throughout the day whenever I feel I need it." —Jean-Guy Leblanc
"This 2009 Primal Fire (my second one in three years) was another life-changing experience for me which commenced within the first hour of my arrival. For days after returning home my mind/body continued to float in the rapture of it all. Looking forward to another primal fire next year. Love to all." —Don Shine
For more information about the 2010 Primal Fire, Sept. 4–6, please visit www.livingpurposeinstitute.com and see the colour display ad on page 2 of the 16.2 July/August issue of the WHOLifE Journal. We hope to share in the open-heart experience with you!
Carol Marriott is a Certified Equine-Assisted Learning Specialist and Director of Ravenheart Farms Equine-Assisted Learning and Retreat Centre where the Primal Fire Intensive will be held. It is situated on 20 acres, 1.5 hours east of Saskatoon. Patrick J. Harbula is a Life Coach, author of The Magic of the Soul, and Director of the Living Purpose Institute in California. He will also be speaking at the Centre for Spiritual Living in Saskatoon, August 29 (11:30 am service) on Love Unfolding Love and offering a workshop in the afternoon on Emotional Breakthrough to Be an Unstoppable Force of Love, which also includes voice-dialogue processing. For more information on this workshop and on the Sept. 4–6 Primal Fire Intensive (including lots of fun photos and testimonials), visit www.livingpurposeinstitute.com or call toll free 1-866-204-2261. You can also call this same number for a complimentary life coaching session to "Live Your Passion." For more information and registration for the Primal Fire Intensive, Sept. 4–6, also see the full page colour display ad on page 2 of the 16.2 July/August issue of the WHOLifE Journal.